The weekend before Holy Week, we were invited by Dweet Gastropub to give their revamped menu a try. Since they're only a few blocks away from where Mhel is staying in Makati, we accepted their offer.
Dweet Gastropub first opened their doors November of 2014. After almost two months, they decided to update their menu to better accommodate the palate of their target customers, which were mostly Makati office workers.
The restaurant was designed by Olivia Repotente, who is also the brains behind the design of Valkyrie Club in Taguig. Their black and orange theme really worked. And even if it's a small place, you'll feel comfortable, and the ambiance is relaxed. We were informed that the restaurant will undergo some minor renovations over the Holy Week, something we really look forward to seeing the next time we pay them a visit.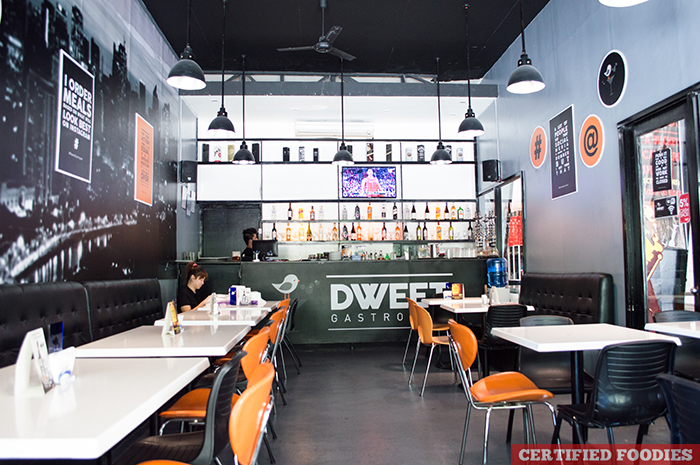 We were welcomed by the owner, Matt Reza, and Johdel, who handles the marketing for Dweet Gastropub. Similar to every food establishment we go to, we asked them first how they came up with the name of their restaurant. They were quick to respond that the name is a combination of the words "drink" and "tweet". They strongly encourage their diners, who they call Dweeters, to post on social media about the food and their experience at Dweet. Hooray for free marketing! 😀
The Food
Dweet Gastropub serves Persian food, adjusted to appeal to the Pinoy taste. Their food is not too spicy, but if you want more spiciness, you can simply ask them to kick it up a notch. The owner, Matt, does the nightly market shopping himself, so the customers can expect that their ingredients are always fresh. And don't be shocked to see Matt at your front door when you order their food for delivery. He's that hands-on! 😀
Matt's Recommendations
Since Mhel and I are not really familiar with Persian cuisine and we had no idea what to order, we entrusted Matt to do the choosing for us. He called one of the wait staff's attention and called out the list of our orders that I had a hard time putting everything down on my notes. Haha! It's also a good thing that we didn't have our lunch yet because it seemed like we've signed up for an eating challenge. 😀
Their Hummus and Mirza Ghasemi were the first dishes to arrive and these came with a plate of cut up pieces of Pita Bread, ready for dipping. Their Hummus (PHP 80) is a garlicky puree of chickpeas. It was dense and well-seasoned. We've had hummus before and this was, honestly, one of the best we've ever had.
Their Mirza Ghasemi (PHP 100), on the other hand, was not our cup of tea. It's a puree of eggplant and tomatoes, flavored with several spices, one of which is cinnamon. It reminded me of babaganoush, but this one is slightly sweeter and tangier. It may not be our favorite, but to those who love authentic Mediterranean food, we're quite sure they will appreciate it.
They were also proud to say that their Pita Bread (PHP 15 each, if you want extra) is 100% homemade. They should be proud because their pita bread was seriously addicting.
If you're a frequent reader of our blog, you'd know that we're not big fans of salads (Haha 😀 ), but their Salad Shirazi (PHP 60) was too good to pass up. It's a mix of cucumber, tomatoes, onions, with a vinaigrette made with lime juice and olive oil. You'd surely notice that the vegetables are super fresh because they are crisp and flavorful. And because of its tartness, it also worked well as a palate cleanser.
I remembered Matt ordering the Ox Brain (PHP 100) and I was panicking a little inside my head because I was not mentally prepared to try something exotic that day. Alas, when it landed on out table, I was praying that it would not taste terrible because I wouldn't be able to hide the unsightly grimace on my face.
Fortunately, the Ox Brain just looked like a plate of sisig and it tasted very similar to liver. It was also so soft that it melted in my mouth, just like how foie gras would. Too bad it was too early to drink beer that time because this dish would go perfectly with it!
Next came the Samosa (PHP 90). It's a pocket of pastry, stuffed with pureed potatoes and green peas. From a pasty cook point-of-view, I'm pretty impressed with this dish. The layer of pastry was very thin, but strong enough to hold in the generous amount of filling. It was quite flavorful and not too oil at all. We're not surprised to find out that it was one of their bestsellers.
For refreshments, Matt ordered for us two servings of their Yoghurt Shake (PHP 65). We loved it! It had the perfect balance of sweet and tangy, making it a good summer beverage and an excellent drink to cleanse the palate in between strongly flavored dishes.
Onto the main entree, we started with their Chicken Shawarma (PHP 70 solo / 90 with rice). It's made with flavorful pieces of chicken and vegetables with a generous serving of garlic sauce, all wrapped inside their chewy homemade pita bread.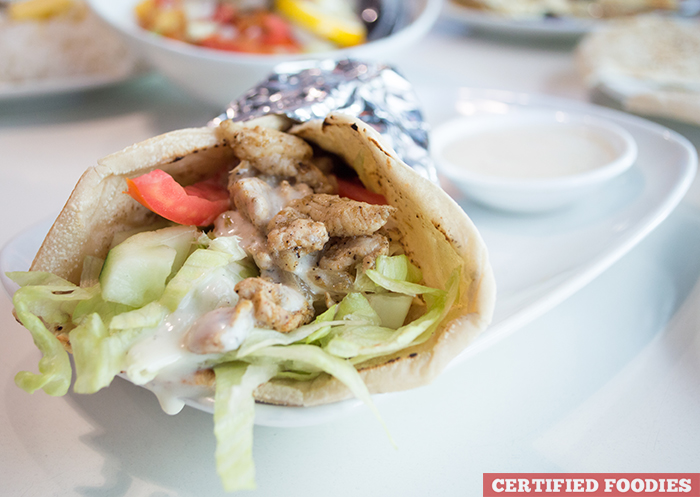 Finally, we saw some rice when they served us their Beef Shawarma (PHP 80 solo / 100 with rice). No wonder that this is their number one bestselling dish because the beef pieces were very soft and flavorful. It's definitely a viand that will compel you to order another cup of rice!
If you're on a diet, go ahead and order their Chicken Tandoori (PHP 75 per stick solo / 105 with rice), which is charbroiled spicy chicken breast fillet served with a few pieces of grilled tomatoes.  It's healthy and a good source of protein without being short of flavor.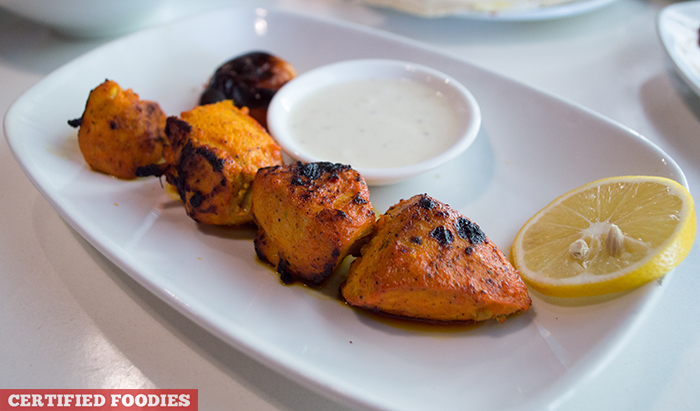 If you're having a hard time deciding between beef or chicken, their Special Kebab (PHP 140 solo/ 170 with rice) is your best choice. The dish is served with grilled tomatoes and some Garlic Sauce (PHP 10 for extra).  The flavor of the beef kebab was spot on. However, we found the chicken version a little bland, but it's something that their garlic sauce can easily fix.
We ended our delightful meal with a cup of their Persian Coffee (PHP 50). It was black and strong, and I know a few people who would really enjoy it. But since I really don't drink coffee, I had to lighten it up with some creamer and sugar.
The next time you're craving for some authentic Mediterranean cuisine or if you're just looking for something new to eat, we highly recommend you to try Dweet Gastropub. Their food are amazing and super affordable!
Dweet Gastropub
GF The Collective 7274 Malugay Street, Barangay San Antonio, Makati City
Contact #: (02)519-2588
Hours of Operation:
Monday to Sunday: 11:00 AM – 03:00 AM
Facebook – DweetGastropub.PH
Twitter – @dweetgastropub
Instagram – @dweetgastropub
The following two tabs change content below.
Kenneth is the chef in the family (he studied Culinary Arts and Baking & Pastry Art in GCHA). He's responsible for most of the more complicated recipes featured here, and loves preparing pastries and desserts. Aside from being a chef, he's also a Registered Nurse and Midwife. His love for cooking led him to pursue a culinary career.
Latest posts by Ken Ignacio (see all)
Comments
comments