Last week, I received a warrant of arrest from Zomato for being found guilty of gluttony. They ordered me to surrender myself at Cops and Robbers in Greenhills, San Juan. I had to turn myself in to answer for my crime. 😀
The Concept
When I got off the cab, the first thing I noticed was the scarcity of food businesses in the area. Cops and Robbers shares the location with only two other restaurants – Maria Maria and La Contessa Delicatessen. Strategically situated in front of Xavier School's Sports Complex, there's no doubt Cops and Robbers triumphs over its contemporaries for having a fun ambiance, a straightforward menu of comfort food, and a price range that students, the restaurant's main demographic, wouldn't find so heavy in the pocket.
The owners of Cops and Robbers, all Xavier alumni themselves, wanted to set up an after-school hangout for the students. They even have an area in the store where they have an array of toys and snacks for sale, but the shelves were empty when we were there since the school year is coming to an end.
The Design
Restaurants with industrial and rustic interiors are all the rage now, and it's no surprise the owners decided to choose it as their theme as well. It suits their concept perfectly. The place actually looks like a cross between a jailhouse and a school canteen.
Playing true to their name, of course, they included a jail booth and a wall for taking mugshots. Their staff are even dressed like jailhouse wardens.
Meet Aci, a fellow Zomato reviewer, who was arrested for illegal possession of a pretty face. Well, that's what she said. I'm in no position to oppose her. 😀
It's too bad they were out of photo paper that day so we weren't able to hang our mugshots on their photo wall.
The Menu
I was surprised how cute their menu was when I first opened it. It looked like a coloring book for kids. I bet the person who did their menu had so much fun designing it. 😀
The Food
Upon settling down in our seats, the servers asked us for our choice of refreshments. As usual, I asked for their Lemonade, while Elaine, the Community Manager for Zomato, ordered their Raspberry Juice.
The first item that was served to us was their Dynamite Sticks (PHP 120). I love spicy food so this appetizer was definitely up my alley. It was crunchy and very cheesy. The dip, though, was just a typical mix of ketchup and mayo.
It was unanimous. We all loved their Mozzarella Nuggets (PHP 140). It's best enjoyed when it's still hot from the kitchen since you'll get that gooey and chewy strings of Mozzarella cheese. And I loved that, for a deep-fried dish, it was not too oily at all.
Don't be fooled by this plain-looking Mac and Cheese (PHP 260). It was so flavorful and cheesy that it turned out as one of my favorite dishes that night.
The first salad served to us was the Crunchy Chicken Teriyaki Salad (PHP 240). The pieces of teriyaki chicken would have been better if they were drenched in more sauce. I felt that it was a little dry and bland. However, the fresh vegetables and the palatable dressing were what redeemed the dish for me.
The next salad we shared was their Grilled BBQ Chicken Salad (PHP 280). If you're a fan of our blog, you would know that we don't like salads at all. We'd rather dive straight onto the entrée, but this salad really hit home for me. Not only was it flavorful, it even had a good play in texture, giving the dish a surprising depth.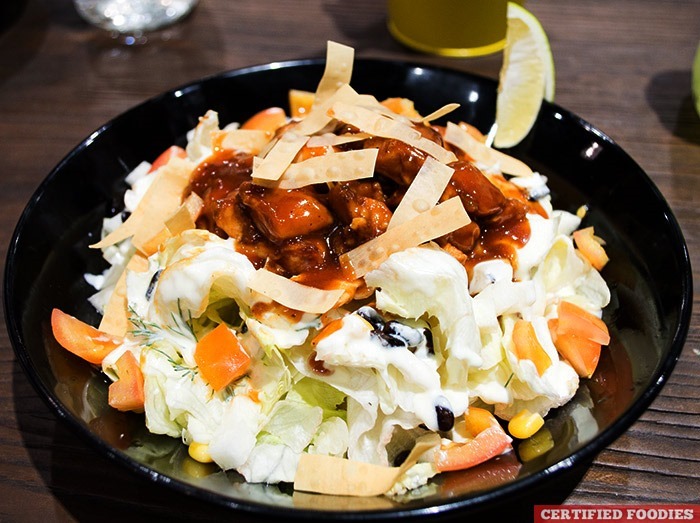 One item I knew Cops and Robbers would offer was a burger, so I was not surprised when their Bacon Mushroom Melt with Hand-Cut Fries (PHP 235) landed on our table. I loved that the burger patty was not dry and it was loosely packed so it was really soft to the bite. Like all their other dishes, they didn't hold back in making their burger extra cheesy. Yum! 🙂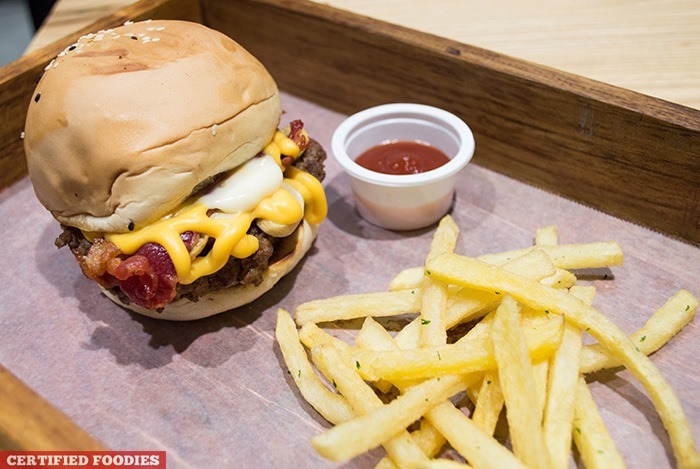 Their Philly Cheesesteak Sandwich comes with hand-cut fries and a bowl of tomato soup. You get all that for only PHP 210. I admit I'm a cheapskate, but I seriously found this sandwich super affordable!
Cops and Robbers took breakfast sandwiches to a whole new level with their Chicken Waffle Burger with Hand-Cut Fries (PHP 265). The waffles were slightly sweet, like they should be. The fried chicken pieces lacked a little seasoning, but the generous slices of cheese compensated for that.
If you order sisig at Cops and Robbers, you won't get it served on top of a sizzling plate. Instead, you'll get it on top of a thin and crunchy pizza crust with lots of cheese and a piece of freshly cracked egg to complete your sisig experience. It's so good that their Sisig Pizza (PHP 295) has become their number one bestseller.
Their Oyster Sisig (PHP 240) made us wish they offered beer at Cops and Robbers. It's crunchy and well-seasoned, making it the perfect companion for a cold pint of beer.
We were also served three (3) flavors of their Pizza Rolls, which are all served with a bowl of arugula and alfalfa sprouts. The servers instructed us to eat them like Korean samgyeopsal, but instead of wrapping the meat into sesame leaves, you wrap the arugula leaves into the pizza. They ran out of arugula leaves, so they gave us lettuce leaves instead. All their pizzas have thin crusts and this made me smile from ear to ear. I prefer thin crusts over thick ones because the flavors of the toppings become the highlight of the dish and not the other way around.
The first flavor that we tried was the Garlic Shrimp Pizza Roll (PHP 345). It's the flavor that went really well with the lettuce leaves. I just wish there were more shrimp pieces on the pizza though.
Next was the Four Cheese Pizza Roll (PHP 340). This pizza is addicting, since it's not too salty or bland. It even got me real curious to know where they source their cheeses.
My top favorite among the three flavors was their Chicken BBQ Pizza Roll (PHP 340). The BBQ sauce drizzled on top of the pizza reminded me of Hunt's BBQ sauce that I use whenever I cook baby back ribs at home. I have the same sentiment with this pizza as the Garlic Shrimp flavor though—I wish there were more chicken pieces on it.
Another one of my favorites was their Kimchi Fried Rice with Caramelized SPAM (PHP 255). How could you not love SPAM, right? I loved it even more because it was sweet. I was expecting the kimchi fried rice to pack a little more heat, but, I thought, since they're serving school children, they had to tone the spiciness down.
We're keeping our fingers crossed that Cops and Robbers will branch out because we believe they have a one-of-a-kind concept that foodies all around the Metro will surely notice! Plus, their food are so delicious and affordable, too!
Cops and Robbers
The following two tabs change content below.
Kenneth is the chef in the family (he studied Culinary Arts and Baking & Pastry Art in GCHA). He's responsible for most of the more complicated recipes featured here, and loves preparing pastries and desserts. Aside from being a chef, he's also a Registered Nurse and Midwife. His love for cooking led him to pursue a culinary career.
Latest posts by Ken Ignacio (see all)
Comments
comments