We were invited by Pancake House to try their newest offering – the Hearty Pan Chicken Set, so, yesterday, one lazy Sunday afternoon, we decided to pay them a visit at their Dela Rosa, Makati branch.
It was our first time at this branch. Quaint is the perfect word to describe it for its limited seating capacity. We usually frequented the one in SM North EDSA when we were still staying at Malabon. Even then, we've always ordered their crispy pan chicken.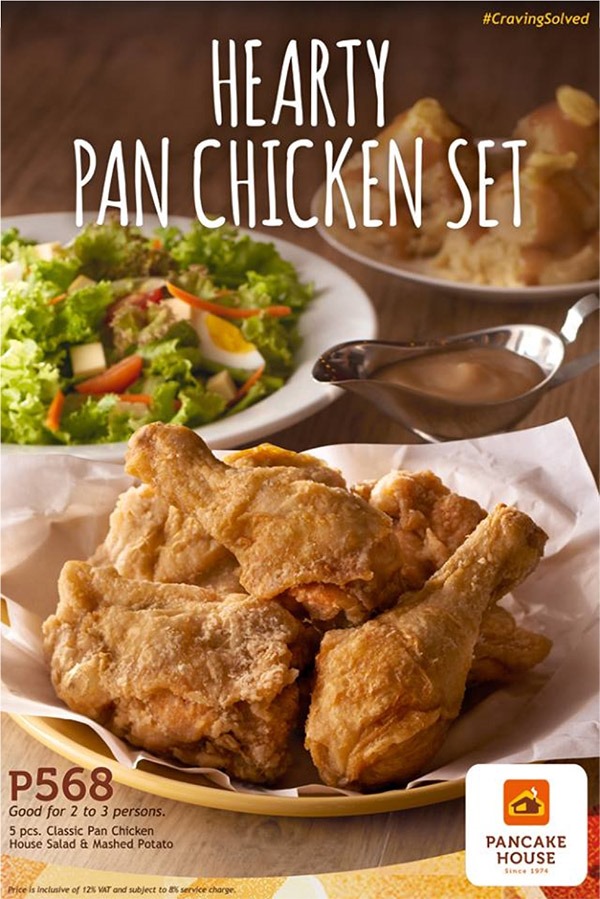 You can get the Hearty Pan Chicken Set for only PHP 568, which is already good for 2-3 persons. The store manager informed us that it can even be shared by up to 5 persons. Yes, we believe that it's possible, but not with the voracious appetite we were sporting when we arrived.
The Hearty Pan Chicken Set comes with 5 pieces of Pancake House's classic pan chicken, 3 scoops of mashed potatoes, and a big plate of their house salad.
The 3 servings of mashed potatoes were the first to arrive. It's generously topped with butter and gravy while still warm. You can swap your mashed potatoes with rice if you so prefer.
Next to arrive was the house salad, served with their homemade thousand island dressing. I found the egg a little overcooked, but I'm just being too technical. No one really fusses about perfectly boiling eggs, unless you're at a cooking school or a 5-star restaurant.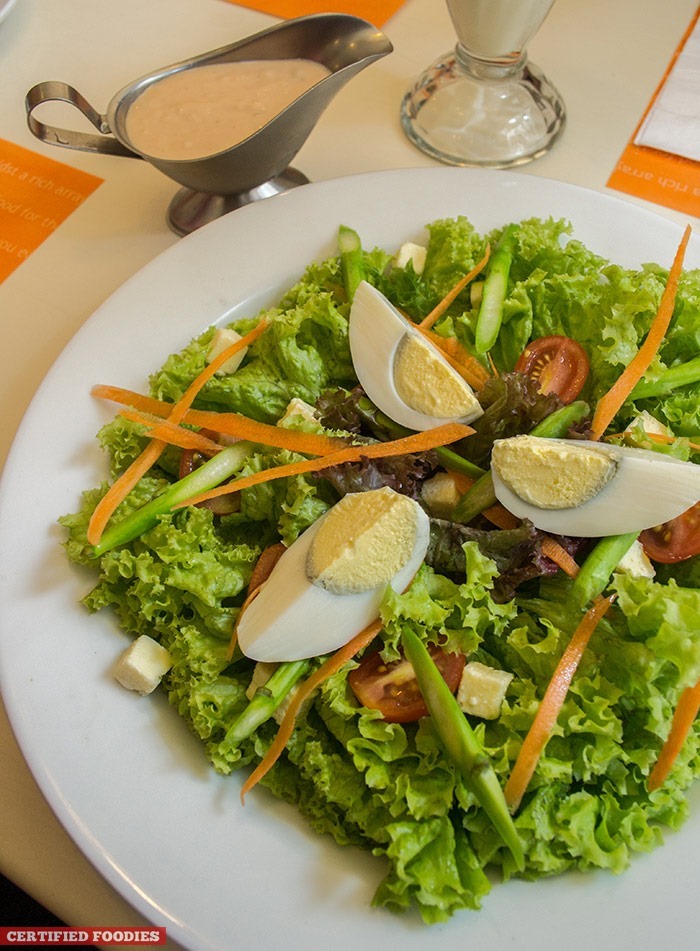 Our palates are already familiar with their classic pan chicken, so we expected them to be crispy, juicy, and full of flavor. And they were just that. We believe we were served half a chicken, since we received one piece each of a chicken leg, thigh, wing, and breast (and they're big pieces too!). We're not sure, however, if you can request for specific parts of chicken to build your set of 5. But we would surely love to get a set with just legs and thighs though. Haha!
Like I said, we were quite hungry when we got there, so we also ordered a serving of their Seafood Gambero Pasta for Php 298. It was surprisingly good. The tomato herb sauce was well-seasoned and with a good touch of tanginess.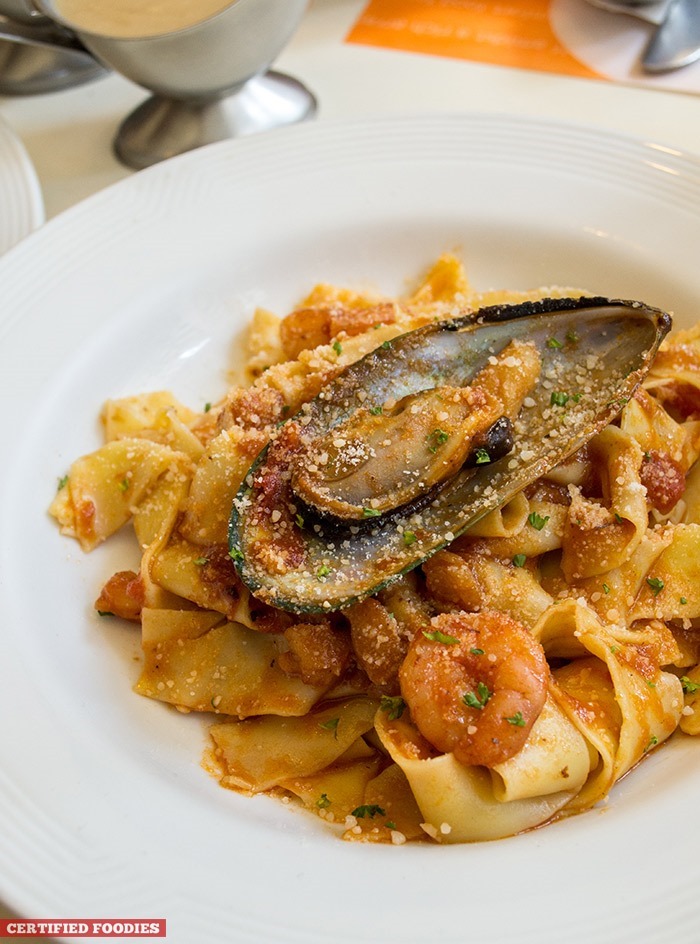 For our refreshments, we tried their Root Beer Float (Php 109) and their Vanilla Milkshake (Php 115). The root beer they use for their float is Sarsi and it is topped with a big scoop of vanilla ice cream, which was very creamy and thick. The vanilla milkshake, crowned with a huge dollop of whipped cream, was sinfully dense and creamy. We loved it.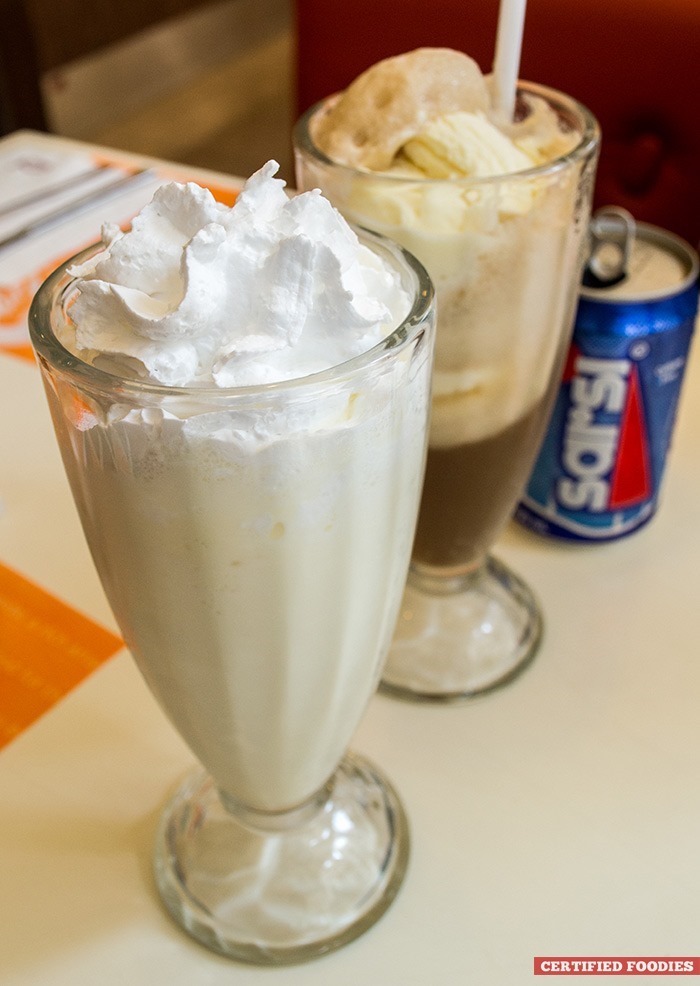 If you're planning to dine out with your friends, family, or just with your special someone on Valentine's Day, we highly recommend trying Pancake House's Hearty Pan Chicken Set. The three items included in the set are all delicious, and the servings are generous, so you're sure you are getting your money's worth.
The following two tabs change content below.
Kenneth is the chef in the family (he studied Culinary Arts and Baking & Pastry Art in GCHA). He's responsible for most of the more complicated recipes featured here, and loves preparing pastries and desserts. Aside from being a chef, he's also a Registered Nurse and Midwife. His love for cooking led him to pursue a culinary career.
Latest posts by Ken Ignacio (see all)
Comments
comments