When Ken and I decided to add more fruits and vegetables to our diet, we swore off milk teas and looked for alternatives. Thankfully, Jamba Juice made the switch easier… and yummier too. 🙂
I love fruit smoothies and make them a lot at home too. So when we go out, like now that we're living in Makati, Ken and I enjoy frequenting their Bonifacio High Street branch late at night after our almost weekly now Fully Booked visit. Their store in BGC is open till 1am, in case you didn't know. 😉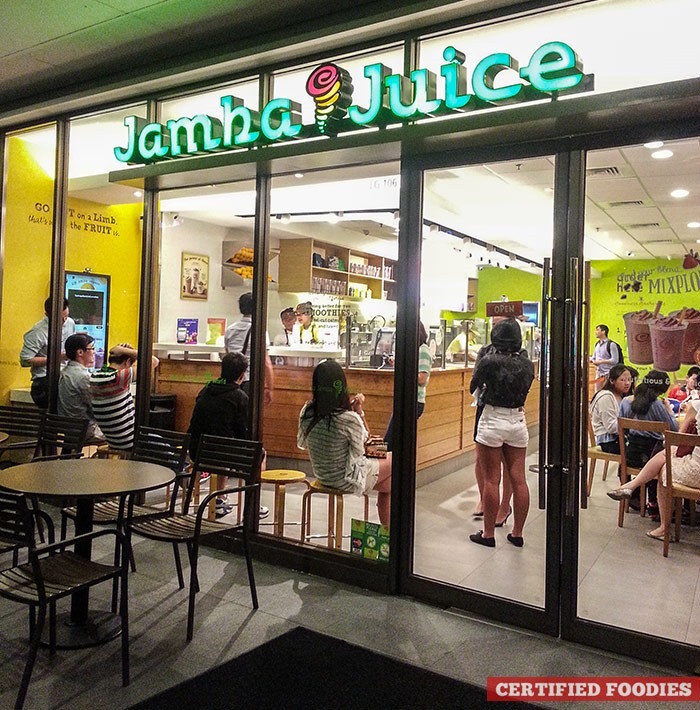 Usually, we'll take a lot of time choosing which smoothies we'll each get since we want to taste different flavors every visit. Ken ends up sipping half of mine while I finish off his smoothie too. 😀 I guess you can call us true blue Jamba Mixplorers. 😉
If you're like us who enjoy mixploring or trying out different flavors every time you visit Jamba Juice, you'll be glad to know that they now have this Jamba Juice 12-oz cup that lets you order different smoothies if you choose to.
Make sure you ask for the Reward Card too. Here's a tip: go for their 12-oz cup, then try out various flavors. The new cup makes it easier for you to fill the reward card since you get one stamp no matter what size you order. 🙂
Once you fill the card (12 stamps), you'll get this acrylic Jamba Juice tumbler. I quickly got mine in a span of 2 weeks (I love collecting cups and mugs like this)! 😀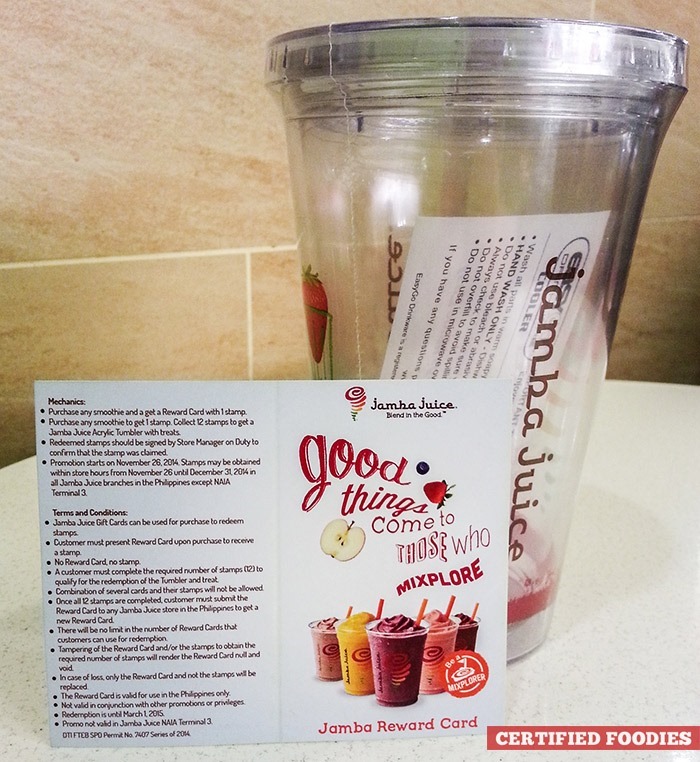 Next time you're at Jamba Juice, try mixploring too. We highly recommend the following: Banana Berry, Strawberries Wild, Peanut Butter Moo'd (Ken's favorite!!), and Chocolate Moo'd. 🙂
The following two tabs change content below.
Michelle (aka Mhel / blankPixels) is a social media nerd and works as a Digital Marketing Lead for one of the top online companies in the Philippines. On her free time, she travels, goes on food trip and loves to take photos. She's the main editor of this food blog.
Latest posts by Michelle Ignacio (see all)
Comments
comments