Because we're food bloggers, Ken and I are usually our friends' go-to resource persons when it comes to restaurant recommendations. We have many favorite places (we haven't written about most of them yet though), and so we have an arsenal of personal recommendations. One place that has been on top of my list since we went there a few months ago is Detalle Bar + Kitchen in Ortigas.
Detalle is sort of a hidden hangout. They don't have a huge sign that'll help you pinpoint their place, but that's one of the reasons why I love them. The thing that'll help you locate this restobar is the Century Tuna billboard at the corner of Meralco Avenue and Doña Julia Vargas Avenue – they're right below it. 😀
Detalle is owned by sisters Bernice and Denise Lim, with cousins as partners who also happen to be their friends, which is why you'll get that friendly vibe as soon as you enter their restaurant. Detalle has this particularly chill environment where you can spend time catching up with friends or even getting to know someone new… and special. 😉 It's the perfect venue to enjoy their cool drinks, a relaxing ambiance and delicious food.
My favorite spot is on the second floor lounge where you'll find big couches and coffee tables. They also have a bar there so you can easily order food and drinks whenever. Their staff has been quick in attending to our orders or needs the 2 times we've been there. 🙂
Looking around the restaurant, you'll notice they have this industrial, laidback theme going on. Their menu is attached to these aluminum boards using screws. Even their logo art on their wall is made with aluminum.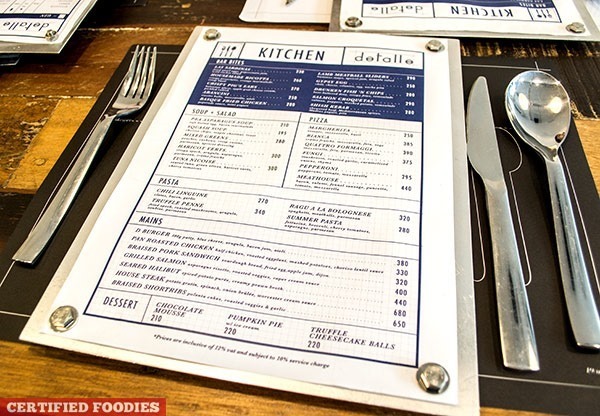 Their tissue holders are tin cans.
And when you reserve a table, you'll find this row of Scrabble letter pieces that spell out your name. Cool, eh? All Instagram-worthy. 😉
Now, let's get on with the food, shall we? FYI, their chef consultant is Chef Jerome Opriano of The Goose Station. First look at their menu, you'll notice that they serve a fair amount of dishes, and they don't follow a common or particular cuisine or theme. However, each dish is done pretty well. They serve straightforward comfort food. 🙂
The menu prices are affordable considering the serving sizes (good for sharing!) and that they use premium ingredients, even in their cocktails. We were told that they make sure everything is homemade too.
Let's start with their pizzas. They have 6 flavors, and we ordered their Quattro Formaggi and, our favorite, Margherita.
Quattro Formaggi (Php 390), which is a 4-cheese pizza with mozzarella, feta, parmesan and ricotta, is perfect for cheese lovers. Just like their Margherita pizza, the crust is crisp on the outside, and soft when you get to the middle so it gives you a little chew.
Their Margherita pizza (Php 250) has become our benchmark for all Margherita pizzas. Generous amount of tomatoes with the sauce and roasted cherry tomatoes on top; the combination of everything – with the mozzarella cheese, basil leaves and crisp crust – definitely hits the spot. 🙂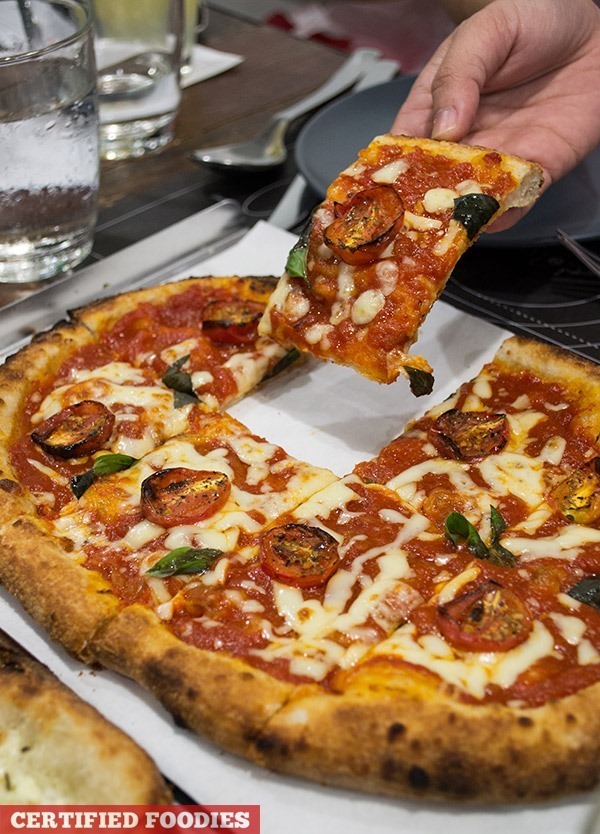 I'm not really fond of ordering soups unless something on the menu catches my eye. That's exactly what happened when we decided to order their Pea Asparagus Soup (Php 210). The serving is definitely good for sharing. There were 5 of us, and there's more than enough of the soup to go around. The soup had this thick, gritty texture, which we all liked. It's lovely how a soup made with simple ingredients can come out super tasty. 🙂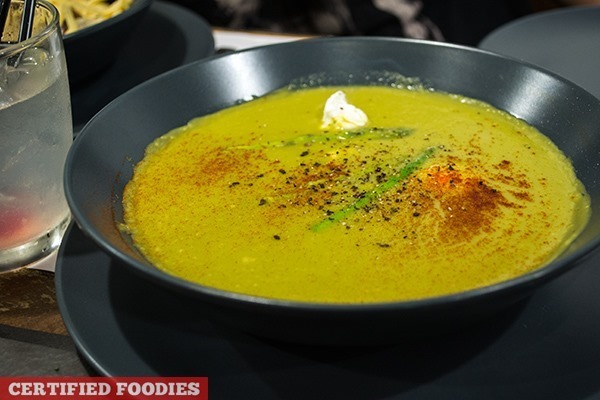 Everyone was pushing to try Detalle's Salmon Croquetas (Php 290). The dish didn't disappoint. The croquetas are made with salmon (duh), peppers, and mashed potatoes, then topped with remoulade (mayo with spices, capers, mustard and herbs). THIS is a must-try and quite flavorful, I promise you! 🙂
I regret not taking a more decent photo of Detalle's Basque Fried Chicken (Php 280). Based on their menu, the chicken is coated with piperade sauce and then finished with mint yogurt. However, Ken and I swear that both times we were there and ordered this dish, we tasted blue cheese. Hmmm… 😀 Either way, this is definitely on top of our favorite dishes from Detalle.
It had the right amount of spiciness that we love when it comes to chicken wings. The slight sweetness was quite addictive. Sarap to the bone na, finger-licking good pa, promise! 😛 In fact, sinolo ko sya when we went back with colleagues. 😀
Next up is their Pan-roasted Chicken (Php 330), served on a bed of mashed potatoes, with roasted eggplant, chorizo lentil sauce. The chicken is juicy, and the chorizo added another savory level of flavors. I swear, I'll go back to Detalle just for this. 🙂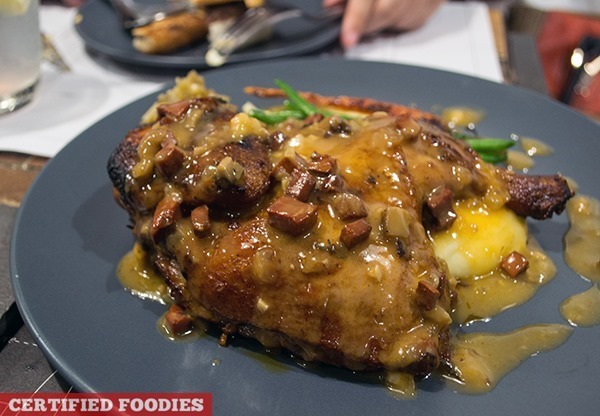 Of course, we had to try D Burger (Php 380), made with 300g beef patty, dressed with blue cheese, arugula, bacon jam and aioli. The patty was juicy, and all the ingredients complemented each other well. It's something I can finish myself without feeling any umay after.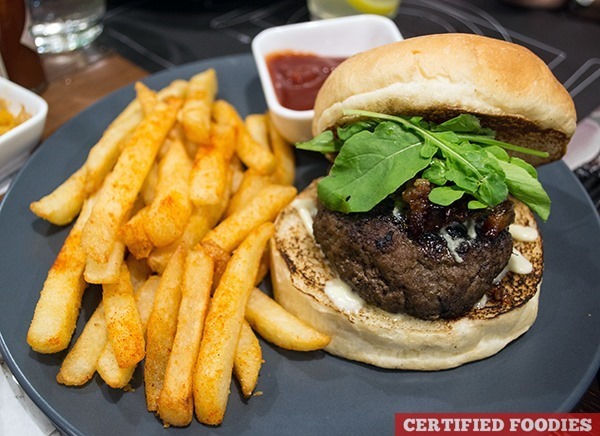 Whenever Ken and I see lamb on a restaurant's menu, we'll typically order it just to see how they will prepare it. Lamb is known for its gamyness, so it's beautiful when restaurants come up with ways to go around it so you'll appreciate its flavors. And that's what Detalle did with their Lamb Meatball Sliders (Php 290). They serve this with hummus (chickpeas) mayo, apricot jam and arugula salad. There's still this hint of gamyness, but the hummus mayo and apricot jam helped a lot to make it palatable.
They were recommending we try their House Steak (Php 680), and it's for good reason. It's the highlight of our dinner, with its smoky flavors, juiciness and overall goodness. The steak was cooked medium-well, but it was still tender to the bite. They serve this with potato gratin, string beans, baby carrot, spinach, onion brûlée and worcester cream sauce.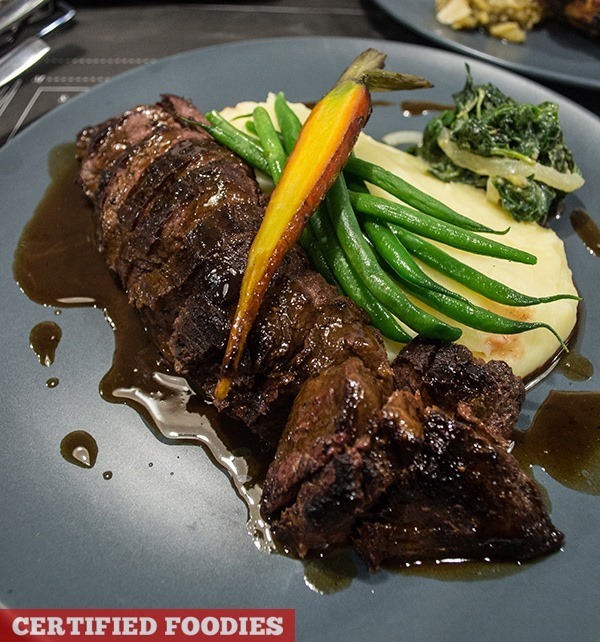 We went ahead and ordered their Grilled Salmon (Php 400), which was another good decision. We couldn't get enough of it! The creaminess of the salmon, the accompanying caper cream sauce, and the flavors of the asparagus risotto were just so irresistible!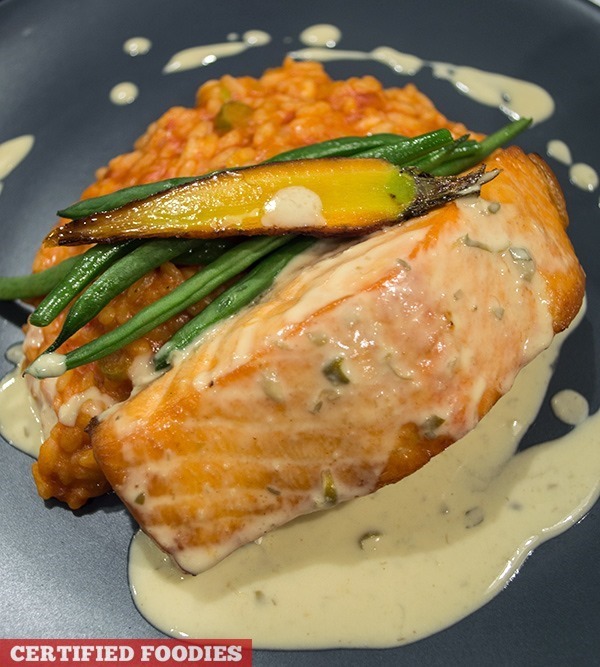 Detalle also serves pasta dishes. We were all in agreement to order their Chili Linguine (Php 270) with clams, bacon and garlic. The pasta was cooked right – al dente and not soggy. The thick, flavorful sauce was seasoned well. The hint of spiciness was a delight! One of the dishes I highly recommend. 🙂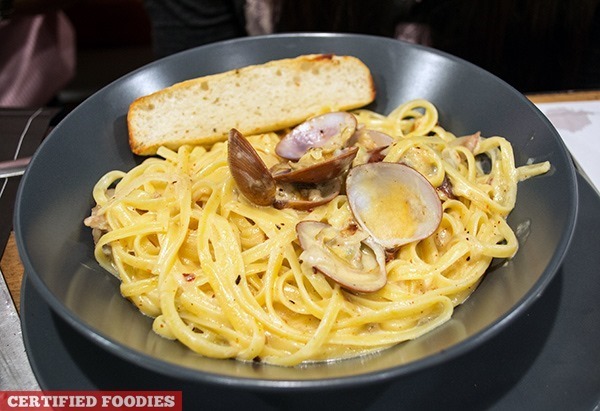 After a few weeks, I organized a meet-up with some of our colleagues from our online job. The decision for the venue was easy – Detalle. We ordered a couple of dishes we haven't tried yet, like the Drunken Fish 'N Chips (Php 280).
Pardon the photo. I was in a hurry to snap a quick one 'cause they were all HANGRY. 😀 Their fish and chips were very tasty. It didn't take long for us to finish off the whole serving. I remember we ordered another serving 'cause we couldn't have enough. 😀
Since I saw the Crispy Pig's Ears (Php 270) on their menu the first time we were there, I've been curious how it'll taste or feel like. I've been hearing people raving about it. 😀 Sadly, though it was fine for pulutan, I'm not a fan. It could use a little more seasoning, in my opinion. It comes with a serving of apple goat cheese cream, by the way.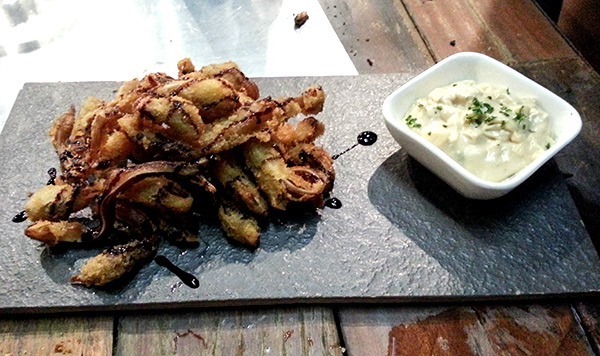 Cocktails at Detalle
I'm excited to tell you about Detalle's cocktails and other drinks you can order off their menu. They told us that they use premium spirits in their concoctions, and they also serve below-zero, ice-fricking-cold beers. 😀
They want to make sure that the quality of their drinks also matches their food, so they don't serve watered down cocktails here. Smart move since many people, especially after office hours, usually just go out for drinks and not really for a full-on dinner (I'm guilty! 😀 ). At Detalle, you'll not just come back for the food, but also their cocktails. By the way, the lowest priced vodka they use is Absolut; and for rhum, Bacardi. 🙂
I have to admit, I love mojitos. It's always my first choice when it comes to cocktails, followed by frozen margarita. When I found out Detalle serves 2 kinds of mojito – the classic cocktail and their Holiday Mojito (Php 280)  – I immediately went ahead with the latter. This is what I got.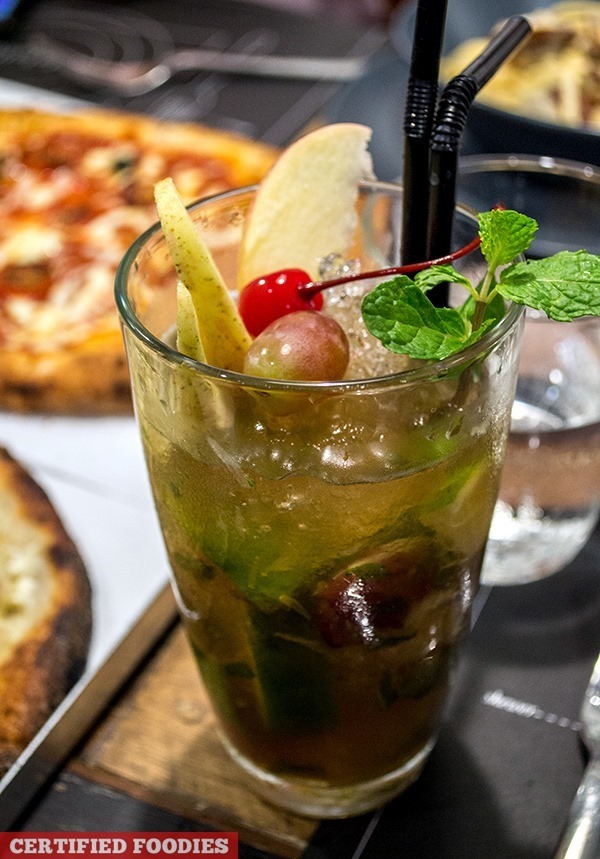 I swear, I feel like this was the healthiest mojito I've had! 😀 It comes with these fruits that you can munch on while you drink the mojito. I super enjoyed it that I ordered another one right after.
The second time we went to Detalle, I tried their regular mojito (Php 180) too. 🙂
Here are some of the other cocktails and drinks we ordered.
Caribbean Crush (Php 230)… I think. 😀
City Lights Lemonade (Php 310) and Red Sangria (Php 250/glass)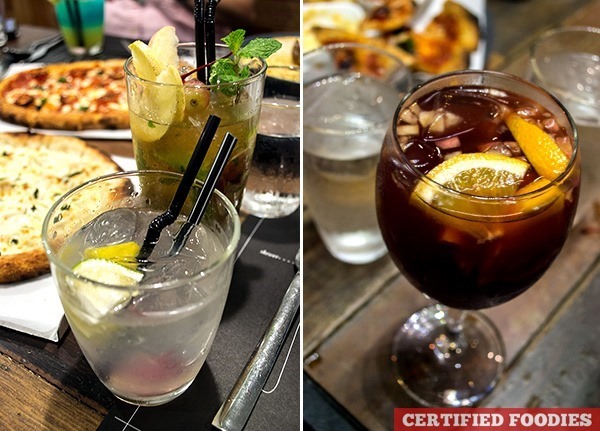 Meralco Blackout (Php 290) – We just had to order this 'cause of the name. 😀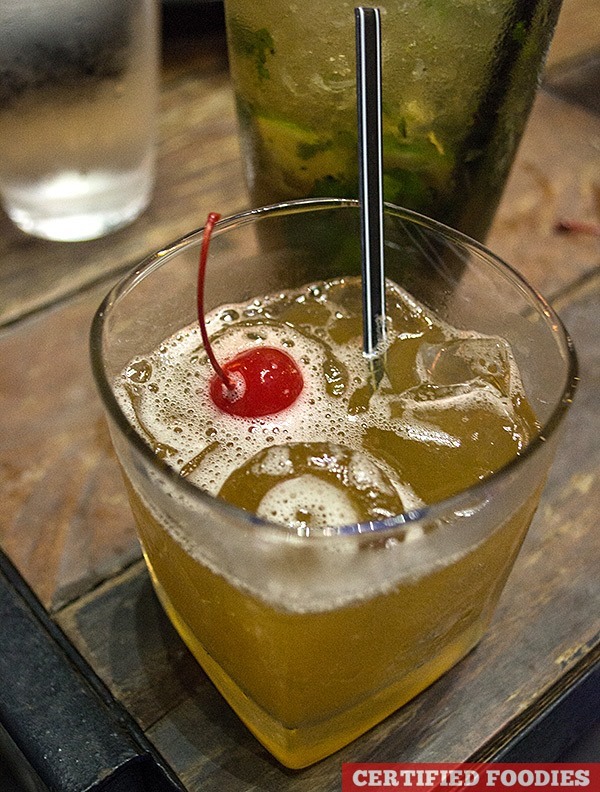 My friend Saji is kinda fussy when it comes to her cocktails, so she wanted to test the quality of Detalle's. She ordered their White Russian (Php 190) and was impressed. 🙂
We had an amazing time at Detalle and we can't wait to go back with our other group of friends so they can also experience why we love this place so much. 🙂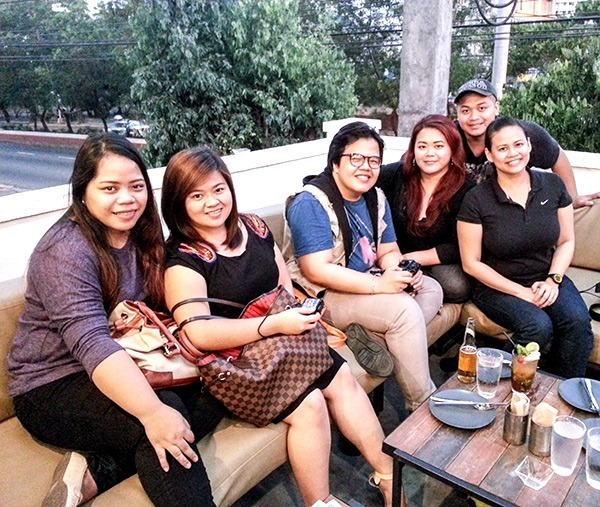 Basta! It's definitely worth a visit. Trust me, you'd want to come back again, and again, and again. Now I slightly regret telling you about this hidden gem. 😀 Just kidding.
But jokes are always half-meant. 😛
How to get to Detalle Bar + Kitchen
As I've mentioned earlier, it can be tricky finding Detalle. Hopefully this map would help. 🙂
detalle Bar + Kitchen
88 Meralco Avenue corner Doña Julia Vargas Avenue, Ortigas Center, Pasig City (under Century Tuna / Anne Curtis billboard)
Operating Hours:

Monday to Thursday: 5pm to 2am
Friday & Saturday: 5pm to 4am

Detalle on Facebook: http://www.facebook.com/detalleph
Instagram: @DetallePH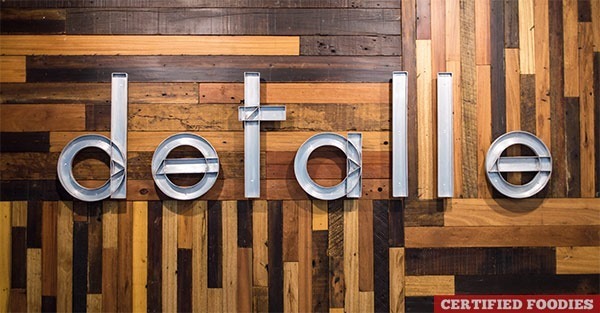 The following two tabs change content below.
Michelle (aka Mhel / blankPixels) is a social media nerd and works as a Digital Marketing Lead for one of the top online companies in the Philippines. On her free time, she travels, goes on food trip and loves to take photos. She's the main editor of this food blog.
Latest posts by Michelle Ignacio (see all)
Comments
comments