One might wonder why Italian food thrives in the Philippines when most of our cuisine's influences resulted from years of colonization or inter-country trades, neither of which the Italians were ever involved. However, there's one possible answer: Filipinos and Italians are both innately family-oriented. Cooking and eating are always a family affair, and the servings are, more often than not, geared to accommodating big families. And that was exactly what the Chef's Table of Finestra Italian Restaurant in Solaire Resort and Casino aimed to do – to submerge an intimate group into a one-of-a-kind culinary experience.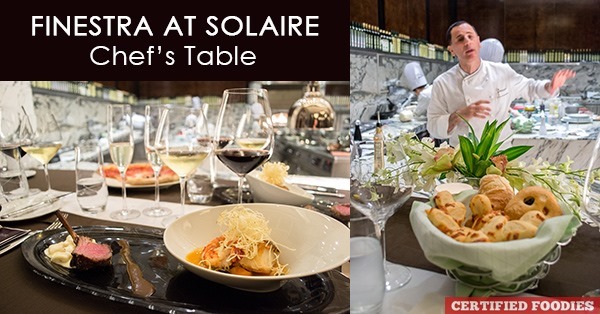 Finestra Italian Restaurant
Solaire Resort and Casino brings the authentic colors and flavors of Italy closer to home at Finestra Restaurant. Among the four world-class food establishments that are housed in Solaire, only Finestra has a breathtaking panoramic view of Manila Bay – the best place to enjoy a sumptuous meal while watching the sunset.
Aside from the big smiles and courteous greetings, the bar welcomes you like an old friend, egging you on to try their imported wines and special drinks that are not available anywhere else in Manila.
But the real center of attraction in Finestra is their show kitchen, where you can see your chefs hard at work in preparing exquisite Italian dishes.
The Chef
Heading the Finestra's kitchen is Executive Chef Salvatore De Vincentis, who boasts of over 20 years of experience under his belt. He has previously worked in Dubai, the Bahamas, and most recently at EDSA Shangri-La Manila.
His hard work has been recognized countless of times, but one of his most notable achievement was being awarded as the Best Executive Chef for Italian Cuisine at the WOFEX Worldwide Competition Awards. 🙂
Chef's Table at Finestra
We consider ourselves lucky for being invited to experience the ultimate VIP treatment at the Chef's Table of Finestra. When we arrived, we were ushered towards a lone table in front of the show kitchen. It's the best seat in the house, where we can watch the chefs prepare the food before our very eyes. Chef Salvatore himself attended to us with fervor, and he was ready to answer all our questions from the ingredients they use (they import some directly from Italy) down to personal queries we choose not to divulge. 😛
A group of a maximum of 6 people have two menu options. They could choose between having a six-course and a nine-course meal. We initially decided to go for the nine-course meal, but as soon as the first plate landed on our tables and we saw how big the serving was, we're quite glad they took our suggestion on narrowing it down to just seven courses.
If you want an extraordinary culinary experience that is both educational and entertaining, the Chef's Table at Finestra is your best choice. The executive chef will personally prepare a customized menu for you and your group, taking into consideration your food preferences and food allergies, so you will enjoy only the food that you love. 🙂
Complimentary Bread
When we finally got comfortable in our seats, our server placed a big basket of assorted complimentary bread and a trio of dips composed of extra virgin olive oil, aged balsamic vinegar, and parmesan cheese for dips.
We particularly enjoyed the cheese bread for its crunchy exterior but soft and chewy interior. Mix all three dips together, slather some on your bread, and you get a starter that will surely wake up the senses.
First Course
Our first course was an interesting plate of Prosciutto-wrapped melon with homemade bread sticks and imported Burrata cheese topped with micro arugula, then drizzled with basil oil and melon mousse. The partnering of prosciutto and melon is a textbook flavor combination that always works.
The Burrata cheese did nothing but complement the dish with its chewy, mozzarella-like coating, and an irresistibly creamy and soft filling. The basil oil was a subtle touch, yet became the glue that made all the components work together.
Second Course
My heart skipped a bit when I saw Chef Salvatore preparing our second course – the lobster and shrimp soup with wine infusion and homemade crostini. The soup base had a mellow tartness from the wine and tomatoes that was countered by a mix of sweet and salty from the crostini and the seafood.
The prawn and lobster were locally sourced, and we think the dish was keenly executed. And it actually feels good that they're patronizing local products, since the Philippines do have high-quality seafood that can compete with those that are imported from other countries.
Third Course
We finally saw something familiar… onto our third course – pizza! But it's not just any kind of pizza. This one's a truffle pizzetta with prosciutto, porcini mushrooms, and imported buffalo cheese, then drizzled lightly with truffle oil and extra virgin olive oil.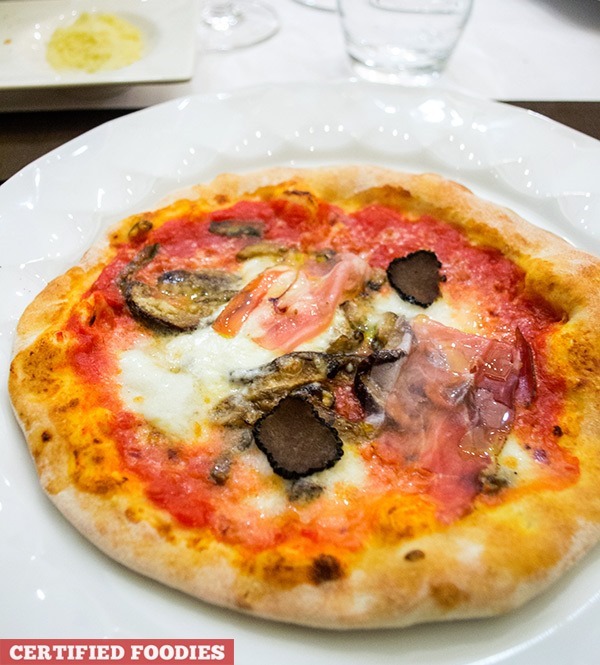 It is important to note that they use REAL truffles, which, you know, don't come cheap! Also, the pizza was served Napoli-style, so it reached our table whole and not pre-cut. We were encouraged to eat our pizza using our hands, to which we openly obliged. 😉
Chef also wanted to show us how they usually serve their pizza to the guests – family style – so he prepared a Margherita pizza, which is, FYI, my favorite!! We were aware that more dishes are coming, but that didn't stop me from grabbing a slice. 😛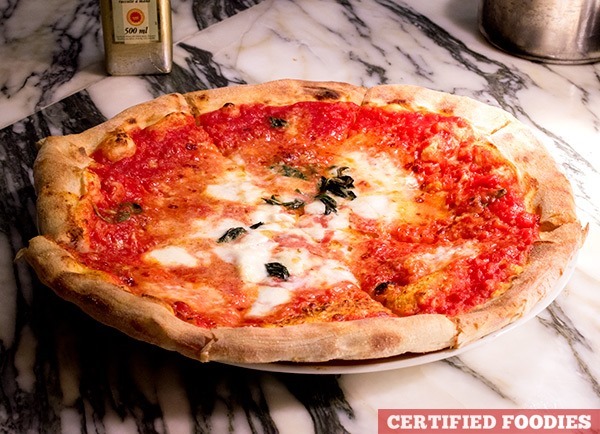 Wine Pairing #1
Their sommelier, Geordie, came over our table holding a fine bottle of fine Prosecco Di Valdobbiadene right before we proceeded to the next course. It's the best wine pairing he can suggest to go with our pasta course, even reminding us to take note of how the pasta will taste before and after sipping some wine.
Fourth Course
After the pizza, we were presented a trio of Raviolone with diver scallops, saffron cream, and salmon caviar; Calamarata with red Sicilian pesto, clams, and mussels; and Risotto with homemade sausage and Barolo wine reduction. The sauce of the raviolone was addictively creamy that countered the subtle saltiness of the scallop and salmon caviar. We really, really love pesto, so the calamarata received an automatic thumbs up from us.
The risotto, on the other hand, had a notable tanginess that truly complemented the homemade sausage. The Prosecco paired well with the raviolone for it brought balance to the pasta's creaminess, and it also added a hint of bitterness that gave the dish more depth.
Fifth Course
After four courses of varying flavors and textures, it's the right time for a palate cleanser. We couldn't think of anything else that could do the job better than this Limoncello Sorbet.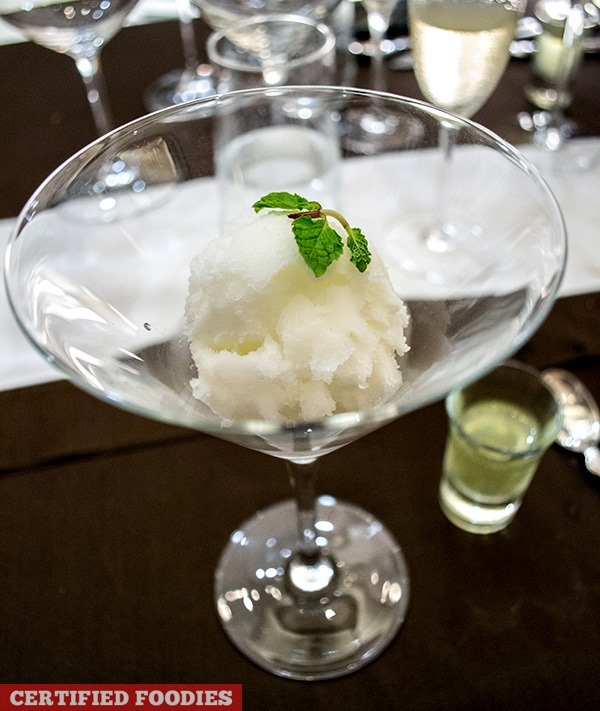 Chef Salvatore showed us the bottle of Limoncello liqueur that they used to make the sorbet. Don't be fooled by its seemingly sweet packaging. This bad boy packs a punch if drank alone, but pour onto the sorbet and you get a palate cleanser that's hard to resist.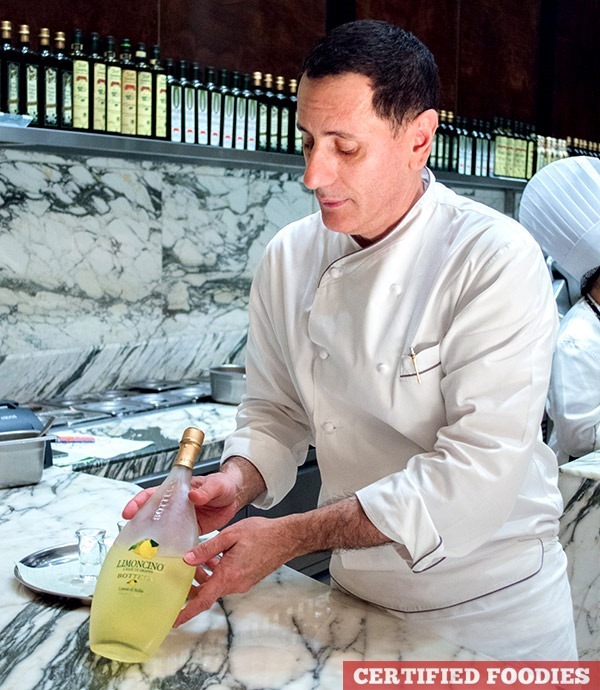 Sixth Course
The servings of our second to the last course were big enough to make two separate dishes, but they transformed it into one to make a surf and turf dish that juggles between the flavors of the land and the abundance of the sea.
The Agnello is grilled lamb chops with truffle gnocchi in cream sauce. We loved that the lamb chop was not gamey at all. Its meat was tender and full of flavor. We also enjoyed the rice cake texture of the gnocchi that created a good contrast with the meat.
Wine Pairing #2
It's textbook knowledge that most meats, especially gamey ones, pair well with red wine. So to partner our lamb chops, their sommelier suggested we try it with a glass of Braccale Jacopo Biondi Santi, another imported Italian wine that you can only get at Finestra.
Next is the Branzino, which is roasted Chilean sea bass and prawn with Datterini cherry tomatoes and Sorrento olive oil infusion. The fish was cooked to perfection with a melt-in-your-mouth feel, and the deep-fried onions were touch for texture.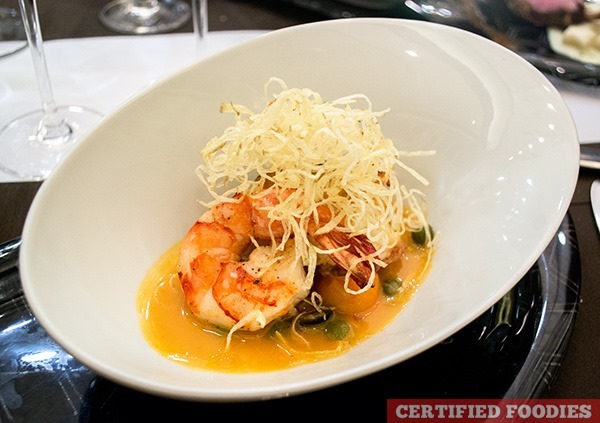 Wine Pairing #3
As meat is to red wine, seafood goes tremendously well with white wine, and this imported bottle of Schiopetto is an excellent choice. A single sip of this wine delivers a mild cheesy flavor that heightened the flavor of the fish to a whole new level.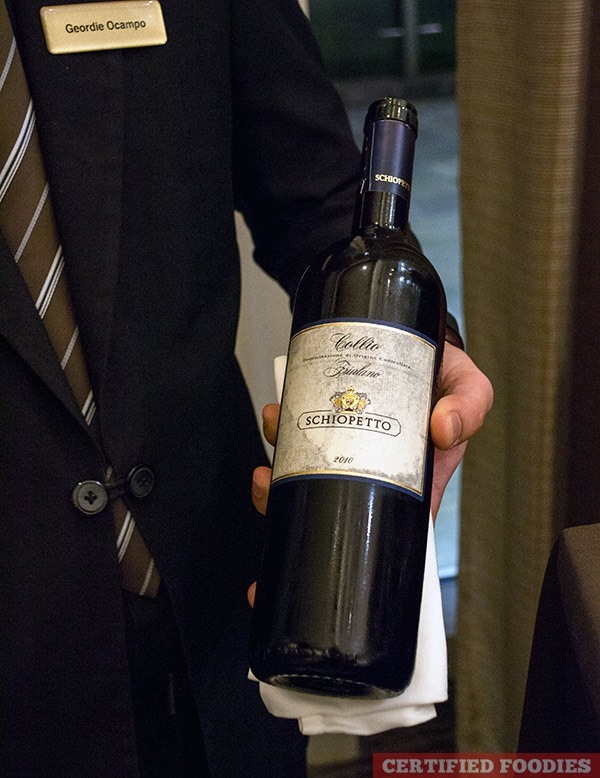 Seventh Course
Finally, it's time for my favorite part of a meal – dessert! Like I always say, "A restaurant is only as good as the last dish it serves." This trio of desserts truly ended our meal on a nice note!
We're quite surprised that some people still mistake Tiramisu as a Japanese dessert (the name does sound Japanese, eh?). This is authentic Italian any way you look at it with its flavor combination that coffee lovers will surely love.
One of the greatest contribution of Italy in the food industry is definitely the spread the world has come to love – Nutella! This small piece of cake gave the spread justice for it was layers upon layers of addictive goodness.
Thank goodness we ended our meal with this Walnut Caramel Gelato that resonated with heavenly flavors by marrying creaminess and texture. It was orgasmic. 😀
Wine Pairing #4
After our seven-course meal, we were offered to try a shot of this Grappa Prosecco, a premium Italian drink that aims to help in digestion. With all the food that we've eaten, it was more than proper to have some of this digestive. A single shot of this is all that you need, since I honestly had a hard time finishing mine. 😀
We've never experienced Italian cuisine as authentic and well-executed like the array of food served to us at the Chef's Table of Finestra. It's the kind of cuisine that truly reflects Solaire's love for flair and luxury.
Prices and Menu Options
If you and your special someone, your family, or your friends want to try a culinary experience you will never forget, then dining at the Chef's Table in Finestra in Solaire Resort and Casino is the perfect choice. 🙂
You could choose between having a six-course meal (PHP 4,888+ / person) or a nine-course meal (PHP 5,888+ / person).
We recommend that you complement your meal with their optional beverage pairing for an additional PHP 1,299+ / person for a six-course meal or PHP 1,699+ / person for a nine-course meal.
Reservations should be done 72 hours in advance, and your group must be a minimum of two to a maximum of six persons.
1 Aseana Avenue, Entertainment City, Parañaque, Metro Manila, Philippines
Contact #: (02) 888-8888
Twitter and Instagram: @SolaireResort
The following two tabs change content below.
Kenneth is the chef in the family (he studied Culinary Arts and Baking & Pastry Art in GCHA). He's responsible for most of the more complicated recipes featured here, and loves preparing pastries and desserts. Aside from being a chef, he's also a Registered Nurse and Midwife. His love for cooking led him to pursue a culinary career.
Latest posts by Ken Ignacio (see all)
Comments
comments