Just when we thought the katsu craze is over, Japan's favorite 25-layered mille-feuille style tonkatsu finally arrives in Manila, giving Yabu: House of Katsu a run for their money! Kimukatsu opens their 5th international branch in the Philippines after their great success in Hawaii, California (2 branches), and South Korea.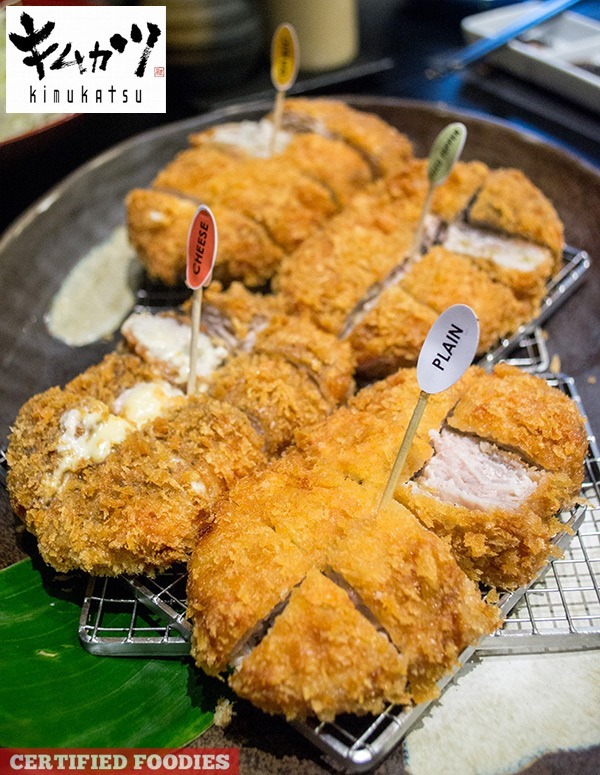 Imagine our delight when we received an invite from Kimukatsu to try their famous tonkatsu. With our extreme love for Japanese food, how could we say no? 😀 We headed over to their Shangri-La branch for lunch and met with Kenji Komuro, Kimukatsu Philippines Director of Public Relations, who gave us a quick tour and a rundown of their menu.
Façade and Interiors
Kimukatsu is located at the 5th floor of Shangri-La Mall, East Wing. From outside, Kimukatsu's façade doesn't look intimidating at all.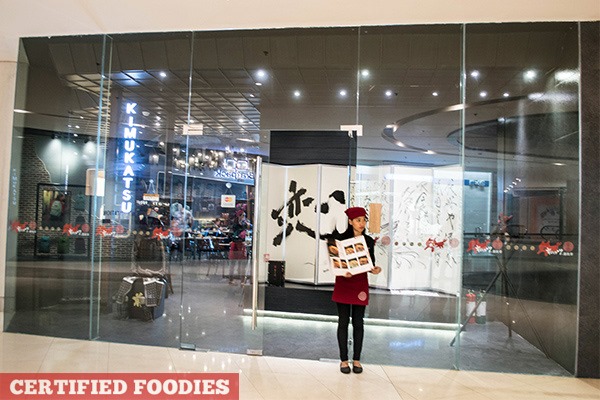 An authentic Samurai armor, shipped straight from Japan, sits comfortably in front, warning guests to surrender their diets with abandon! 😀
From the matte black walls with its subtle white details, to the black acrylic chairs and Japanese lanterns that hang over our heads, the whole place screams of sophistication.
Kimukatsu's Menu
Their menu comes in 2 colors – white for women and black for men – which reminded us of Yin-yang, but I'm sure the concept's Chinese in origin. It's a unique touch, nonetheless.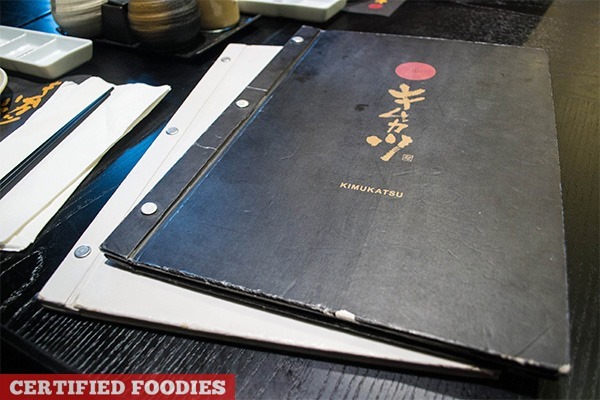 Here's the page where you can see all the seven flavors of Kimukatsu's 25-layered tonkatsu. Disclaimer: Drooling may ensue.
Japan is revered for how they value tradition despite how advanced they have become when it comes to technology. Observance of their tradition is perfectly evident when it comes to food, just like when this mortar and pestle with black sesame seeds was set upon our table. Grind the seeds into bits and mix with tonkatsu sauce or even with fresh steamed rice.
We were offered two glasses of Mugicha iced tea. It's not the sweet kind of iced tea I was expecting, so I took sips of it more as a palate cleanser than as refreshment. Our host, Kenji, went ahead and introduced us to their 3 salad dressings – Goma Dressing, which is Japanese mayonnaise with roasted sesame seeds; Choregi Dressing, for those who like their salad with a little kick of spice; and Kimukatsu Dressing, a mix of soy sauce, vinegar, and vegetable oil.
For appetizers, we ordered a serving each of their Potato Salad and Ebi Mayo. The Potato Salad (Php 130) was creamy and dense. It's topped with a few strips of deep-fried onions that added a good crunch. I can only say good things about their Ebi Mayo (Php 210). The shrimp was not overcooked and rubbery, a mistake even some high-end restaurants commit. They were tender, and the sauce that enrobes each piece truly complemented the flavor of the shrimp. We actually hoped we could have some ice-cold beer to go with the Ebi Mayo, but we changed our minds since it's only noon! 😛
Japan's Favorite 25-Layered Mille Feuille-Style Tonkatsu
Kimukatsu owes their popularity to their 25-layered tonkatsu that uses only the highest quality of pork, sliced so thinly, stacked into 25 layers, covered with fresh breadcrumbs, and fried in low heat for 8 minutes, making sure every piece is tender and flavorful. Their tonkatsu comes in 7 different flavors – Plain, Cheese, Garlic, Black Pepper, Negi Shio, Yuzu Kosho, and Ume Shiso.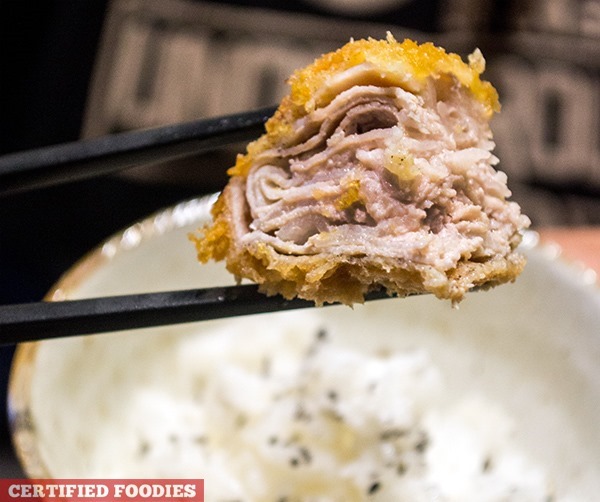 Can we just take a moment to appreciate the beauty of these layers upon layers of sliced premium pork? Yum! 🙂
We ordered their 4 Flavor Kimukatsu Set for Php 1,500 with 3 rice sets, which includes unlimited cabbage salad, Miso soup, and Japanese steamed rice.
Guests are given 3 sauces to choose from for their tonkatsu. One is their Ponzu Sauce, made with soy sauce and lime. Another is the traditional tonkatsu sauce. The last one is Himalayan Salt, which was pink in color, a little sweet, and not as salty as regular rock salt. You also have 2 options for the soup – a white and milky one, and another that is red and has a stronger flavor (not spicy though) – to match their Yin-Yang concept at the restaurant.
Did I mention that there's unlimited Cabbage Salad? Yes? But did I tell you they come in a huge mound like the one above? I guess not. We smothered the cabbage with some of their Goma Dressing. We intently refused to try the other two dressings because we're sure we've found "the one" with this sweet and creamy mixture of Japanese mayonnaise and roasted sesame seeds.
Kimukatsu only uses authentic Japanese rice, and it is served in an "ohitsu" rice container that adds a subtle woody flavor and keeps the rice aptly warm.
We chose 3 of their bestselling flavors – Plain, Cheese, and Garlic – and their Yuzu Kosho, which is stuffed with yuzu fruit that grows abundantly in Japan.
My sister and I unanimously agreed that our top favorite flavors are the Plain and Cheese Kimukatsu. Filipinos love anything cheese-flavored, from junk food to upscale dishes, so it didn't come as a shock to learn that Kimukatsu's Cheese tonkatsu is a huge hit (This flavor is priced at PHP 390 / 130 grams for a la carte). If you really want to appreciate the pork and all its goodness, we recommend going for the Plain Kimukatsu (PHP 380 / 130 grams).
There's no doubt that Kimukatsu Garlic tonkatsu (PHP 380 / 130 grams) is one of their bestsellers, since Filipinos put garlic in everything, may it be in roasted peanuts or in our world-famous adobo. But be warned, if you don't want your breath smelling of fresh garlic the whole day, this flavor might not be for you.
The Kimukatsu Yuzu Kosho (PHP 430 / 130 grams) is stuffed with a paste of yuzu fruit that tastes like lime and green bell peppers. This may not appeal to some people, but I honestly loved its zesty and mildly spicy notes. 🙂
Of course, our lunch wouldn't be over without desserts. The first thing we tried was their Macha Parfait (PHP 230), a bowl of green tea ice cream with red bean paste, chestnuts, and shiratama (rice cake). Their green tea ice cream was phenomenal! It was creamy and not overly sweet. The red bean paste reminded me of our local sorbetero's dirty ice cream; Kimukatsu's version, however, was denser and not at all watery.
The last dessert we tried was their Kurogoma Pudding (PHP 110), a square slab of sesame seed pudding enrobed with black bean sauce. There's a harmonious play of flavors and textures between the pudding and the sauce, making the dish a perfect ending to our meal.
While we were finishing up our desserts, Kenji mentioned about their sandwiches that we simply must try. Although burgers are still reigning supreme when it comes to sandwiches in the Philippines, there's also a growing demand for newer things, like Japadogs and wraps. But a good contender is their Kimukatsu Sandwich that comes in two flavors – Plain (PHP 210) and Cheese (PHP 230). A whole piece of tonkatsu is cut in half, lathered in some tonkatsu sauce, and then sandwiched between soft and chewy white bread.
Kimukatsu may be a bit late in joining the katsu craze in Manila, but they're a very tough contender with their innovative take on the Japanese tonkatsu. We'll definitely come back for more! 😀
Branches:

Level 5 Shangri-la Plaza East Wing Shaw Boulevard cor. EDSA, Mandaluyong City
Century City Mall, Level 3 L316 Century City Mall, Kalayaan Avenue corner Salamanca
(Soon) Bonifacio High Street, Building 7

Contact #: (02) 727-0333
Twitter: @KimukatsuPH
The following two tabs change content below.
Kenneth is the chef in the family (he studied Culinary Arts and Baking & Pastry Art in GCHA). He's responsible for most of the more complicated recipes featured here, and loves preparing pastries and desserts. Aside from being a chef, he's also a Registered Nurse and Midwife. His love for cooking led him to pursue a culinary career.
Latest posts by Ken Ignacio (see all)
Comments
comments