Growing up in Navotas and then moving to Malabon almost a decade ago, my bro and I have always had easy access to really good food. This has shaped our lives, which is why we now have this unconditional love for food and cooking.
Malabon, in particular, is known for hearty and flavorful dishes, so it's no wonder that there are many hole-in-the-wall places here that would surprise you with their straightforwardly delicious food.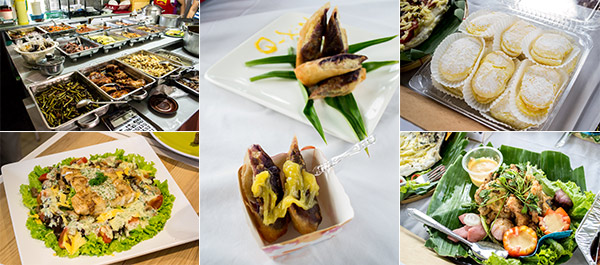 I'm sure many of you are already familiar with Dolors Kakanin (a staple in parties here), Pancit Malabon and Arny-Dading's Peachy-Peachy. To be honest, we've been busy scouring the Metro for new restaurants that we haven't finished discovering all the local and must-visit food places here in Malabon (we've already started since we were planning on a The Burp Society Malabon food tour).
After the successful Malabon Kulinarya Festival that we attended in 2012, we were more than glad to help out when we were contacted by Cleah (from the Office of the Mayor) about organizing a bloggers food tour in time for the 400th anniversary of San Bartolome Church, one of the oldest churches here in the Philippines.
Early Sunday on Mother's Day, we met our fellow bloggers at the city hall. Ken and I didn't have breakfast since we knew we were going to be stuffed by the end of the tour. Well, 'stuffed' is an understatement. Let me just say that we all underestimated what Cleah and the participating food places had planned for us. 😀 Read on.
Update: We know there are many other places here in Malabon that we weren't able to cover because we had limited time to go to all of them during the food tour. We'll have a separate post to feature the rest of the ones that have been around for ages and other scrumptious dishes you can find here in Malabon. 🙂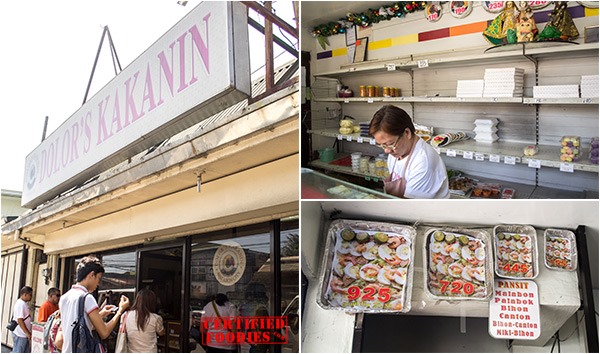 Dolor's Kakanin
Our first stop was at Dolor's Kakanin in Concepcion. We thought we'll just have a few samples of their products, but we were pleasantly surprised to see a generous spread of various goodies such as their sapin-sapin, kutsinta, puto, pitsi-pitsi, and others that I didn't know they also offer like macaroons, maja blanca and puto pao (puto stuffed with pork asado).
We learned you can call Dolors to have your chosen kakanin or sapin-sapin pre-sliced for you. This is especially useful for parties so people won't have to worry about having to cut the kakanin and it getting all messy. We'll do this next time. 🙂 Remember that you need to call them in advance to have them prepare it this way.
I haven't had the chance to try their relyenong bangus – it was soooo good pala! Everyone raved about it, kaya eto na lang natira when we finally got the chance to take a photo. 😀
After this first stop, we were so busog! I was trying to resist tasting everything, but I mean, how can you?! 😀 I would've preferred this to be our last stop since the food here, I consider as desserts. But I quickly realized all the goodies here gave us enough energy to survive the tour. 😀
Dolor's Kakanin
19 Governor Pascual Avenue, Baranggay Concepcion – They have many branches all over the Metro. For more details, visit their Facebook page.
Contact #: (02) 282-3230 / 281-2739 / 442-7242
Aling Mely's Carinderia
We headed over to this carinderia that I've been seeing since I was a kid, but never really bothered to go in and check out what they were offering. I've had not-so-good experiences eating in carinderias, so most people would say that's understandable. Now, I regret not giving Aling Mely's Carinderia a chance. 😀
We were glad to see that Aling Mely was personally there to welcome us. Our eyes feasted on the lovely spread of different dishes that she and her staff have prepared for the day. We were anticipating what she'll have us taste since everything looked delicious.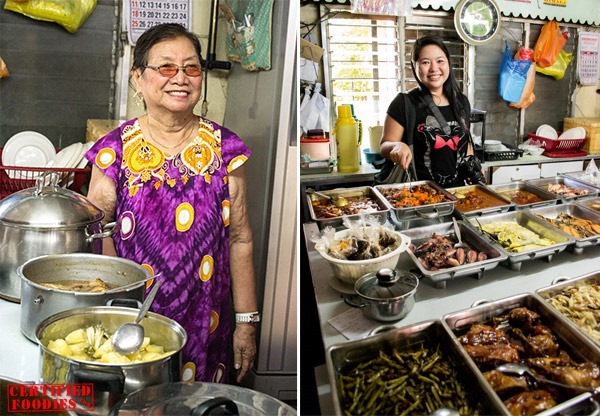 Aling Mely… and The Peach Kitchen?! 😀
They were pretty busy since it was a Sunday, so we had to move our food tasting to their house, which was located at the back of their store. We LOVE their home! So cozy and yet welcoming. Ken and I took note of a few decorating ideas for our new home. 😀
We learned that Aling Mely's carinderia has been around since 1966! What a feat! She started out with just a tiny store, and now, she and her team are whipping up a wide variety of dishes at their carinderia every single day. She was able to finance her kids' schooling and save up for a gorgeous home. 🙂
Anyway, we were served a couple of their dishes including her relyenong pusit, tortang alimasag (I wasn't aware it was crab omelet, and I'm allergic to crabs 😀 ), meatballs, tapang kabayo (horse meat), and her signature dish, Beef Mechado, which is cooked for 4 hours without any tomato sauce (she uses annatto seeds or atsuete for the orange color of the sauce). Can you imagine the tenderness of the beef?! Mmmmmm. 🙂
The dishes were all quite flavorful, which was a surprise since I have this generalization that carinderia food is either bland or full of MSG (betsin). Aling Mely's Carinderia definitely changed my mind. 🙂
I was amused to know that most of my fellow bloggers aren't aware that horse meat can actually be enjoyed like regular beef tapa. We've had it regularly at home, and our nanay makes sure that the tapang kabayo was cooked and seasoned enough to get rid of the gaminess. The horse meat is tender and sweeter to the taste, in case you haven't had any yet.
I loved Aling Mely's food so much that I went back a few days after with my BFF Jasmin for lunch. 😀 Their prices may be a li'l higher than usual carinderias, but considering the quality of the food and the delectability you'd get, I'm not complaining. 😀
Aling Mely's Carinderia is open from 8am to 9pm. I don't have their exact address, but they're located at Kadiwa / Bonifacio Street. Just ask for "kulangot". I know, that's not an appetizing nickname, but people, especially tricycle drivers, know her carinderia by that name. 😀
MilA Flores Pancit Malabon
They might not be the home of the original Pancit Malabon, but we heard they serve a mean version of this popular dish.
We were served their pansit during our lunch break (Though I didn't get to taste it then, can you imagine – we still had lunch break! Brace yourself! 😀 ). We just checked out their area upstairs. It was a fitting hangout for students. We all liked the design, so we just had to take a group photo here. 😛
Ken and I have tried their Wintermelon milk teas before, and they were equally good as Tea Sparkle's, our favorite tea place here.
Mila Flores Pancit Malabon and Milk Tea House
51 General Luna Street, 1470 Malabon City
Cocina Luna
Aside from the well-established food places here in Malabon, in the past few years, we've seen many new restaurants opening up, giving us more food choices without having to leave our beloved city of Malabon.
One of the new restaurants we've been itching to visit was Cocina Luna. They opened just this year, February. Ken knew the owner, Chef Kat Alcala, who was there to show us how to prepare one of their bestsellers – Pulled Pork Sliders – which happens to be one of our city Mayor Len Len Oreta's favorites.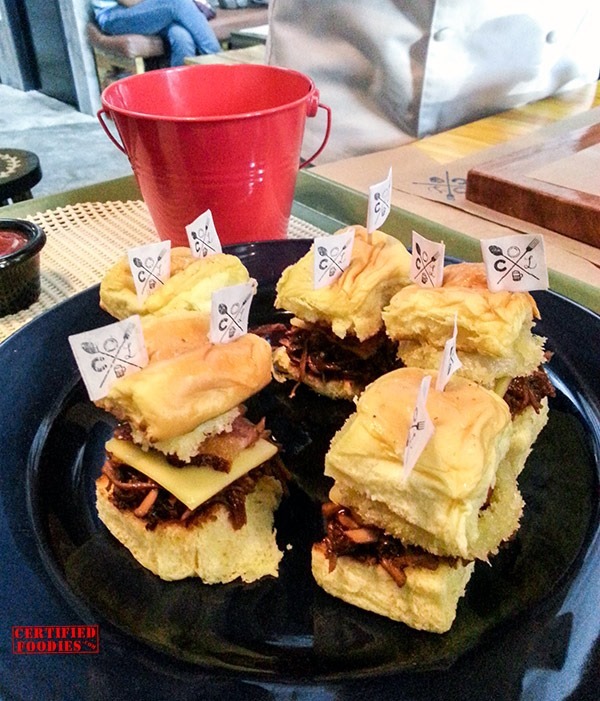 First off, I'd like to commend them for the design and overall feel of their restaurant. I'm in love with black, so the exteriors immediately caught my attention when I first saw their place.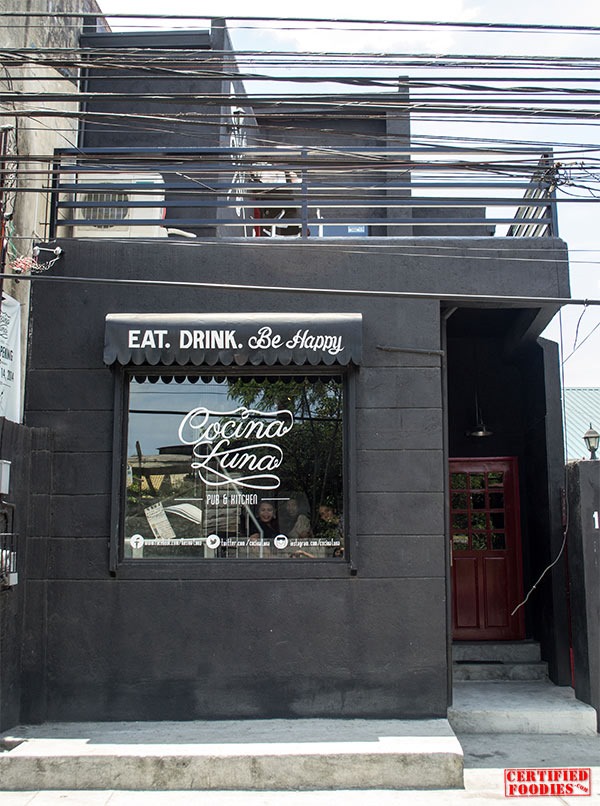 Inside the restaurant, they had this cozy, relaxed vibe going on. The walls aren't painted, and they're decorated with eye-catching prints and quotes they personally hand-picked to complete the look. Ken and I loved everything, which is why we can't wait to go back for a weekend dinner very soon.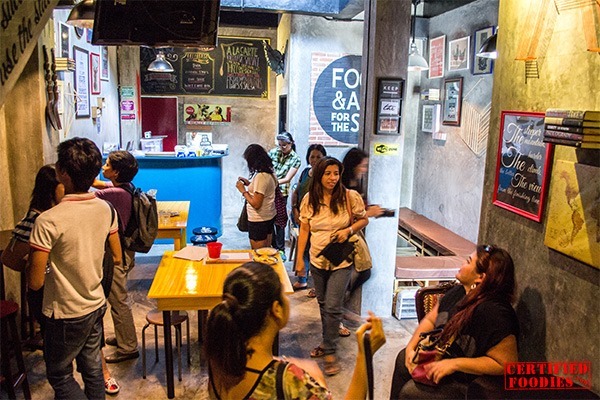 Going back to the demo, Chef Kat already prepped the ingredients for her Pulled Pork Sliders – toasted bread, shredded barbecue pork, onion rings, bacon and cheese.
They serve these sliders with a bucket of fries for only Php 150. We absolutely enjoyed every bite!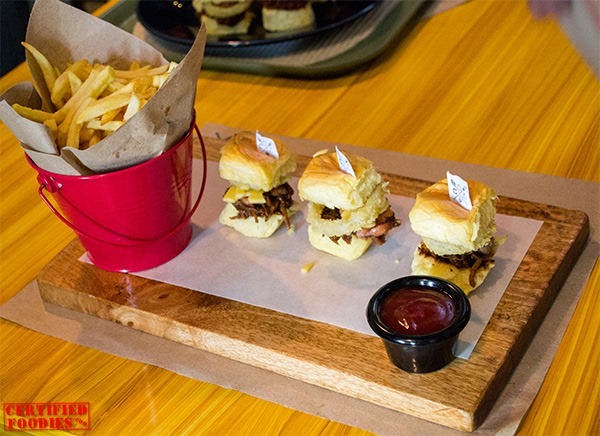 We also got to try their Tapa Flakes, which comes with their own vinegar / sauce concoction. The tapa was, of course, just as good, but we also wanted to take home a bottle of the sauce. 😀 Now look at the generous amount of crispy fried garlic! 😀
We can't wait to go back for their Tapsilog too. (Gosh, I'm hungry!!)
Cocina Luna Pub and Kitchen
144 Gen. Luna Street, Brgy. Ibaba, Malabon
Contact #: (02) 373-1420
Cups & Cones
We headed next to this dainty, little new restaurant that Ken and I thought was an ice cream shop the first time we saw it. We learned from friends and from this food tour that Cups & Cones has a variety of offerings on their menu; from appetizers and entrees, to a delightful mix of desserts and beverages.
We love their white interiors, with a touch of color here and there. One of the bloggers even called Cups & Cones the Banapple of Malabon after learning about their menu and seeing the cozy ambience inside. (We love Banapple – it's our go-to comfort food restaurant! Watch out for our post about them too!)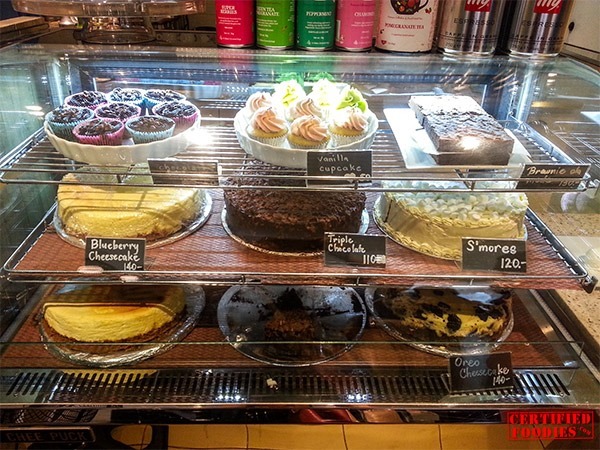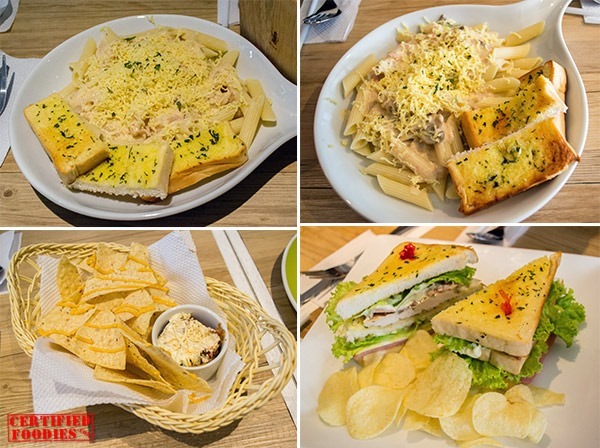 Everyone of us agreed that their Fish Salad was amazing! 😀
Cups & Cones offers Instagram-worthy drinks too. I went straight to grabbing the Italian soda while everyone else was busy taking photos. 😀
We got to meet Emma, the owner of Cups & Cones, who gladly told us the story behind their restaurant. Her husband was the one behind the design of their interiors. Their modern-style café and cake shop draws in hungry Malabon foodies who are looking for a more westernized / American-style menu and ambience.
Cups N Cones
247 Gen. Luna St., Concepcion, Malabon City
Contact #: (02) 294-2194
Lunch at Oreta Sports Complex
Just when we thought we don't have time for lunch anymore, we headed towards the Oreta Sports Complex (Ken and I weren't aware there was a resort, or at least a swimming pool here. 😀 ). There, we were shocked by the huge spread of dishes waiting to be devoured. And that we did. 😀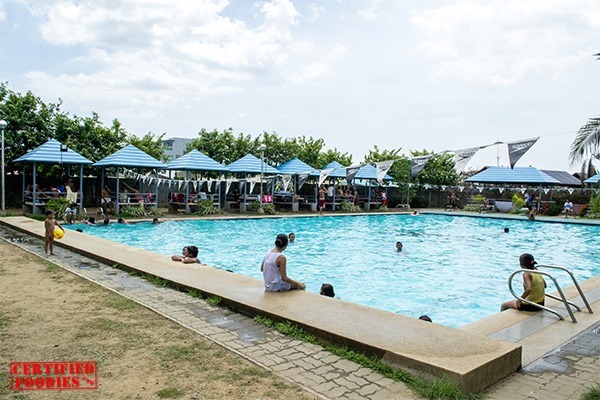 We were all seriously tempted to jump in since the sun was starting to heat up our afternoon.
Here's a quick roundup of some of our favorites, starting with the cooking demos first.
Quiron from Chef Quiel of Q-Xin
Food Revolution (Jamie Oliver's movement) ambassador of  Malabon Chef Quiel showed us how to make his signature dessert Quiron. It's like turon or valencia, but his version is filled with ube halaya, fried and then topped with langka jam.
Aling Upeng's Quekiam
Forget about the frozen kikiam you've been buying from the grocery. Aling Upeng's Quekiam is the one to beat!
We've had this in many occasions and I've always wondered how they make them. We were told that this recipe was developed back in 1972. Their quekiam is made with a mix of veggies such as singkamas (jicama) and carrots plus bits of pork meat. They use a soy wrapper to keep everything nicely packed together.
They also have their own special sauce for this, which is perfect to bring all the flavors together. I can eat 3-4 large pieces of their quekiam in one seating. 😛
Upeng's Quekiam
304 C. Arellano St. Cuatro Cantos, Baritan, Malabon City (near the Rufina patis' factory)
We usually buy their quekiam at the wet market in Hulo.
NANAY'S PANSIT MALABON
You can't talk about Pansit Malabon without mentioning Nanay's (no, not our mother 😀 ). They're already considered an institution here when it comes to this well-known dish from our city. Their version is the most flavorful among all that we've tried. No wonder their place is always packed with people ordering their famous pansit Malabon. 🙂
Update: In our guesting in Kapuso Mo, Jessica Soho for the Battle of the Best Pansit Malabon, Nanay's won hands-down. Watch out for our post about it. 🙂
Nanay's Pansit Malabon

37 Gov. Pascual Ave. — near Arellano
Red Palmas Baked Bangus
OH MY GOSH! 😀
FYI: We have an abundance of bangus (milkfish) here in Malabon, and our nanay has her own yummy recipes for this fish (always boneless), but I've never had it baked like how Red Palmas does it.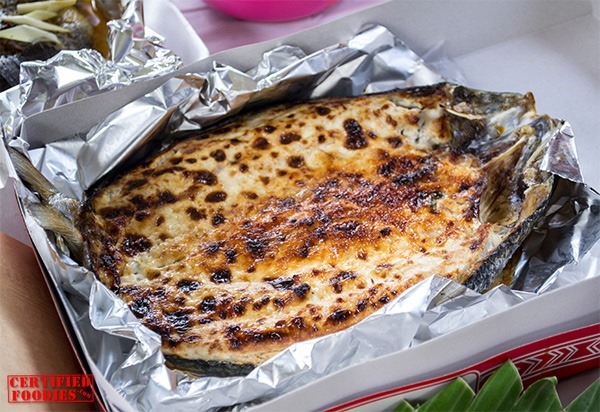 For people who LOVE anything KARNE, Ken and I were both ecstatically in agreement that this was the best thing we've had all day. The Baked Bangus was creamy, savory and you'll end up eating lots of rice with it. 😀 We can't wait to have our nanay taste this. 🙂
Red Palmas Restaurant
Panghulo Road, San Vicente, Malabon City
Contact #: (02) 277-1203
Betsy's Broas
We've known Betsy's Restaurant since we were kids, studying at St. James Academy, which is just across the restaurant (well, almost). We've had many good memories dining in there with our nanay and our friends, so we know they serve really good food. It's just funny that it's my first time to try their well-known broas / ladyfingers. 😀
When you bite into their broas, you'll get this delicate crunch before it melts in your mouth. Their version of this local ladyfingers is not too sweet, and can be quite addictive. 😀
Betsy's Restaurant
70 Rizal Avenue (near the Malabon City Hall)
Contact #: (02) 281-1127, 281-1131
Judy Ann's Crispy Pata
This was probably what Ken and I were all looking forward to tasting. We love the right amount of saltiness and flavors in their crispy pata, plus the crunch when you bite into the skin even after it was laying there since early morning perhaps. 😀
If you're visiting Malabon, THIS is a must-try. 🙂
Judy Ann's Crispy Pata by Jamico's Restaurant
201 General Luna St., Brgy. Ibaba, Malabon City
Contact #: (02) 281-4193
Concepcion Bakery's Pianono
I know that the bakery near Concepcion – R.B. Gregorio Bread House – has been there for a longgggg time, but I wasn't aware they were THAT popular. Their pianono – a cake roll filled with custard – is what people are raving about, and this was the first time I had it. 🙂
Their pianono is very dense yet fluffy. The sweetish filling was good enough for licking off the roll. 😀 Yeah, I sometimes do this. I'm not even sorry. 😛
R.B. Gregorio Bread House / Concepcion Bakery
General Luna Street, Barangay Concepcion, Malabon City
Arny-Dading's Peachy Peachy
Of course, this shouldn't be forgotten. Our favorite pitsi-pitsi! You can order this with cheese toppings or just shredded coconut. 🙂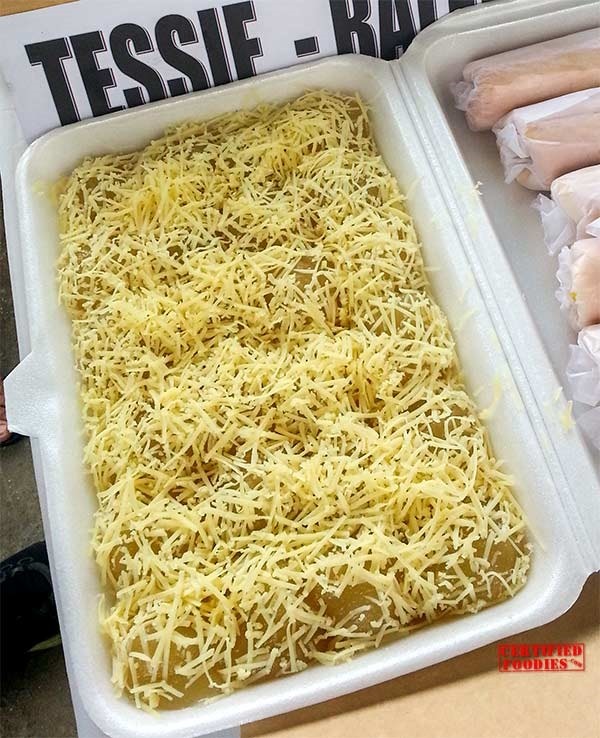 You can find Arny-Dading's at their many branches in Metro Manila. For details on their branches and contact information, visit their Facebook page.
Arny-Dading's Peachy Peachy
Original store: C. Arellano Street, Barangay Baritan, Malabon City
Contact #: (02) 281-0637 / 281-0641
Ozen's Takoyaki
Ozen wasn't included in the original lineup of food stops we were going to visit, but we HAD to suggest it to Cleah. They're aware of how good Ozen's takoyaki is, so we went there next.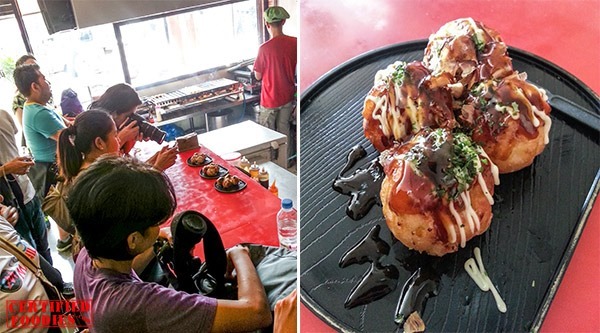 We were already full by the time we hit their spot, but everyone agreed that theirs was the BEST Takoyaki they've ever had. I saw someone buy some for take-home. 🙂 I was glad they were able to have a little taste of this Japanese food haven.
Lady Jeunet's Steakhouse
Finally, our last stop – Lady Jeunet's Steakhouse! We were completely unaware of this restaurant in Niugan. We've been passing by this area to head straight to Balsa sa Niugan (where you can order the BEST sisig everrrr!), and we never noticed it, so it was definitely a good find.
Their barangay was celebrating their fiesta, so we were able to take part in their special buffet. I wasn't supposed to eat anything anymore 'cause I was STUFFED, but upon hearing that there's a creamy lengua dish at the buffet, I just had to have a taste! 😀
Lady Jeunet has only been open for a year. Their specialty is steaks, so we can't wait to go back here with our nanay to try their food.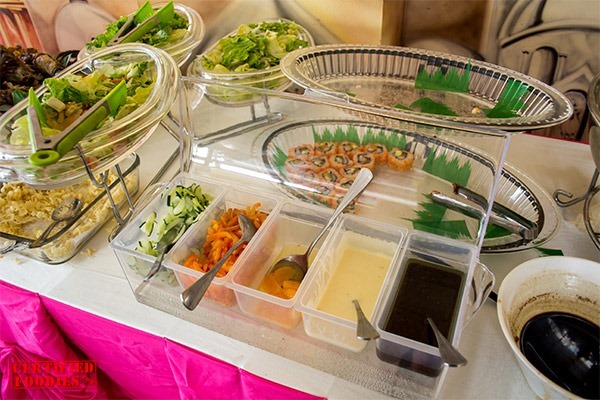 When we went out to take photos of the place, I heard this loud music playing at the corner of the street. And then, a fitting conclusion to our tour, a marching band came by. I love fiesta celebrations here in the Philippines! 🙂
Lady Jeunet's Steakhouse
N. Vicencio St., Niugan, Malabon City
Other Food Products from Malabon
Everyone who joined our food tour received this goodie bag filled with popular food products from our city. I'm soooo glad they included a jar of atchara (pickled green papaya relish), which is a favorite of ours. It's our favorite side dish to cure the umay. 😀 Oh, and yes, Rufina patis (fish sauce) comes from Malabon. 🙂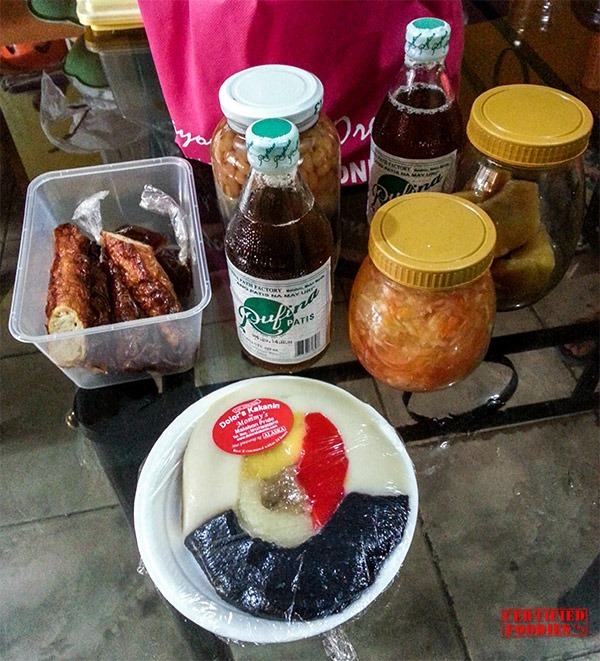 Who would've thought we can have all these amazing, scrumptious dishes at the comforts of Malabon?! Ken and I were pretty happy to discover new restaurants here. There are more places we've already visited that we'll be writing about soon, and there are others that we have yet to try. We're excited to go in and around to taste what the Malabon City NOW has to offer. 🙂
Do you have other recommendations and tips you'd like to share on where to eat in Malabon? Let us know at the comments section! And watch out for our The Burp Society Malabon Food Tour!!! 🙂
The following two tabs change content below.
Michelle (aka Mhel / blankPixels) is a social media nerd and works as a Digital Marketing Lead for one of the top online companies in the Philippines. On her free time, she travels, goes on food trip and loves to take photos. She's the main editor of this food blog.
Latest posts by Michelle Ignacio (see all)
Comments
comments