If it's not obvious yet, Ken and I love eat-all-you-can buffets. We've had our fair share of both good and mediocre buffet restaurants. As we eat our way through all of the buffet places here in the metro, our standards continue to heighten. But, really, it was all because of Vikings Luxury Buffet.
We first had dinner at their SM North Edsa branch a year ago on a weekday. We were amazed by the variety of dishes they were offering, and the best part is you can enjoy everything for only Php 688 during lunch time and Php 888 for dinner and weekend/holiday lunch. There are other buffet restaurants that offer less quality selections for a higher price, so we were happy to see we're getting much more than just our money's worth at Vikings.
Fast forward to last month, we were invited to dine in at Vikings new branch in SM Megamall, at the Mega Fashion Hall. We already loved their buffet in SM North Edsa, but this new location is pretty special. 🙂
With an abundant selection of dishes – from Filipino, Japanese and Chinese dishes, to generous servings of flavorful meats, and custom pizza and pasta – Vikings Luxury Buffet in SM Megamall will definitely satisfy your every craving. Let me start by telling you about the highlights of our lunches at their new branch at the Mega Fashion Hall – first was with family, and next was a generous invite extended to The Burp Society (post about our meet-up there soon on TBS' blog!).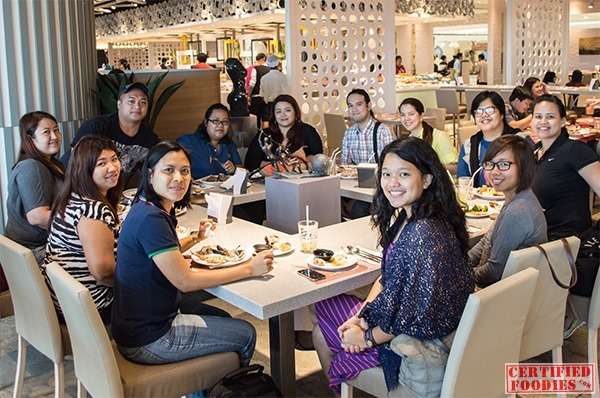 Highlights of Vikings Luxury Buffet in SM Megamall
First thing you'll notice when you enter their doors are the artsy designs on their walls, ceilings, and everywhere actually. 😀 They went for modern art for this branch, which makes the whole restaurant more inviting.
Vikings SM Megamall is their largest branch so far, with many new features you won't find in their other locations. The kitchens are open and the stations have lower tables for diners to have a better view of what's going inside as chefs prepare and cook the dishes they serve. At SM North, you'll barely see what's happening behind the scenes.
They have the most meats at their carving station than any other branches. More on this in a few paragraphs below. 😛
You can be creative with your food at Vikings. Go straight to the pasta or pizza station and let the chefs whip up something for you using the ingredients you chose.
You can even come up with your own desserts. Halo-halo, crepes, and shakes. Whatever you fancy. 😉 Go ahead and pick the ingredients you want and tell the chefs behind the stations to do their magic.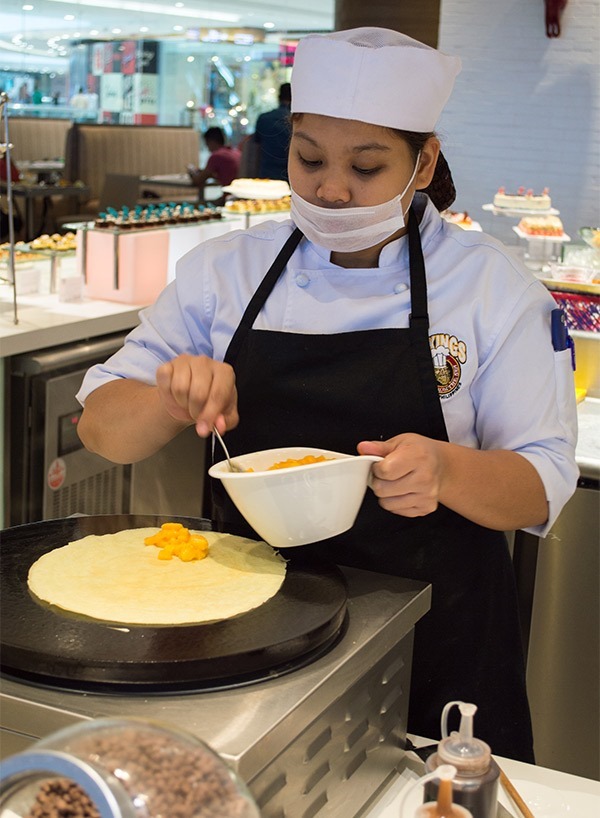 And guess what?! They now have a DIY Bubble Tea station! If you're a wintermelon fanatic, you can simply follow their recipe. They didn't have this yet when we were there, but I want to go back for this and the other selections I wasn't able to try.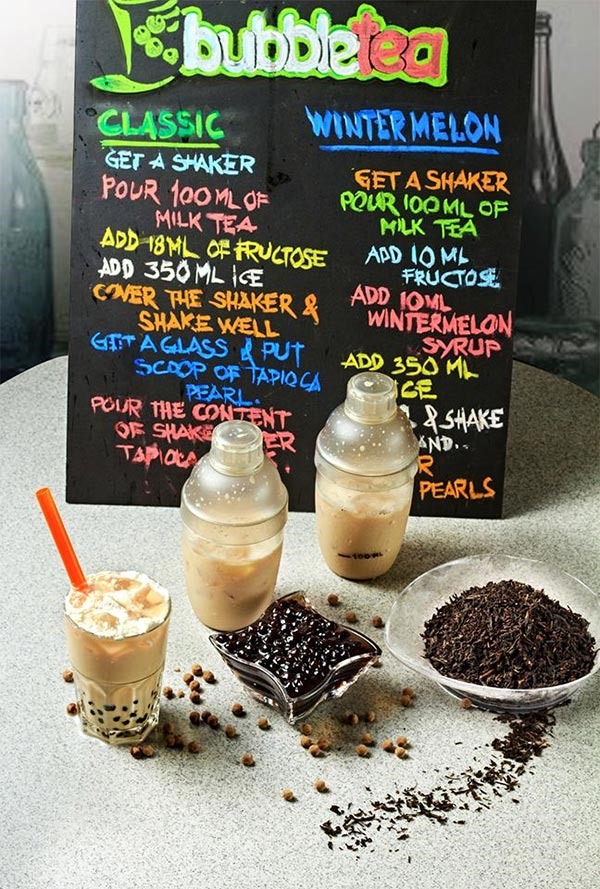 Scrumptious Choices at Vikings Buffet
I'm going to let the photos do most of the talking since there are a ton of dishes there. The whole restaurant has 4 areas, each featuring a diverse array of sweet and savory food. Let's start with one side of the restaurant (left when you enter the doors). Here, you'll find the pizza and pasta station, and the breads.
One dish you simply MUST try is their Truffle Penne and Cheese. Mmmmm! 🙂
On this side, you'll also find Chinese dishes including lumpia, noodles, tofu, dim sum, roasted duck, hakaw, siomai, sweet and sour pork, chicken feet, and more.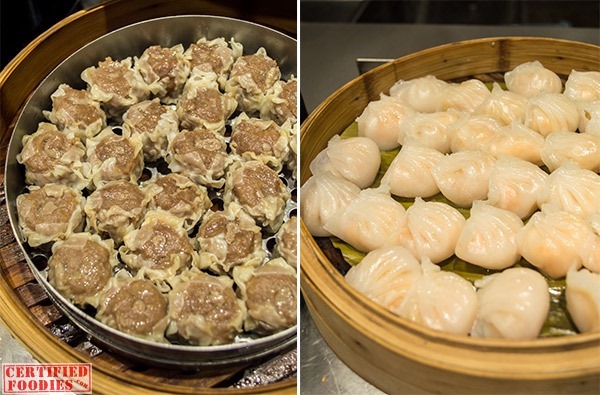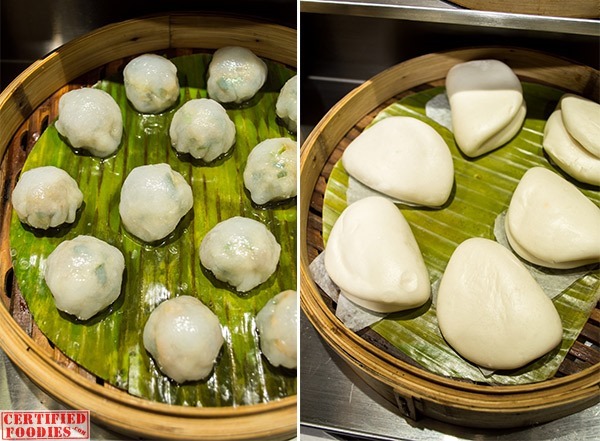 If you're in the mood for shabu-shabu, there's a station for you to pick your ingredients and have the chefs prepare and serve it to your table.
They also have nachos, by the way, and there's cheese sauce, salsa chili con carne and beef bits you can top them with. 🙂 There's a tapas bar as well serving beef salpicao and more.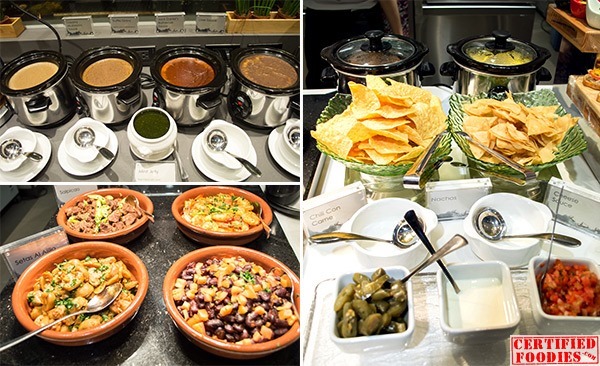 Now, let's move on to our favorite part of the buffet – their carving stations! 😀 They have boneless lechon (!!!), Anchovy and Rosemary Baked Leg of Lamb, Bourbon Glazed Ham, Prime Rib Eye, Angus Chuck Eye Roll, Texas Beef Brisket and more. Nakakagigil!! Hahaha 😛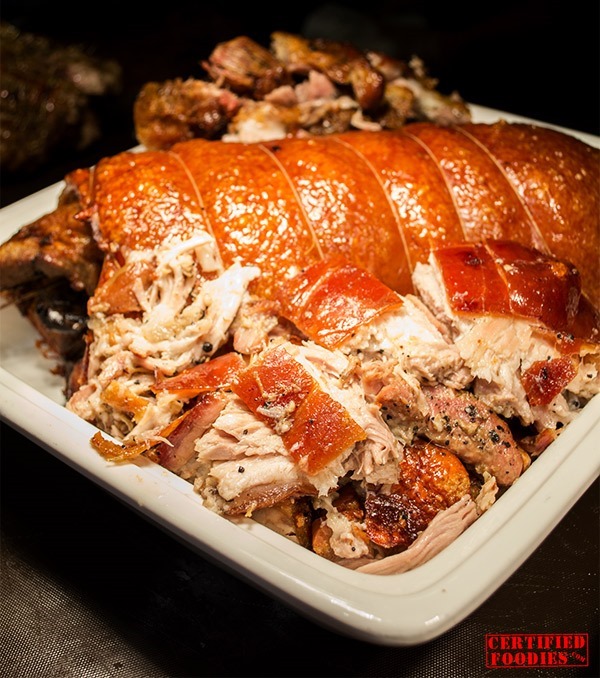 They also have Deep-Fried Cajun Turkey here. We've tried everything, of course, and they're all quite flavorful, especially with the sauces they offer.
Sauces for the meats include the following: Jack Daniel's barbecue, mint jelly (for lamb), liver sauce, creamy mushroom and even truffle gravy, if that's what you're into. 🙂
Now, let's move on to the right side of the restaurant. Here, you'll find the rest of the Asian dishes they're offering. Korean dishes such as Ojingeo Bokkeum, Chicken Bulgogi, Galbi Chim, and Chapchae are here for the taking.
You can ask for their Singaporean laksa and pick your own ingredients, and they'll bring it to your table. We love the hot, spicy flavor of the laksa even on a warm day. 🙂
If you're into Japanese cuisine, you'll fall in love with their sushi and sashimi station. A boatload of colorful sushi all lined up for you to devour. 😀
They have a ramen station with lots of ingredients to choose from.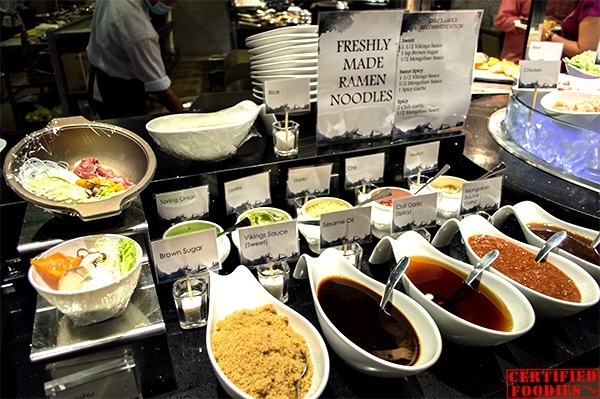 If you want something fried, there are fried potato wedges, chicken tenders, onion rings, pork and fish tonkatsu and shrimp tempura.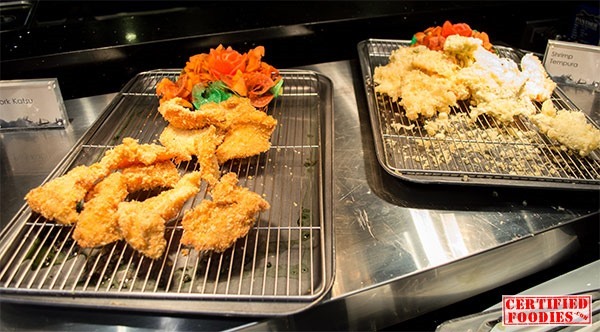 The Burp Society was almost in agreement about this: their meatballs with bourbon sauce is soooo good! 😀 If I wasn't already full, I would've gone back for more of this. 😛
There's also Pakbet with Bagnet, which we seem to find in buffets nowadays. We first had this at Emohruo in Pagudpud. Oh, and kare-kare!
The grilling station is also located here. You'll see different kinds of seafood and meat that you can have the chefs grill for you.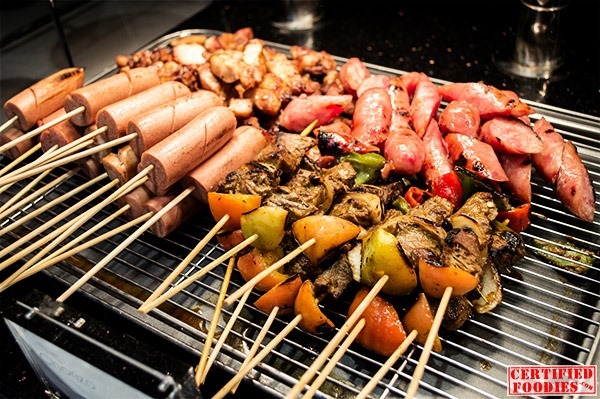 Don't forget to try the oysters! They always run out of these babies, so good luck hoarding them. 😛
Drink All You Can at Vikings
And if all the food makes you thirsty, there's a long line of various beverages to choose from. We were told Vikings SM Megamall has the most selection of drinks. Woot! 😀
We particularly loved the Blueberry Lemonade and the Minty Lemon and Lime, which is perfect to cure your umay and cleanse your palate so you'll be ready again to move on to your next rounds of food. 😀
They have Milo shake, sodas and coffee. You can even have ice cream to top them off.
There's San Miguel Draft beer on tap, and they also have Tiger beer on weekends, but you need to be quick since they run out fast. We skipped the beer both times.
Appetizers and Desserts
The long counter right across the entrance is where you'll find starters that include salads with a selection of dressings (bottled), and cheeses (though some people eat them for dessert) enough to whet your appetite.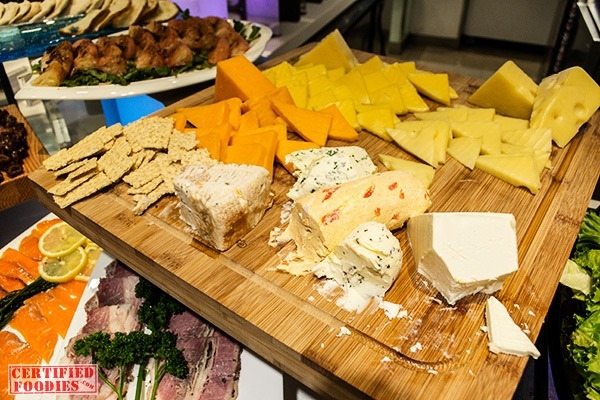 You can make your own canapés here too or just grab a few from those that are already prepared.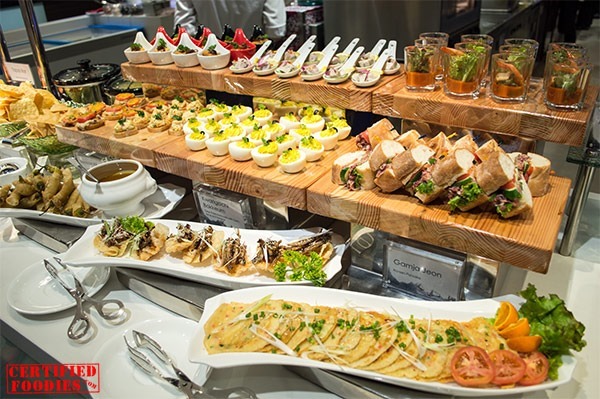 They have an assortment of desserts ready for you ranging from cheesecakes, cakes, chocolate mousse, donuts, and more.
They have ice cream, crepe and frozen yogurt stations where you can choose from a variety of ingredients or toppings.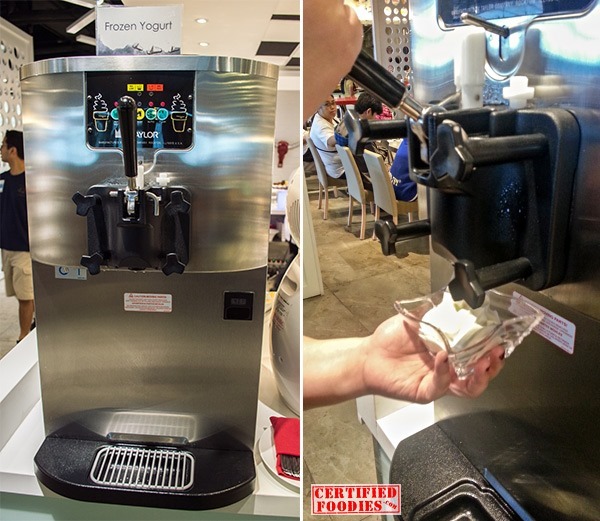 If you're craving for something local, Vikings Filipino desserts include puto bumbong, bibingka, kutsinta and pitsi-pitsi.
They even have a Taho station. You can ask to have it in a glass, just like I did, but I forgot to take a photo 'cause I was amused since I haven't had taho for a very long time. 😀
Entertainment at Vikings
One of the things we love about Vikings is how they make birthdays extra fun. They have a group of dudes who will sing and dance for you. When we were there with The Burp Society, I was teasing one of the foodies – Karl – who just celebrated his birthday a few days earlier. One of the Vikings guys overheard me, so they stopped at our table and 'serenaded' him. 😀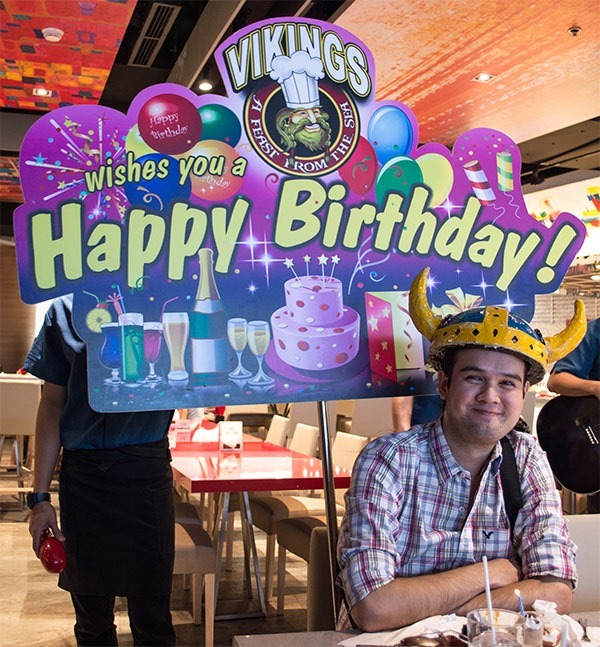 We were all laughing quite loudly. It didn't stop there though. 😀 We thought the rest of us will be spared, but they went ahead and sang for each one of us, giving us nicknames in the end like "the Sexiest", "the prettiest", "the yummiest", etc (I won't tell you what I got 😛 ). You see, karma acts quickly. 😀
Anyway, I just wanted to say this. I'm not sure what they call these guys who entertain birthday celebrants, but the group from their SM North Edsa branch is HILARIOUS! They were soooo entertaining that our nanay moved her chair and faced the other table just to have a better look, as if she was watching a concert or show. 😀 I'll have a GIF of that uploaded here or somewhere soon. Har har har.
Promos at Vikings
Vikings offers promos during special occasions. If it's your birthday, you get to eat for free! Make sure you read the terms and conditions of the promos that you can find on their Facebook page, website or the posters outside their restaurant.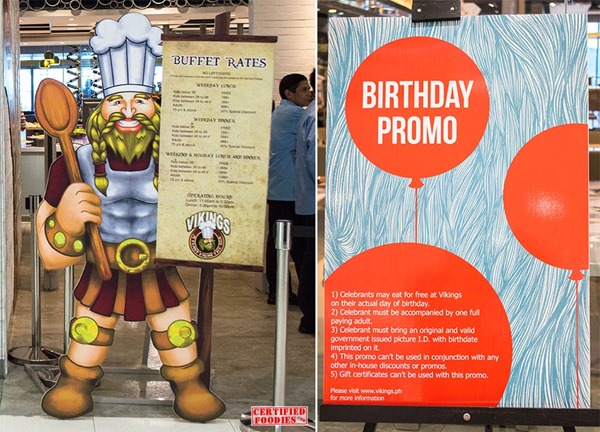 Vikings Buffet Prices
They recently changed their weekend/holiday rate to Php 888. You can view the rest of their rates and promos on their website.
Conclusion
If you're looking for more bang for your buck, Vikings is a topnotch choice when it comes to eat-all-you-can buffets. The quality of food, the customer service and the creativity and variety of dishes to choose from definitely puts Vikings buffet restaurant, especially their SM Megamall branch, on our top favorite list of buffet restaurants in the Metro.
Can you guess which plates are mine and which ones are Ken's?! 😀
Vikings Luxury Buffet
The following two tabs change content below.
Michelle (aka Mhel / blankPixels) is a social media nerd and works as a Digital Marketing Lead for one of the top online companies in the Philippines. On her free time, she travels, goes on food trip and loves to take photos. She's the main editor of this food blog.
Latest posts by Michelle Ignacio (see all)
Comments
comments