Our family loves eating at buffets. It all began when our Nanay finally decided that she's too old to throw grand parties at home. We can't blame her though. She painstakingly handles everything from planning, shopping, cooking, and even cleaning up. Since then, buffets have become our go-to place when we're celebrating something special. We've tried a number of buffet places like Yakimix, Café Jeepney, Seoul Garden, 7 Corners of Crowne Plaza, F Restaurant at F1 Hotel and our recent favorite, Viking's. But one place we're dying to try is Spiral at Sofitel Manila. We were supposed to celebrate our nanay's birthday at their restaurant earlier this year, but she had something else in mind.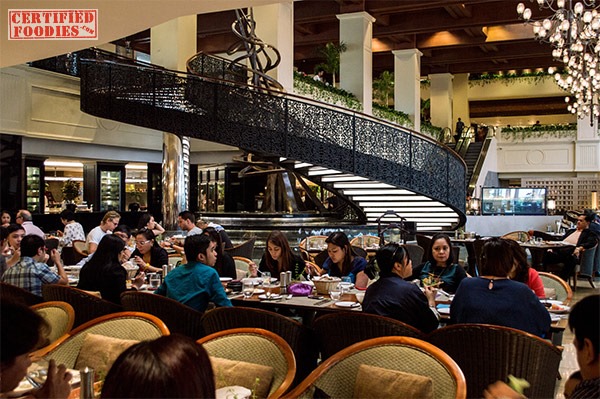 The New Spiral
After the devastation Typhoon Pedring had caused, Spiral had to close for 13 months as it went under an $11-million renovation. They took inspiration from the Filipinos' resilience and viewed all that has happened as a blessing in disguise. They were given a clean slate and a chance to start all over again. And as the saying goes — "When you're down, there's no way to go but up." Boy, did Spiral soar high! The old Spiral was already great, but the new one definitely blew all competition out of the water!
Private Dining Rooms
There are 6 private rooms in Spiral aptly named as Indulgence, Decadence, Epicure, Tasting, Hidden, and Voyeur. The first three can accommodate up to 12 people, but can be combined to fit 24 to 36 pax. The Tasting room can seat 8 people and is a perfect venue for wine tasting. Voyeur and Hidden can both house 12 people.
The last two rooms are the top choices among VIPs and diplomats, since they're a little secluded. Our favorite from the bunch is "Voyeur," with its window that gives you a behind-the-scenes view of their chefs in action.
La Veranda
Upon descending the spiral staircase, the first thing that caught my eyes was the bar area housed in what looks like a greenhouse — all sides, even the roof, are made of glass. We learned in our tour that it's the outdoor terrace with an incredible view of both the hotel's pool and Manila Bay's iconic sunset. La Veranda extends its hours from 11pm – 3am to cater to guests who would like to enjoy drinks and some of Spiral's a la carte dishes.
Spiral Restaurant's 21 Ateliers

(click to zoom)
Keeping up with their French vibe, the new Spiral is divided into 21 dining "ateliers" or artist special workshops where chefs prepare their masterpieces right in front of you. Walking around the ateliers, you would notice that the dishes are not labeled. Nope, no one forgot to do their job. Spiral did this on purpose, so it would promote proactive interaction between guests and the chefs. 🙂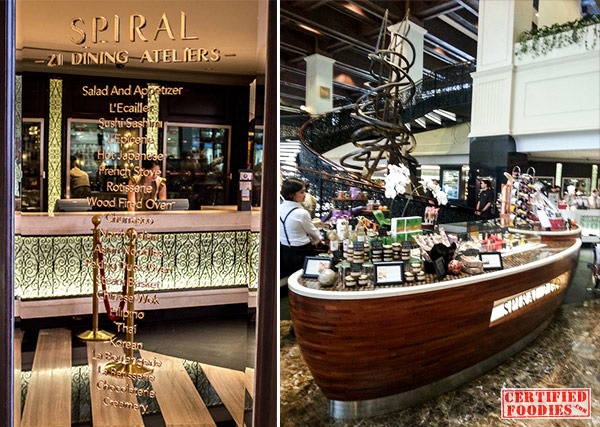 Upon settling on our seats, our server came over and asked us for our choice of drinks. We went ahead and ordered their Blueberry Sensation. It's a healthy drink, so we simply assumed that it would taste nothing more but bland. We can't believe how wrong we were. The drink was phenomenal! The flavor combination of blueberries and pineapples was unexpectedly delicious!
We were not yet done raving about their Blueberry Sensation when their complimentary Olive Bread and butter arrived on our tables. The bread was surprisingly crisp on the outside, but has a soft and chewy interior.
Salad and Appetizer
To be honest, my sister and I are no big fans of salads. We always prefer to dive into the main entrée and skip this course, but Spiral's expansive display of fresh greens and endless options for dressings tempted us to give them a try. It's surprising to learn that these organic greens are grown locally from Cavite.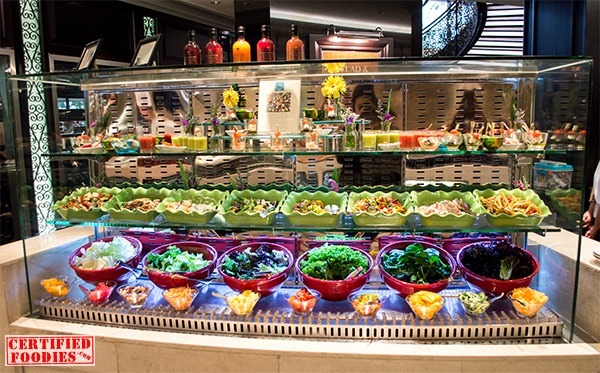 There's this huge bowl at the center of this atelier, where you can personally ask the chef to toss your greens with your choice of dressing.
But what really impressed us was their "Shake and Go Salad." You can simply pick up a jar with your preferred greens, add some dressing, give it a shake, and take it to your table. It's genius!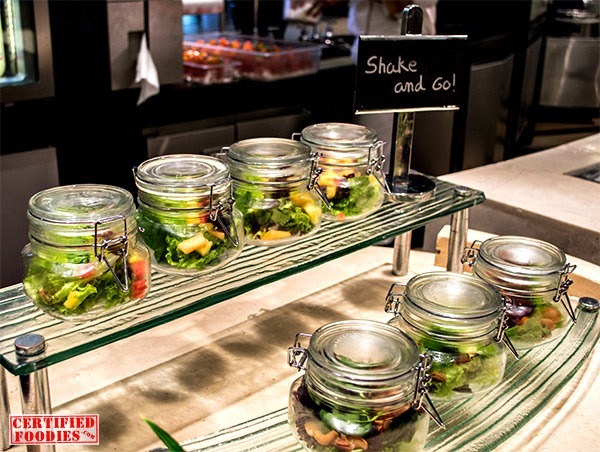 L'Écailler
Seafood lovers, prepare to be wowed by Spiral's fresh seafood station. They have lobsters, crabs, prawns, French oysters, and many more. You can take whatever's prepared on the display or you can request for a fresh batch and have it grilled to your liking.
You can also find the tartare station nearby. 🙂
Sushi Sashimi
Spiral divided their Japanese food station into two: Cold and Hot Japanese. I'm so glad that they did! Japanese food comes second to Italian food as my favorite international cuisine. Their Cold Japanese Station offers an expansive array of sushi and sashimi made from only the freshest of ingredients.
You can even ask the chef to prepare you a fresh roll of sushi if you don't want those currently displayed.
We wanted to know if their seafood is indeed fresh. The best way to find out is trying their sashimi. You can easily spot if the tuna or salmon used is fresh when it has a nice color, it melts in your mouth, and it has no off odors. As expected, Spiral's sashimi got a perfect score on our freshness checklist.
L'Epicerie
The new Cheese Room is surely the crowning glory of Spiral. Strategically placed at the center of the 21 ateliers, one cannot ignore the temptation of locking yourself in the cheese room and have a go at all of their imported and local cheeses (we almost did 😀 ).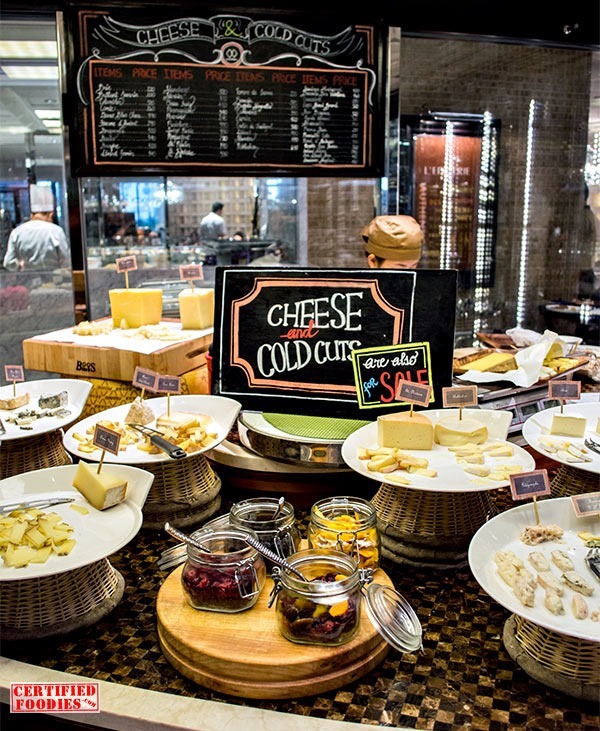 They currently serve 28 types of cheeses, including some local cheese by Malagos from Davao. We were curious if our local cheeses can compete with their international counterparts.
The first thing we tried was Davao's blue cheese. It's solid and hard compared to other brands of cheeses we've tried, but the flavor is perfectly strong and pungent. The Quezon Cheese from Malagos was surprisingly rustic yet light.
Of course, I wouldn't miss my chance to try my favorite Brie. It's soft and creamy, just like Camembert.
You can also find various nuts, dried fruits, sliced hams, and cured meats to make your cheese tasting experience all the more enjoyable.
Hot Japanese
My sister and I have almost the same tastes when it comes to food, and love for Japanese food is something we have in common, so it's not surprising that we ended up spending most of our time at Spiral's Hot Japanese station. At this station, the possibilities are endless. You can have different kinds of yakitori, may it be meat or vegetables. There are also various katsu you can enjoy, like chicken, vegetables, and pork. But of course, we piled our plates high with their crunchy and very addicting prawn tempura.
You also have the option to try their teppanyaki, where you can select from fresh seafood, meat, and vegetables and ask the chef to cook it on the flat griddle.
French Stove
This is the station where Spiral took to heart the saying, "Go long or go home." They willingly shelled 10 million pesos for a Bonnet Oven to bring their patrons authentic and high-quality French food (sadly, we weren't able to take decent photos of this area).
Since Spiral embraces a French theme, it's not surprising at all that the atelier that occupies the biggest space is their French station. They have the bonnet oven and their pasta station, where a chef is on stand-by to satisfy your pasta cravings.
If you're a truffle fan, you'd be thrilled to know that the chefs can prepare you a special Truffle Pasta upon request. Yum! 🙂
Rotisserie and PEKING DUCK OVEN
Tucked at the farther end of the French station, you could see Spiral's Rotisserie station and their Peking Duck Oven, where several plump chickens are slowly being roasted to a crisp.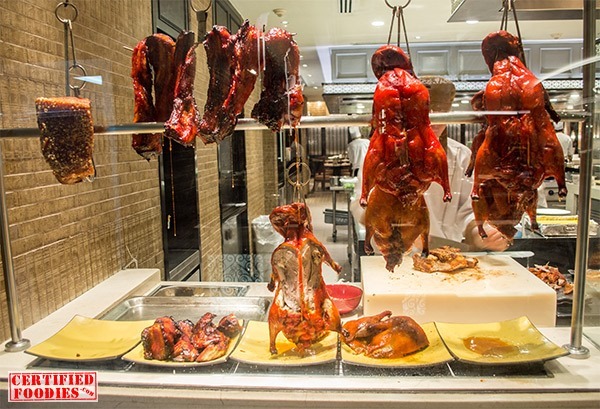 TIP: A little inside information we learned was that you can take fresh seafood from the Seafood station and have it grilled or roasted here. If you don't want to bother going back to the seafood are, a huge food warmer with freshly grilled seafood are ready for your taking.
Wood Fired Oven
At the farthest part of this station stands a majestic brick oven responsible for creating their crunchy and smoky pizza.
TIP: We're letting you in on a little secret: You can take any kind of cheeses from the Cheese Room and have the chefs customize your pizza. 28-cheese pizza, anyone? 😉
We've also tried their quick and mushroom empanada, and we swear on our dear life, you shouldn't miss grabbing a piece or two of those. 😀
Churrasco
I'm not familiar with any Brazilian food, but we were amazed to learn that Spiral's Churrasco Atelier was the Brazilian way of cooking meat on a spit. They have different kinds of meat like pork, beef, and lamb. You also have a lot of condiments, sauces, and salts to choose from. One sauce that caught my eyes was their mint jelly. Until now I'm still amazed how mint jelly takes off the gaminess of lamb meat that I really hate. 😀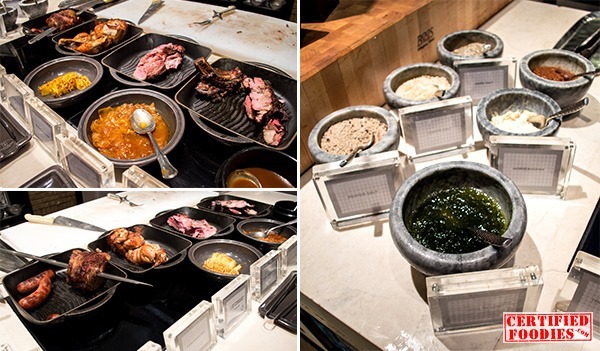 North Indian
I used to hate Indian food because they're too pungent and spicy. But all that has changed when the previous hotel that I worked for invited some Indian chefs over to cook for us. They prepared these authentic Indian dishes that were astoundingly delicious. I had the same reaction, like it was déjà vu, when I tried Spiral's North Indian dishes.
They even had these Tandoori ovens shipped directly from India, so they could create authentic Indian food for our enjoyment.
Asian Noodles
If you want something comforting to keep you warm, the Asian Noodles atelier is the place to go. Here you can enjoy hand-pulled noodles upon request. One dish you should try is their Laksa, which is not too overwhelming or too spicy.
Chinese Wok
There's this one dish from the Chinese Wok atelier that I kept coming back for, but I was not able to ask the chef for its name. Its crunchiness was addicting that I ended up hoarding more than I can finish on my plate.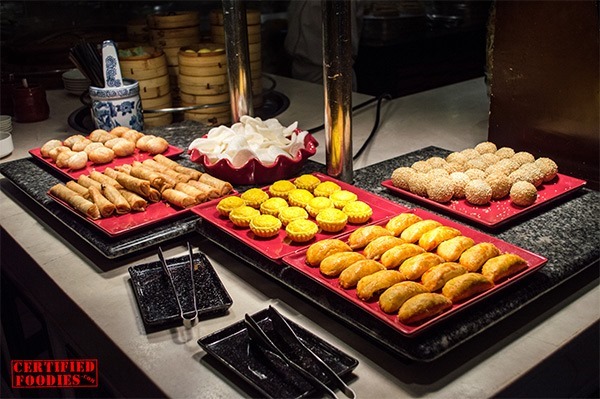 Steam Baskets
Here's an atelier we believe most Filipinos would find themselves coming back for more. The Chinese's dumplings are a familiar flavor, and Spiral's versions can win a head-to-head battle against top Chinese restaurants. We particularly loved their Xia Long Bao, which I kept begging my sister to get more of, and I'm glad that she obliged. 😛
Filipino
When I got to this atelier, I jumped in head first at their Kare-Kare. It has been a long time since our Nanay last cooked Kare-kare at home, so we were madly craving for it.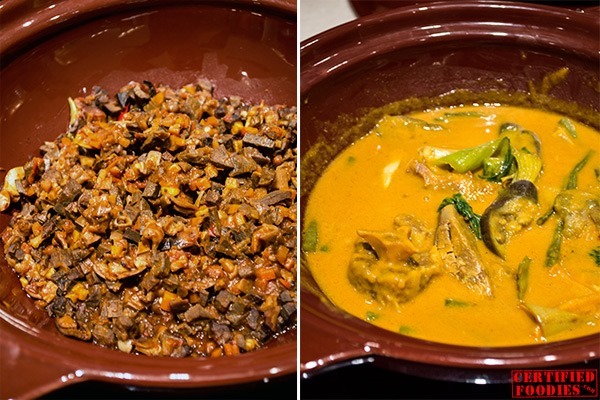 They also had the iconic Chicken Adobo, of course, and it tasted like the one our Nanay makes at home… and that's a good thing! 🙂 Oh, and their Bopis is a must-try too! 🙂
Thai
We love Thai food because most of their dishes are spicy and are very close to Filipino flavors. One thing we truly enjoyed from this atelier was their fish cake for its crispy exterior yet velvety interior.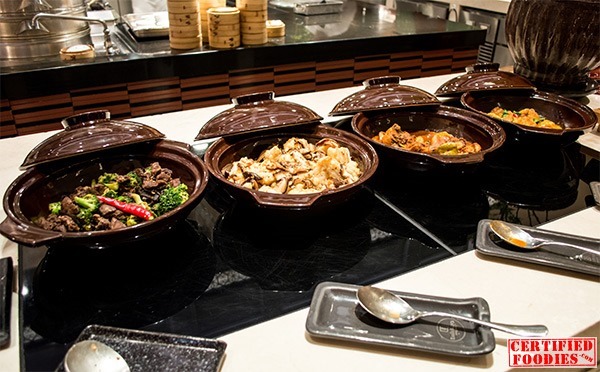 Korean
Korean food is slowly winning the Filipino palates fueled by our obsession with Korean telenovelas and kpop music. But one can't simply deny that Korean dishes are actually good. We're glad to see some of our favorites on Spiral's Korean atelier, like japchae and kimchi.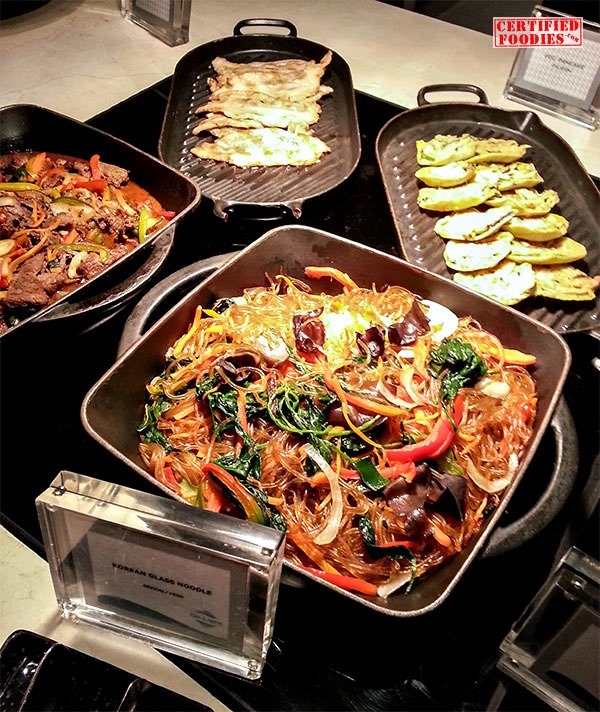 La Boulangerie
This was the atelier we regretfully ignored, thinking that nothing's special with them since they're just bread. It's a good thing I was able to give it another look en route the Cheese Room and got myself a few slices and some jam. 😀
La Patisserie
This is where I totally lost it! I'm more of a pastry guy and Spiral's La Patisserie atelier was the closest to heaven I could get! They had luscious cakes propped up, tempting you to get a slice.
Huge clear pull-out drawers houses all kinds of pastries imaginable, like crème brulee, opera cake, and one with a thingamajig that lets you inject more rum into the pasty, which they call Rum Baba (a must-try!).
And yes, there are Filipino desserts, too, like the Puto Bumbong and Bibingka, making it feel like it is Christmas every day at Spiral!
Chocolaterie
When I die, I wish my ashes to be scattered around Spiral's Chocolaterie atelier. I know that sounds creepy, but this is the only place I'm sure my soul would find rest! LOL. 😀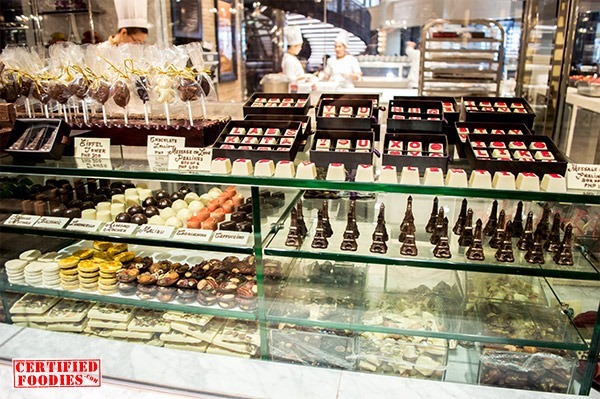 Kidding aside, the chocolaterie is chocolate heaven! At the center of the dessert station, two chocolate fountains take the stage with an array of fruits, marshmallows, and cookies you can dip into the chocolate.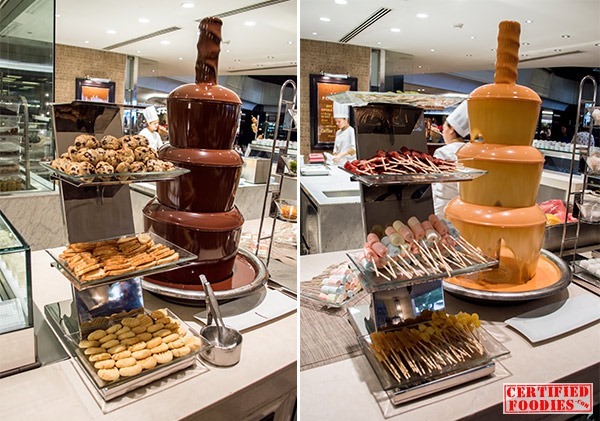 At a separate island stands an antique drawer where various truffles and pralines are ready to satiate your cravings. My sister can't stop raving about the chocolate truffles! 😀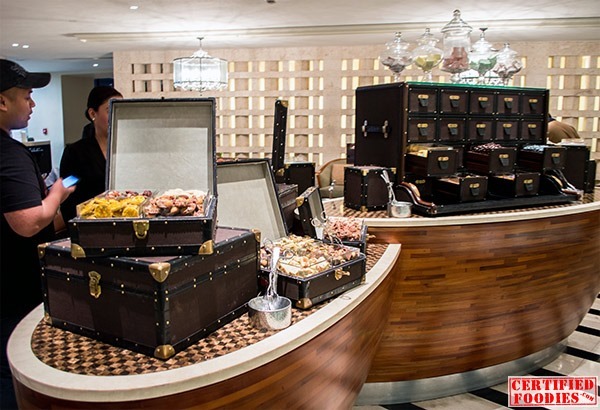 Their chocolate bars are the best I've ever seen, even the world's most premium chocolate brands don't stand a chance against what Chef Tweet, who is Spiral's Master Chocolatier, has under her sleeves. 🙂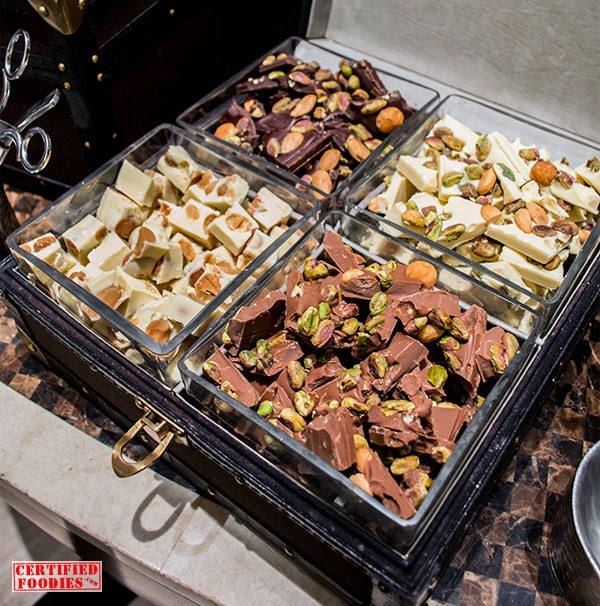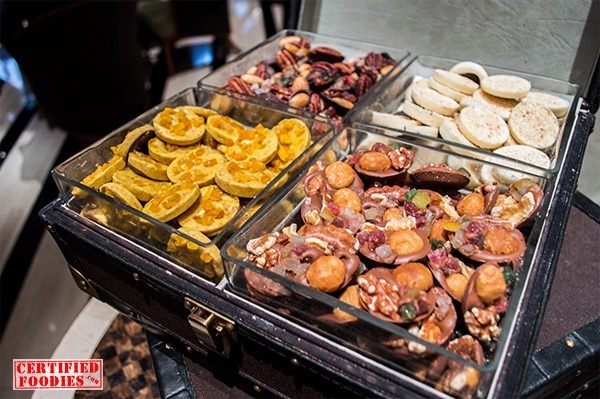 Creamery
We were already full when we decided to pay the Creamery atelier a visit, so we just ended up getting a few scoops of ice cream with some crepes.
Finally, check out these fresh fruits! Feel free to add them to your crepes too. 🙂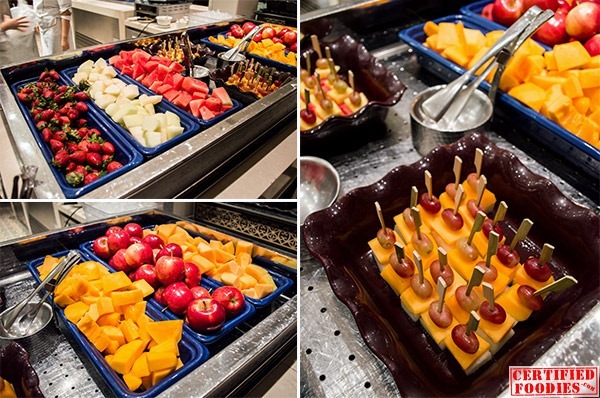 They do have the mandatory Halo-Halo Station, which you can find in almost all buffets in the Philippines. But what made them stood out are the immense options of toppings and condiments you could add to your halo-halo.
SPIRAL 2 GO
The Spiral experience doesn't end when you step out of Sofitel Manila. Right before you ascend the spiral staircase, you can spot the Spiral 2 Go counter, where you take home cakes and pralines from the chocolaterie, chocolate chip cookies, French macarons, and their signature olive bread.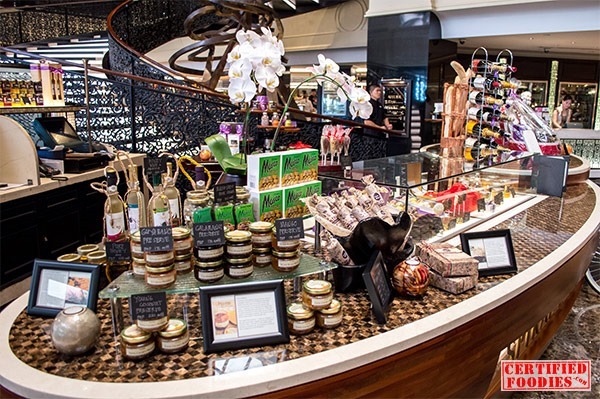 Spiral is proud in saying that they are the only buffet in Manila that displays transparency to their guests for showing them the same exact ingredients they use for their dishes. At every atelier, there are Spiral 2 Go products, which guests can grab and pay for upon leaving. 🙂
Spiral Buffet Rates
(click to zoom)
Honestly, we used to think Spiral is too pricey. But after enjoying the true Spiral experience, we can definitely tell you it's worth every centavo! 🙂
Can you guess whose plate this is?! 😛
We actually think it's not fair to call Spiral a "buffet." They deserve their own category mainly because the excellent quality and generous portions of the food they offer are above par. In an instant, Spiral in Sofitel Manila has taken the number 1 spot on our list of the best buffets in Manila! We can't wait to go back soon! 🙂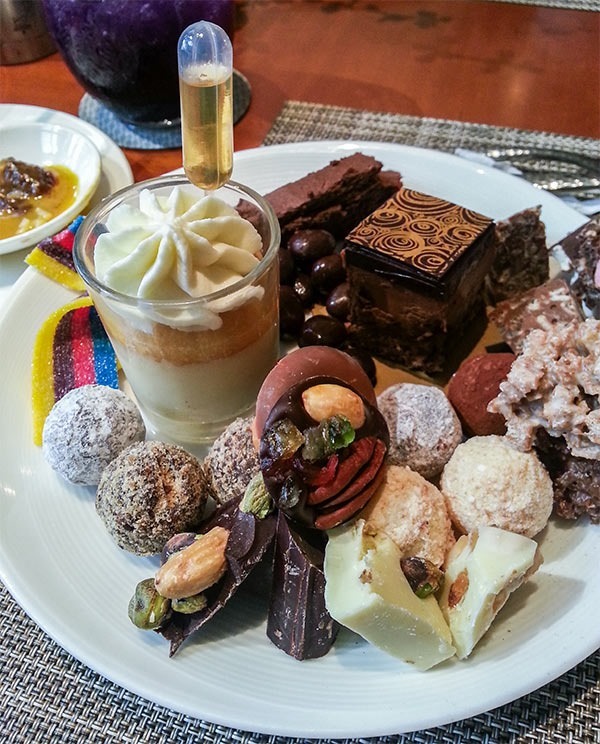 How about this? 😛
Spiral Manila
The following two tabs change content below.
Kenneth is the chef in the family (he studied Culinary Arts and Baking & Pastry Art in GCHA). He's responsible for most of the more complicated recipes featured here, and loves preparing pastries and desserts. Aside from being a chef, he's also a Registered Nurse and Midwife. His love for cooking led him to pursue a culinary career.
Latest posts by Ken Ignacio (see all)
Comments
comments