There's this small Japanese hole-in-the-wall food stop near our house that we usually see jam-packed with customers at night. We really had no plans at all of trying the place, since we've had authentic Japanese fare from topnotch restaurants and hotels in Manila (Yabang naman! 😀 ) and we're quite sure that the place will be nothing less than a disappointment. But it was until we met a fellow foodie who raved about how awesome their Takoyaki was that we finally decided to pay OZEN Japanese Food in Malabon a visit.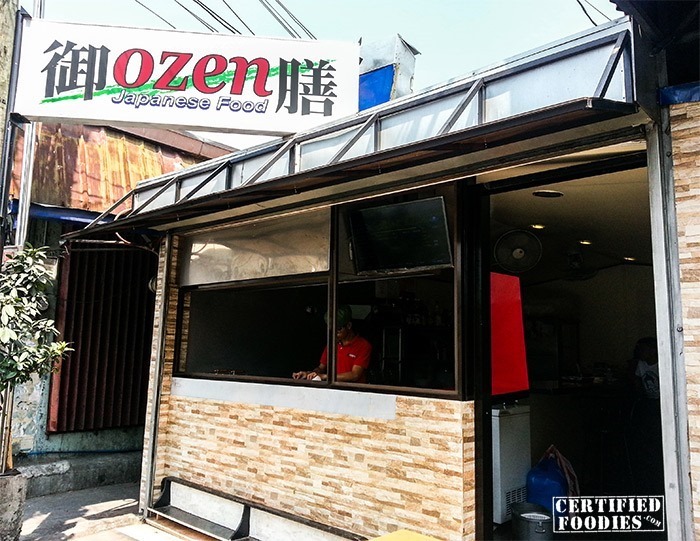 Our first try was a total disaster, service-wise. They had 3 groups of families that were dining in, so we had to wait over an hour to finally get our food. We ordered three sets of Takoyaki — two to-go and one for dining in because we wanted to take a quality photo of their Takoyaki for the blog. I didn't get my hopes up, since my first encounter with a mall-bought Takoyaki was totally unremarkable.
I picked up a piece and took a small bite. My eyes widened in amazement, and from then I knew that it's the best Takoyaki I've ever had my whole life! Well, I exaggerated a bit there. 😀 It took us a couple of balls to finally establish how delicious their Takoyaki was. It was so good that we came back the next day – in the afternoon this time – so we didn't have to battle a crowd of patrons to get our food.
We got ourselves another 3 sets of Takoyaki, which has become our usual order. A single serving gets you 4 pieces of Takoyaki for Php 30.00. Each ball has a chunky bit of octopus meat inside. Each piece is then drizzled with some Japanese mayonnaise and Takoyaki sauce, and finally topped with dried green seaweed and dried fish flakes.
In the countless times we've pigged out at this place, we were lucky to spot Cecille, the wife of the Japanese owner one time. We put her on the spot for a little impromptu interview. We found out that it's her family who runs the place, with her brothers taking care of most of the cooking of the Takoyaki. Only family members know the recipes to their sauces. There's even this one person who loved their takoyaki so much, she wanted to buy the recipe from them. 😀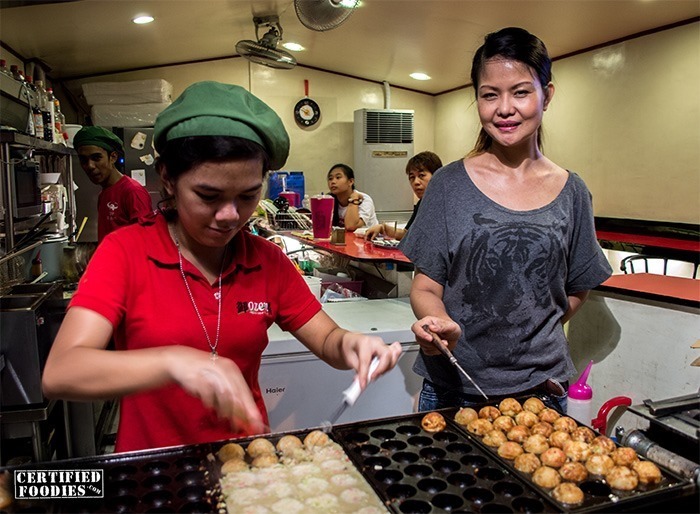 We also learned that Cecille made a few adjustments to the original recipe to fit the Pinoy taste. The authentic Japanese version is not cooked through and through, leaving you raw Takoyaki batter inside. That's what the Japanese prefer, but similar to steaks, Pinoys want their food well-cooked. It's the same issue I've had with other versions of Takoyaki – the batter inside is raw, so you get grits of flour that I personally found unpleasing to the palate. That simple adjustment really made all the difference, and it's surely the reason why I changed my mind about Takoyaki.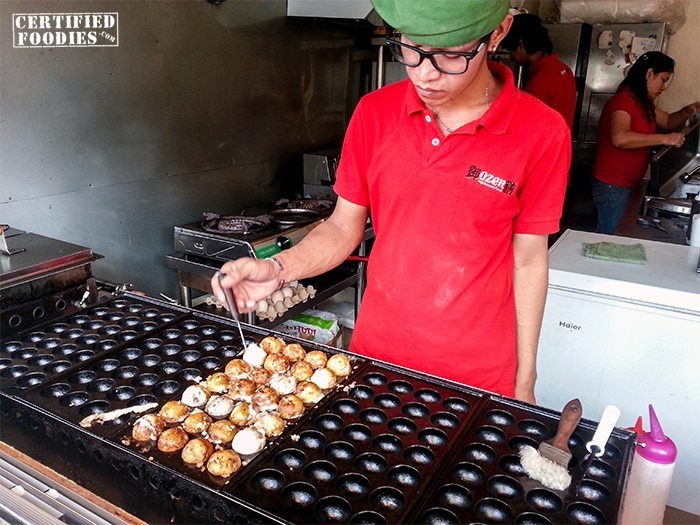 We also tried one of their best-sellers, the Korokke, which is deep-fried potatoes covered in crispy bread crumbs, and served with a big mound of cabbage salad with Japanese mayo for a meager Php 30. It's a bit on the heavy side, so a single serving would be more than enough for one person.
They also offer the most popular kind of Japanese nori-wrapped fare – the California Maki. For Php 100, you get six huge pieces of maki with sides of wasabi and pickled ginger. They make the biggest California Maki I've ever seen. Even in hotels and restaurants, they don't serve it as big as they do.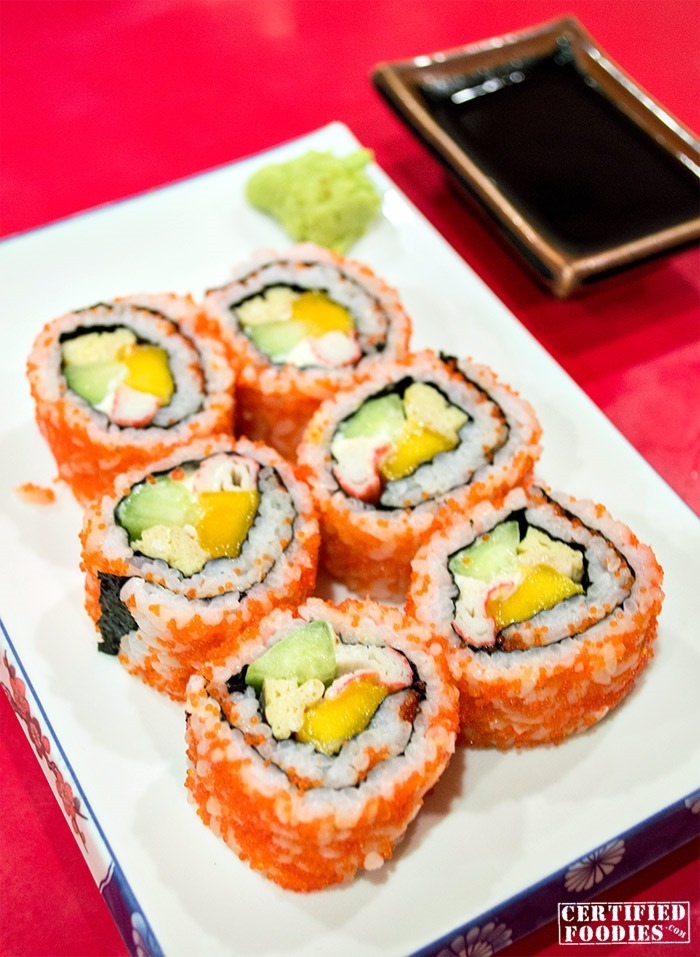 It's also important to mention that they use only good-quality Japanese rice with their maki rolls and other rice meals. Ozen's maki has slices of Japanese egg omelet, crab sticks, mangoes, and cucumber. Each roll is enrobed with the iconic orange salmon roe, which we think is the best kind we've tried. You can literally pop each piece with your teeth and it'll burst out with a subtle saltiness that's truly addictive.
One thing Pinoys share with the Japanese is their love for rice. It's a major reason why Japanese is one of my favorite international cuisines, coming a close second to Italian food. When we're at Ozen, we always order 3 servings of Takoyaki for our appetizers and two or three rice meals for our entrée. Well, it depends on how hungry we are. If we woke up with a voracious appetite, my sister and I would share a third plate. All their rice meals come with a piping hot serving of Miso Soup, made from scratch upon order. I also mentioned earlier that they only use high-quality Japanese rice, so an extra cup would cost you Php 30 – an additional expense we're more than willing to pay.
Most of the photos here were taken using our S3 phones, so some might be blurry.
It's a given that Ozen's Katsu Don will never be as good as Yabu's, but for Php 120, consider it a bargain! Their Katsu Don is a piece of deep-fried pork cutlet braised in a broth of soy sauce and onions, served on top of steamed Japanese rice. It actually tastes even better than the ones served at Tokyo Tokyo. Seriously.
The dish comes with authentic Japanese rice, so you won't have a hard time finishing the whole bowl using a chopstick, without having to resort to using a spoon in eating the last tidbits of rice.
Another dish we tried was their Gyuo Don, which is a bowl of braised beef strips with onions, served on top of Japanese rice, comes with a small dollop of pickled ginger and a bowl of Miso Soup all for only Php 100. The beef strips are flavorful and tender, with hints of ginger and soy sauce.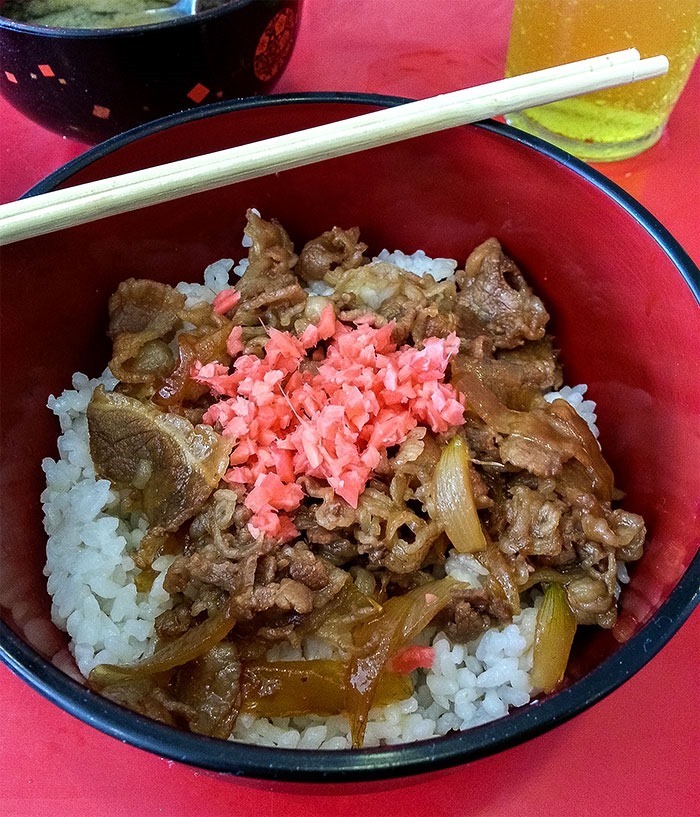 The pickled ginger was off-putting for me, so the second time I ordered it, I took some out of my bowl. That's the case for me, but I'm not sure it's the same for other people (my sister liked it).
We also tried their Chicken Katsu Don. For Php 100, you get a piece of deep-fried chicken cutlet with crispy breading, then braised in a sauce with onions and fresh egg. It's our second favorite, coming second to their Chicken Karaage, which I will talk about later.
Ozen's Hayashi Rice (Php 120) reminds us of the popular Filipino fare, Beef Pares, but a lot less sweet. The beef strips are tender and quite flavorful, but it didn't totally wow us that much, so the one time we ordered it would probably be our first and last. But it's worth a try though, especially with its sweet sauce that complements the beef strips well. It's a good choice if you want a break from deep-fried food and you are craving for something a little bit saucy.
We've mentioned a couple of times on our blog that we love Tokyo Tokyo's Chicken Karaage so much that we consider it as one of our ultimate comfort food. Well, now we think we're having a change of heart after getting a taste of Ozen's version. Their deep-fried Chicken Karaage is served with a generous mound of Cabbage Salad dressed with Japanese mayo for only Php 100. We usually order an extra cup of Japanese rice (Php 30) to come with our Karaage, since each piece of chicken is so flavorful and scrummy that it's a total waste of good food if you don't savor it with rice. 😉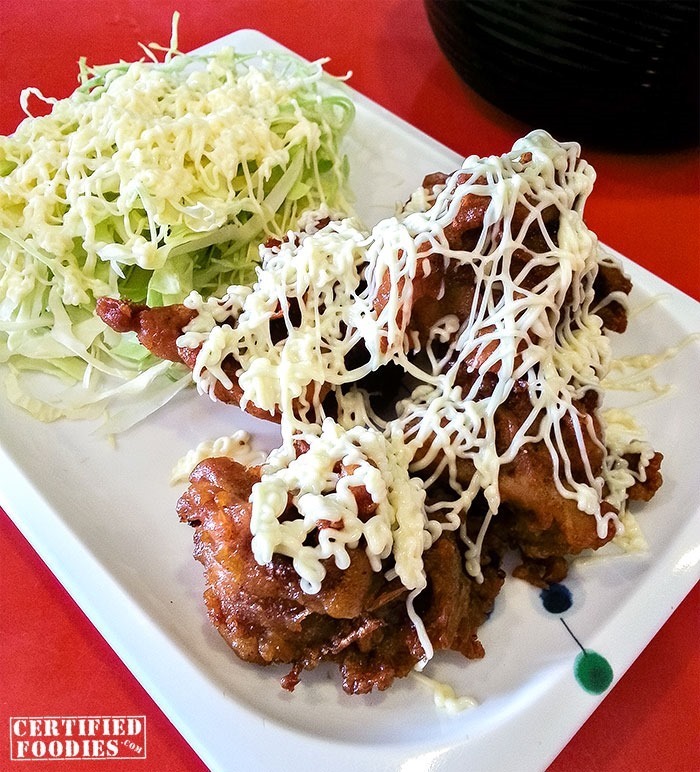 There are still a few dishes we haven't tried in Ozen, like their Gyo Za, Oyako Don, Curry Rice, Katsu Curry Rice, and Nori Maki. But what we're really looking forward to tasting is their Yakitori. Tokyo Tokyo has removed it from their menu, so I've been craving it for years that I even made my own version of Chicken Yakitori at home. Click on the link if you want to get the recipe.
We are so glad that we've discovered this small Japanese food haven right in our home town. We've even decided to include Ozen Japanese Food in our itinerary of food stops in the Malabon Food Tour that we would soon launch for The Burp Society. Make sure to keep an eye out for that! 😉
OZEN Japanese Food
Location: Kadiwa in Malabon City, near the billiard hall. We don't have their exact address, sorry.
Website: www.ozen.ph
Branches: Malabon City (near Kadiwa St), but we heard they're opening up a new branch in Bulacan
Operating Hours: 12noon til 1am (last order is 12 midnight)
Contact #: (02) 351-4727 (You can call them to place an order, but you need to go there to pick up your food)
The following two tabs change content below.
Kenneth is the chef in the family (he studied Culinary Arts and Baking & Pastry Art in GCHA). He's responsible for most of the more complicated recipes featured here, and loves preparing pastries and desserts. Aside from being a chef, he's also a Registered Nurse and Midwife. His love for cooking led him to pursue a culinary career.
Latest posts by Ken Ignacio (see all)
Comments
comments