When we planned to travel to Bohol back in 2012 for our birthdays, Ken kept on insisting that we pick Bohol Bee Farm for our accommodation. He told me nonstop about how good their food was and that I'll love our stay there. He was 100% spot on!
What we love most about Bohol Bee Farm is they continue to stay true to what they are all about. They boast of using organic ingredients in preparing their dishes, which means no fertilizers, pesticides or anything harmful were used in their farming. Most of them are produced from their own farms, and right there at Bohol Bee Farm (read about our tour on Travelsilog -soon!). They highly support organic farming and, in turn, has given jobs to Boholanos, especially with their livelihood projects at the farm.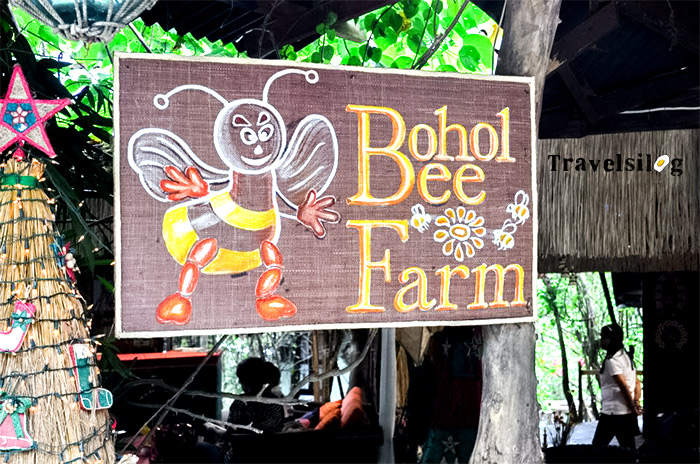 Since they were also planting their own herbs and vegetables, you can taste the freshness of the ingredients. And the food wasn't just healthful, but quite good too.
Expect a repetitive use of the word 'organic' here. 😀 We had most of our meals at Bohol Bee Farm, but no one complained about it because of the variety of dishes they served us and the surprisingly good flavors of their food. We were all laughing at how regular our BMs were during our stay. Most importantly, they made us look at healthy eating in a different light, that's for sure. 🙂
(Ken and I snicker when we hear the word 'organic'. It's an inside joke, so imagine how many times I remembered that while writing this series of posts)
Since we were a big group, we were served buffet-style, but you can always order any of their other dishes a la carte (scroll down for their menu). During our 4-day, 3-night stay at Bohol Bee Farm, the buffet meals included different dishes, with some recurring offerings like the bread, spreads and salads. We almost got a taste of everything on their menu! 🙂
Don't worry if you're not vegetarian or you hate veggies (trust me, we understand); they also serve seafood, chicken and pork. That was one of my main concerns. Thankfully, all of my meat-loving friends were completely satisfied with all the food we ate at Bohol Bee Farm. 😀
First Lunch at Bamboo Restaurant
Our first meal was at their Bamboo Resto with a breathtaking view of the sea. Take note that you can order any of the dishes we got to try in any of the restaurants in Bohol Bee Farm.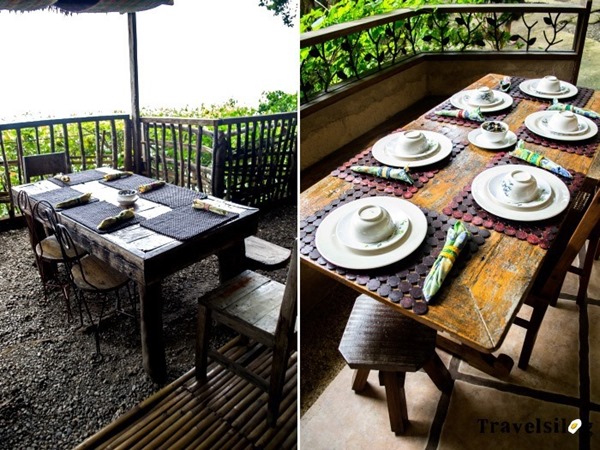 We started off with their Mango Iced Tea, with strips of fresh mangoes. By the way, they make their own teas at the farm (you'll see it on our post about the Bohol Bee Farm Tour). This was refreshing, perfect for the humid weather we were experiencing after the heavy rains that welcomed us at the airport.
While we were planning on going to Bohol, Ken has been raving nonstop about Bohol Bee Farm's Organic Garden Salad… with flowers! So when I saw that it was part of our lunch buffet, all of us were excited to give it a try… and to take pictures. 😀
We asked about the flowers in the salad and here's what I remember: there's Caturay (pink), Cosmos (yellow/orange), Ternati, Gumamela and Bougainvillea, all of which you can find growing in the farm.
My friend Badeth was amused to see her daughter also enjoying the salad. I was expecting it to be too floral for me, but it was just right, especially because it came with their homemade Honey Mustard dressing.
There was also organic red rice, fresh Squash Bread with Bohol Bee Farm's very own spreads like honey, pesto and mango (stay tuned for our post about their products!).
There's this Vegetarian Pasta with pesto garlic, tomatoes and olive oil. A little bland for our taste, but after Day 2, we were all used to the level of flavors of their pasta dishes.
For those who need meat or other source of protein, they also served us their Honey-glazed Chicken and Grilled Marlin.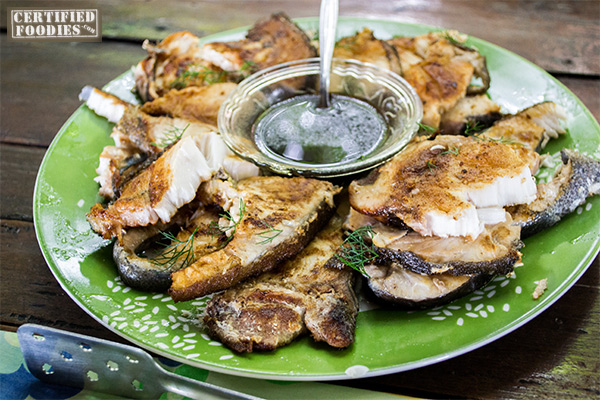 Everyone loved their Seafood Soup with shrimps, clams, Marlin, squid, Bariles and organic vegetables.
After our lunch, we were looking forward to the rest of the meals we'll be having at Bohol Bee Farm. 🙂
Lantaw Restaurant
This is the larger dining area at Bohol Bee Farm where you have a better view of the sea. We had most of our meals here, including my birthday celebration. 😀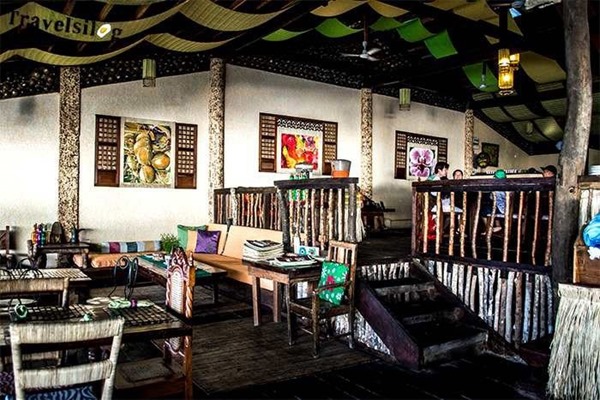 Here are some of the dishes we enjoyed at Lantaw.
Breakfast
We ate 3 breakfast meals at Bohol Bee Farm, so let me just compile all of the dishes in one go.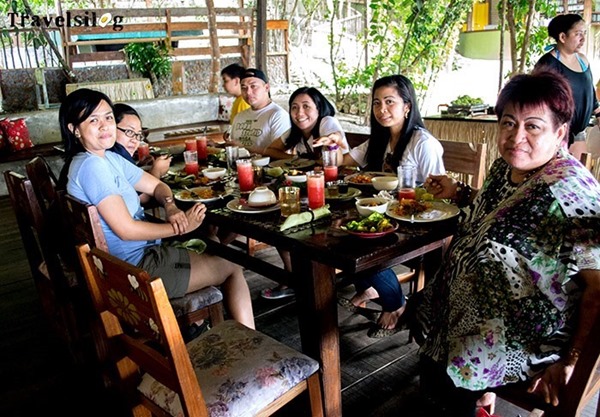 For appetizers, we were served their Vegetarian Salads. For main dishes, we got the meatballs with their own sweet sauce, their seafood soup and fried fish. See, we were eating breakfast for champions every single morning. 😀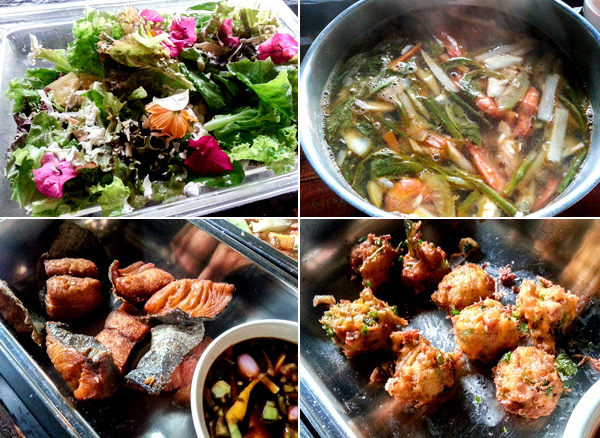 We also got scrambled eggs, pasta, rice with herbs and veggies, carrot, corn and squash muffins, plus pineapple pancakes.
Boiled eggs with their own bagoong, and pasta with strips of chicken.
Dried fish and their homemade bacon with honey! Ken said, it tastes like tocino. He absolutely loved this because it combines 2 of his ultimate favorites – tocino and bacon! 😀
For breakfast and lunch, we always had their breads and spreads at the buffet, and they were surprisingly delightful, which is why we all bought jars of these spreads to enjoy back at home. We'll write about them in an upcoming post.
Oh, and during all our meals, we had unlimited fresh fruit juices available to us, and coffee and tea too.
Lunch
We only had lunch at the farm twice since, on our second day, we went on our Loboc River Cruise which included lunch (upcoming post on Travelsilog!).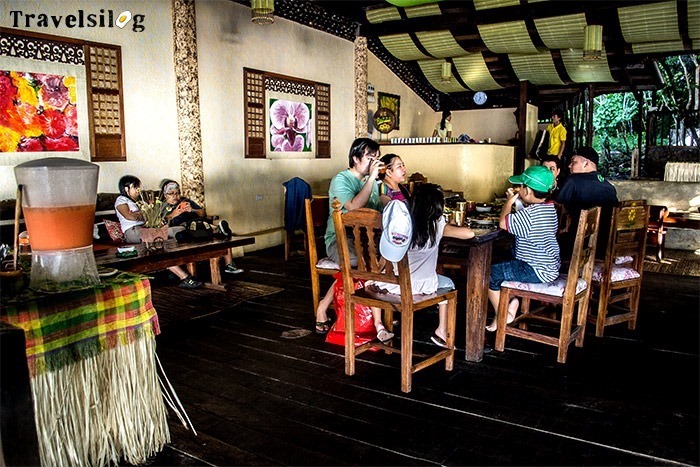 Here are some of the dishes that were part of our lunch buffets, Vegetarian Salad with nuts, mangoes and pesto dressing.
For our entrees, they served us rice with camote, spaghetti with their very own tomato sauce, shrimps and seafood soup.
For my fellow meat lovers, their ribs were scrumptious! I think they refilled this more often than the rest. Ken and I had nothing to do with it, promise. 😛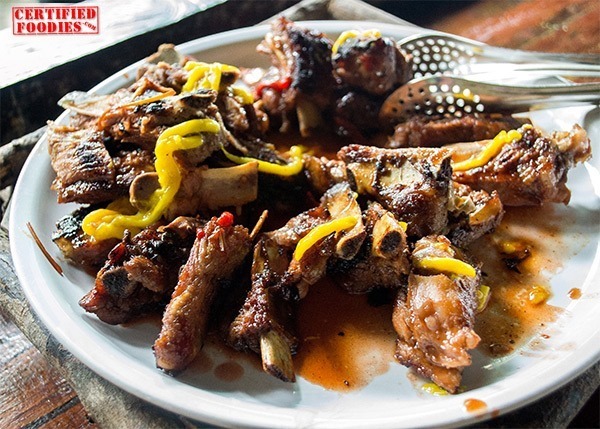 Fresh watermelon juice and Malunggay iced tea. Can you already imagine how much fiber-rich food and drinks we ate at the farm? 😀
Our favorite Seafood Soup which was very flavorful.
And Halo Halo for dessert, with their homemade ice cream from The Buzzz (watch out for our post about this!).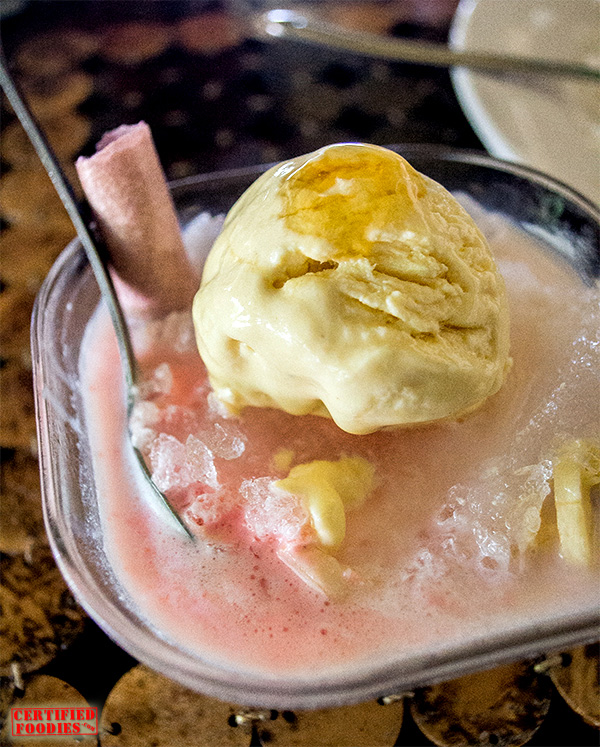 Fresh fruits were also part of their dessert spread.
Dinner
For appetizer, we got to try their Cassava Lumpia. The crisp wrapper was made from cassava (duh 😀 ) and it's filled with Romaine lettuce, arugula, celery, singkamas, radish, cucumber, mango and cheese. They serve this with their homemade peanut butter dip.
This might look like a very simple starter dish, but it's packed with flavors from all the good stuff that it's made with. Mmmmmmm!
Our favorite though would be their Buko Soup made with young coconut meat, malunggay, patola and coconut milk. I swear, this was sooooooo good! We didn't expect this to be tasty. It was creamy, with the distinct taste of coconut. Everyone loved this, even the kids! 🙂
On our second night, we had Seafood Lasagna (I didn't get to take a photo of it though), Chicken Curry, and tomato soup.
The dinner spread also included their Baked Spare Ribs (much to my fellow meat lovers' delight!), Vegetarian Pasta (with tons of tomatoes!), Grilled Squid, and of course, Organic Red Rice.
On our last night, before my birthday celebration, here are the new dishes what we had for dinner, with a special mention of their tasty Adobong Manok.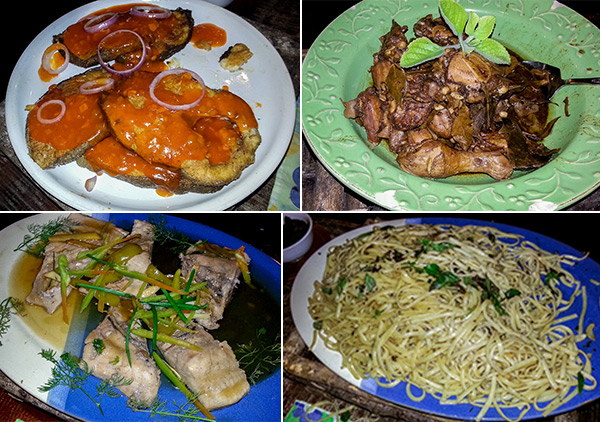 Vegetarian Salad with Eggs (Ovo Salad)
Tinolang Manok with Malunggay
And the best part of this is we got their ice cream for dessert! 😀 This was highly addictive that, I think, we all ate 4-5 cones of ice cream each during our whole stay at Bohol Bee Farm. 😀
Bohol Bee Farm's Pizza and My Birthday!
Since we cancelled our diving trip, we opted to use up the excess we paid them to order food for my birthday celebration. Ken has been all praises about their pizza, so we ordered 3 flavors: Meat, Seafood and Cheese Pizza. 😀
They were all quite good, but our favorite, hands-down, was their Cheese Pizza (Php 260).
Their pizza crusts were perfectly thin, crisp and flavorful. We were just too full to finish everything, so we ended up taking some of them home. We wished we could've used up some of the excess for pasalubongs instead. 😀
We also ordered grilled squid (Php 300) and spare ribs  (Php 260).
I knew Bohol Bee Farm was going to surprise me with a cake when they kept on asking about my birthday, but I didn't expect to receive such a fancy organic carrot cake with flowers on top! 😀
Can you see the bits of carrots in there? 😀 This was light yet yummy.
Definitely one of the best birthday cakes I've ever had (my 18th birthday cake still remains on top).
Bohol Bee Farm's Menu
Here's the menu for all their restaurants (click to zoom). Note that you can also order for dining inside your rooms.
Final Word
We ate a lot and we did gain weight during our entire stay (4 days, 3 nights), but we didn't experience the familiar bloated feeling when you've had too much food in your belly. Thanks to our regular BMs, which continued on for about a week after we flew back to Manila, we felt cleansed from all the guilt-inducing food we tend to enjoy at home. 😀
This serves as a 'Thank You' to Bohol Bee Farm for the awesome customer service and the delicious food. They made our vacation and birthday celebration in Bohol very memorable that we can't wait to go back. SO, yes, we highly recommend you visit them or stay for at least a night so you can experience what they have to offer.
Read our full review of Bohol Bee Farm on Travelsilog (our travel blog).
Bohol Bee Farm
This is a part of our Bohol 2012 vacation series of posts. Click here for the summary of posts/topics with links.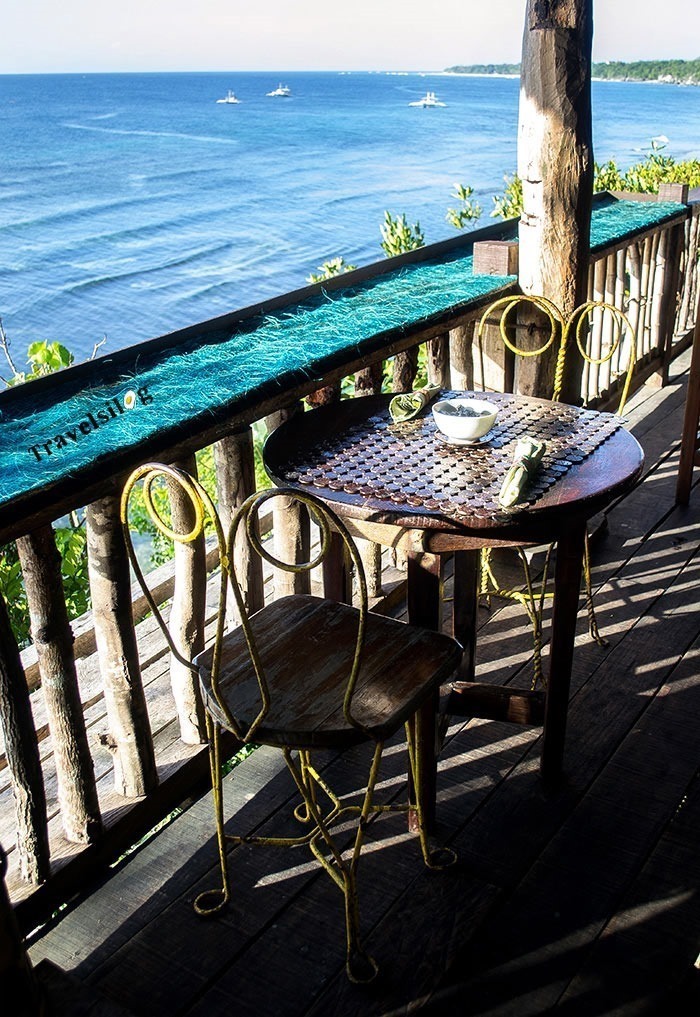 The following two tabs change content below.
Michelle (aka Mhel / blankPixels) is a social media nerd and works as a Digital Marketing Lead for one of the top online companies in the Philippines. On her free time, she travels, goes on food trip and loves to take photos. She's the main editor of this food blog.
Latest posts by Michelle Ignacio (see all)
Comments
comments