All year round, especially during the cold months of December and January, we find ourselves longing for some good ol' comfort food. But not just any kind of comfort food, we crave for something rich, hearty, delectable and, most of the time, creamy. That's why, they say, calories don't count during the holidays. 😉
We were invited as judges at the Merry Cremas Food Bazaar in Eastwood last month. Good thing it was a Sunday so Ken and I were able to go together.
We know, from personal experience, that there's a wide range of dishes you can prepare using Alaska Crema all-purpose cream. We knew there'll be a ton of desserts and pastries there, but we were really hoping to see more savory dishes. There were only a few who did. Thankfully, they were all quite successful with their dishes too along with the food purveyors who served desserts.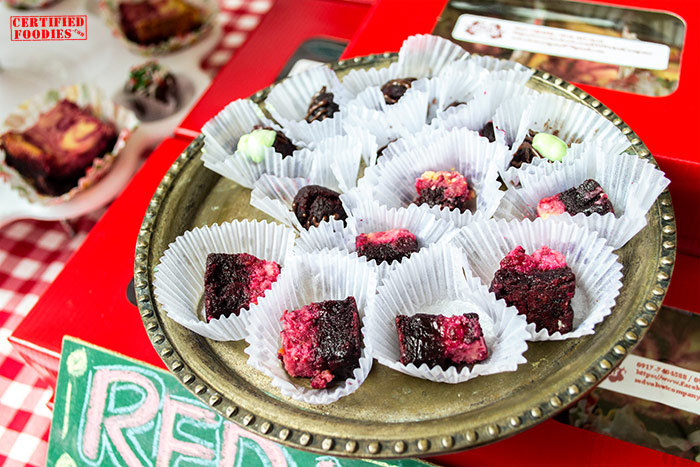 With that said, let's begin with our top favorites from the Merry Cremas Food Bazaar in Eastwood. These might help you with recipe ideas for your celebrations or any holiday, especially for Noche Buena and Media Noche.
One of the winners at the food bazaar was Malagos Chocolate. It was a clear win for them from the get-go because their Dark Chocolate Fondue was pure delight, plus they were proud and more than glad to tell us about what they have to offer.
Their products are made from single-origin cacao beans, which means they have a more distinct taste and flavor. Additionally, with the wonderful combination of probably the most amount of Alaska Crema among all the purveyors that day, their fondue was deliciously bitter yet it was luscious and rich. 😀
They also offered us a taste of their chocolate tablea drink. We wanted to go back for more, but we had 22 more food booths to visit. 😀
Cooking Ina's Kitchen
Their Malaysian Bicolano Laksa was spicy, rich and very flavorful. We loved it!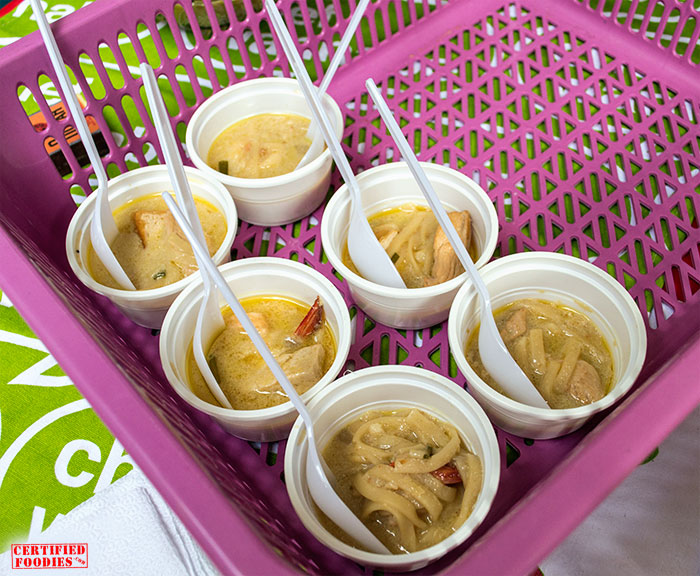 Joanie's Cupcakes
We arrived at their booth already full so we weren't looking forward to another dessert. BUT, we loved their Caroco (Salted Caramel Dark Chocolate Ganache) Cupcake.
Okay, they only served small bites, which they called Caroco Cuppies, but they were oh-so good! No wonder they won. 🙂
Hey Gourmet
You probably just know of the yummy combination of rock salt and cheese from drinking milk teas, but Hey Gourmet took it to the next level with their Rock Salt and Cheese Bar.
Sonia's Cakes & Bakes
Aside from adoring their design of their Choco Mousse Meringue, we fell in love with the small serving we got. It was the right amount of sweetness and richness, so we're sure many would enjoy this too.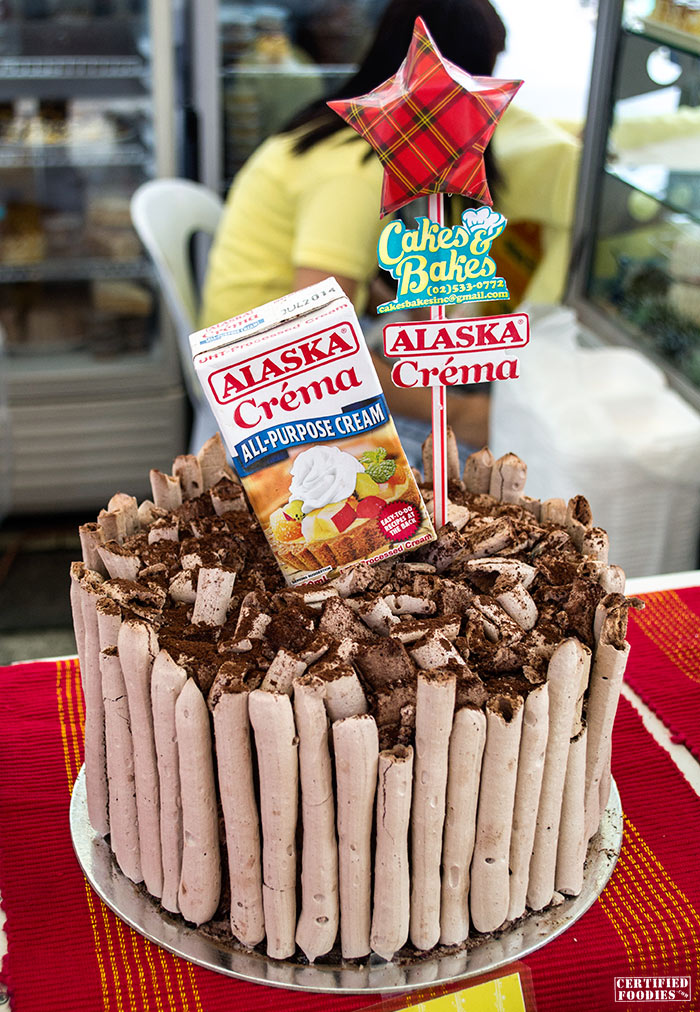 Sonia's Cakes & Bakes on Facebook
Party Time
They served carbonara and fish fillet. We were excited to go to their station because we saw the carbonara (wait for Ken's own recipe – you're gonna love it!!) while we were walking around to check what's in store for us. 😀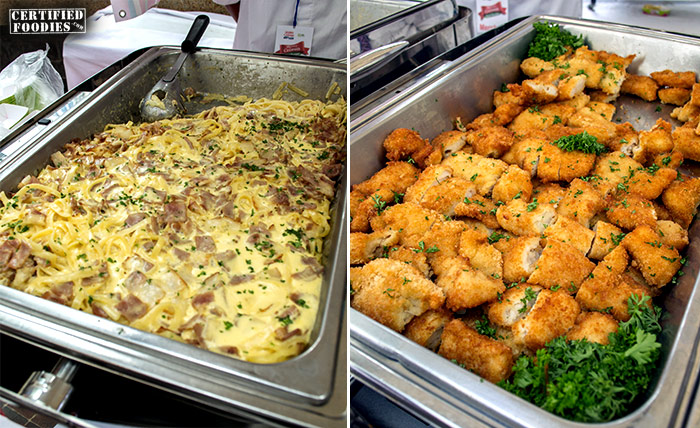 Both were tasty, could use a little more seasoning. But, for catering for a big group (which is what they're offering), the dishes were quite good, especially their Honey BBQ Ribs, which wasn't really part of their entries, but we just had to mention. 😀
Choco ATBP
They served their tsokolate drink made with their tablea that comes from pure and finely ground Philippine-grown cacao – Sindikato de Cacao. It was bittersweet, thick and frothy. Mmmmm! 🙂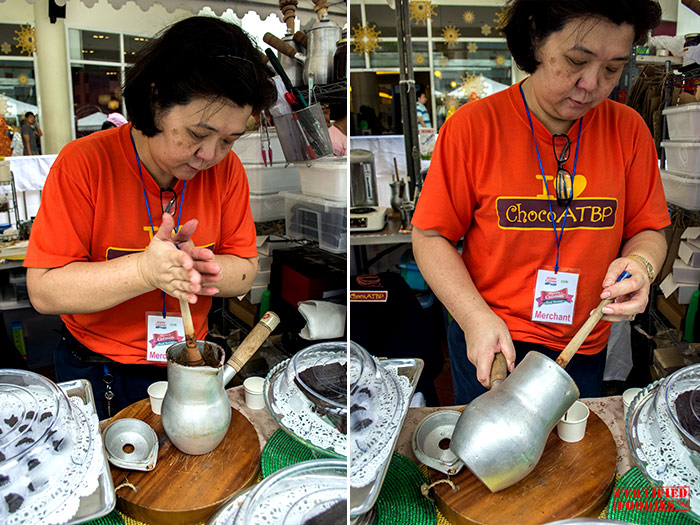 They also have dark chocolate fudge bars in various flavors, and we got to try the original variant.
Here are some of the other entries using Alaska Crema, which didn't make it to our top favorites but were also good, just to give you ideas on what you can make using this all purpose cream.
The Pastry Parlour offered empanadas and they used Alaska Crema for the filling.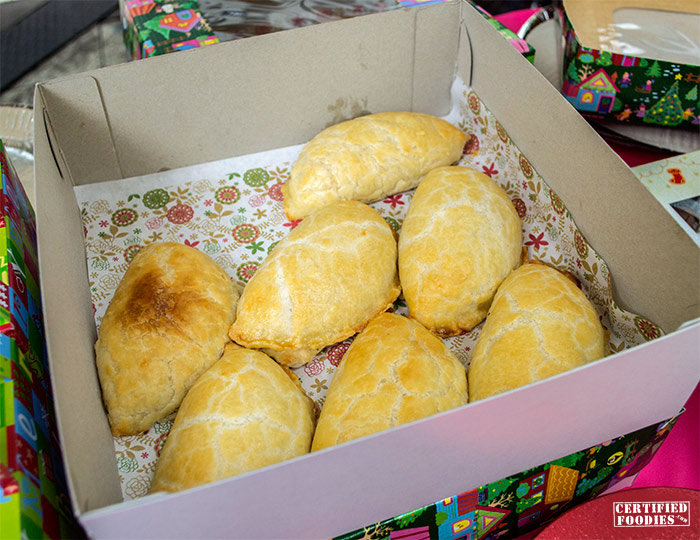 Roasterrific served Chicken ala King. It was creamy, and though we thought it could use a little more seasoning, I'm sure I could finish one bowl of it all by myself. 😀
The Serving Spoon Manila served a savory dish and dessert. Initially, they were serving their Toblerone Bread Pudding.
We suggested, along with a fellow blogger (Richard), that they should go for their savory offering since there were too many desserts already at the bazaar. They decided to serve their burgers. It was the most unique idea for using the cream at the bazaar.
Their recipes for both dishes were displayed at their booth, but we only got to take a decent photo of the bread pudding. You might want to try this.
Nothing But C prepared Yema Cake.
We were amazed by the precise details on the design of their Lechon Cake, which had chocolate cake inside. Cool, eh? We posted this on Instagram and Facebook; people were confused. 😀
Nutty Drizzle used the cream for their French Donut and Kroughnut fillings.
Baked Bites used the cream for their Dulce de Leche Pecan Cheesecake Cups. It was a bit sweet, so we recommend sharing them with others.
CM's Catering Services used it on their Baked Mac, cream puffs and eclairs.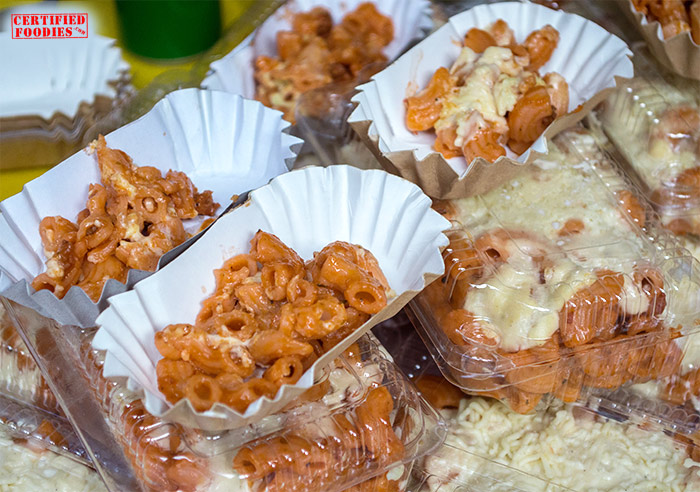 Suzhou Dimsum's Milk Tea Naicha was extra creamy.
Double Delights made use of the all purpose cream for their polvoron and pastillas.
Roast Coffee & Bibingka offered turon with salted caramel. The cream is mixed with the banana inside the turon.
That's it for us! We hope you found something that you'd love to recreate at home.
We'd like to know – what dishes have you tried preparing with Alaska Crema? Looking forward to hearing from you at the comments section. 🙂
The following two tabs change content below.
Michelle (aka Mhel / blankPixels) is a social media nerd and works as a Digital Marketing Lead for one of the top online companies in the Philippines. On her free time, she travels, goes on food trip and loves to take photos. She's the main editor of this food blog.
Latest posts by Michelle Ignacio (see all)
Comments
comments