With all the burger shops opening all over the Metro, ranging from affordable to really pricey, it's good to know that there's one place you can easily go to when you need a burger fix – a place familiar and you know won't disappoint. I'm talking about Burger King.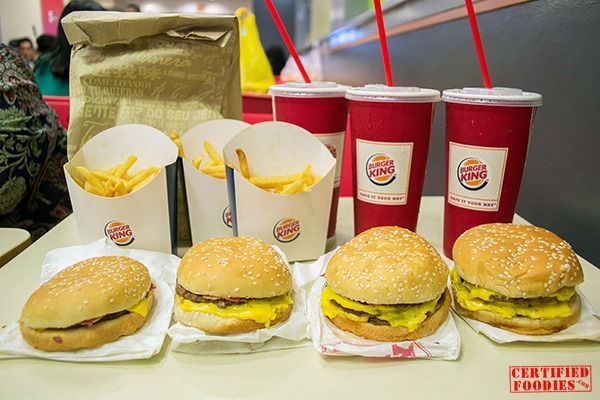 Burger King was our go-to place for burgers from way back and so we trust them to always deliver, with their 100% flame-grilled beef burgers. Ken and I always order Burger King's Whopper. When they came out over a month ago with the BK Stacks burgers, we just had to go and try it. They also sent us gift certificates, which was perfect timing. 😉
When you order the BK Stacks, you have the option to pick how many patties you want – 1, 2, 3 or 4. Obviously, Ken was more than willing to take on the 4-patty King Stacks burger, I got the next one in line – the Chief with 3 patties. Our nanay wanted the Chief, but she went for the next best thing – 2 patties, the Boss. 😀 We took home the Dude with 1 patty.
If you haven't heard, to introduce the BK Stacks, Burger King actually launched a burger-eating challenge – Battle of the Stacks King – to see who is man enough to take on the enormous BK Stacks. I'm not a big fan of eating challenges, but good job to the winner of this contest (he ate the most burgers) because he went home with Php 50,000 in cash! 😀
Anyway, going back to our own BK Stacks 'challenge', since they were made-to-order, when our orders came, we had to take quick photos 'cause the aroma of the hot off-the-grill burgers got us all excited to finally take a bite.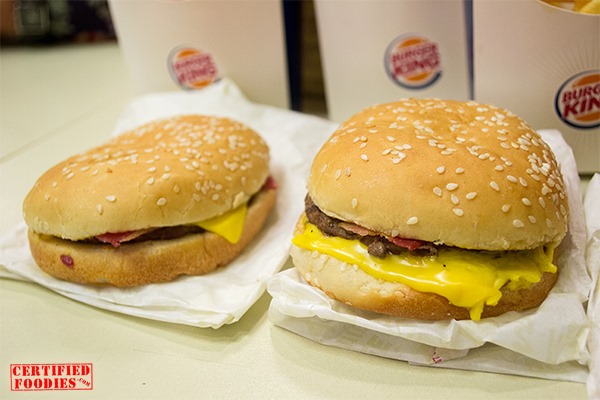 To be honest, we thought the BK Stacks burgers were gonna be as huge as their Whopper. But, they were normal-sized burgers. After we devoured them, we realized that they were actually just the right size to fill you up.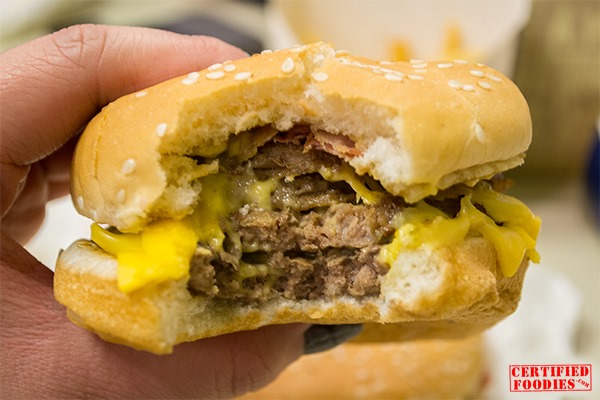 The BK Stacks beef patties are flame-grilled, topped with melted American cheese, crisp bacon and a generous amount of their special BK Stacks sauce, and served in between a toasted sesame-seed bun. We were actually delighted to know that, though the patties look thin, they were still juicy and flavorful.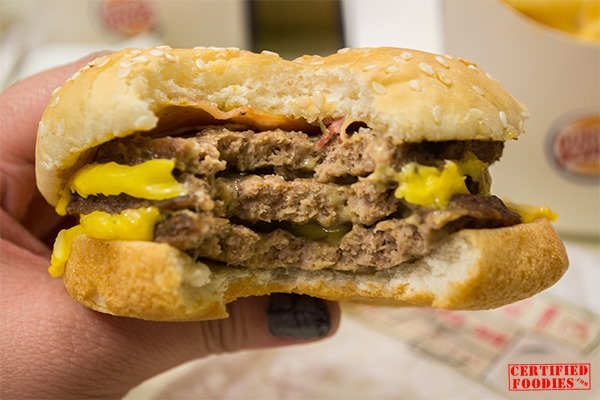 I finished off my Chief BK Stacks burger like nobody's business, and I think if this 3-patty burger was as huge as the Whopper, I won't be able to finish the whole damn thing. So, yes, I think these were just the right sizes.
Though Burger King was marketing their BK Stacks targetting men, I think us women can also take that challenge. 😉 I think I can handle the King BK Stacks burger too. How about you, my fellow ladies?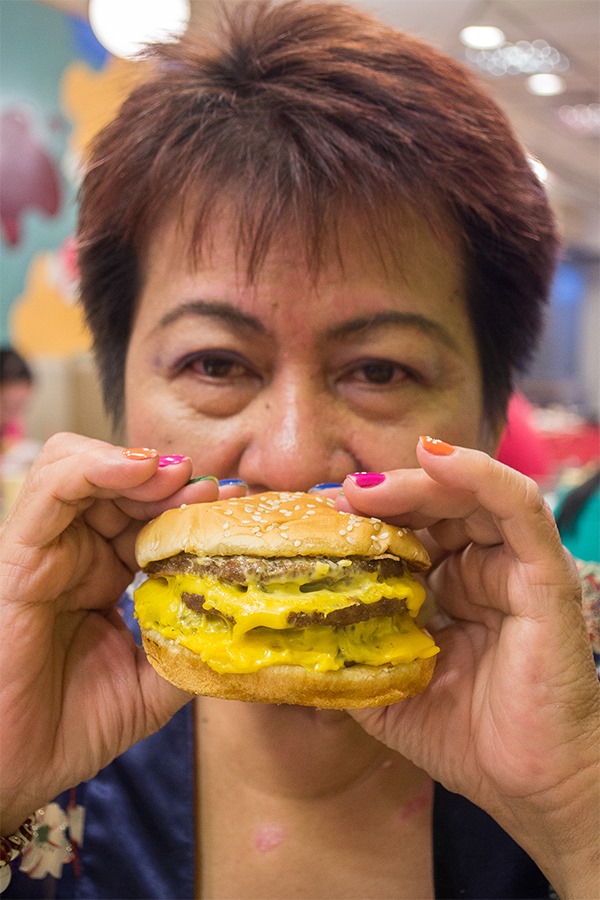 Well, you can get a chance to treat your family or friends to Burger King to take on the BK Stacks in our giveaway. Scroll down below for the mechanics! 🙂
Burger King's Chicken Crisp Fillet
Burger King also recently introduced their 2 new Chicken Crisp Fillet burgers. They come in 2 flavors – sweet and tangy honey mustard, and zesty garlic mayo with real garlic bits. Ken and I liked both, but we preferred the Honey Mustard over the Garlic Mayo. Our nanay preferred the latter.
Can you guess which is which? 😀
Burger King
GIVEAWAY ALERT!
Now, on to our giveaway! Since Burger King's menu items are affordable compared to other burger joints, we decided to pick 2 winners. First winner will win Php 1,000 worth of gift certificates, and the second gets Php 600. That's still enough for you to take on both the BK Stacks Burgers or the Chicken Crisp Fillet. Check out the mechanics below. Good luck! 🙂
GENERAL GIVEAWAY TERMS & CONDITIONS:
This giveaway is open to all Philipppine residents.
Giveaway runs for 10 days only! This will end on December 12th, 11:59pm.
We'll announce the winners within 2-4 days on this blog and our social media accounts.
Prizes: Php 1,000 Burger King GCs to first winner, Php 600 to the second.
Prizes will be shipped to the winners.
Winners will be given 48 hours to respond to our confirmation email. Failure to do so will forfeit their win, and we'll pick new winner/s.
Please wait for our email confirmation and kindly respond ASAP so we can send your prizes right away! 🙂
The following two tabs change content below.
Michelle (aka Mhel / blankPixels) is a social media nerd and works as a Digital Marketing Lead for one of the top online companies in the Philippines. On her free time, she travels, goes on food trip and loves to take photos. She's the main editor of this food blog.
Latest posts by Michelle Ignacio (see all)
Comments
comments