As you might already know, our nanay is an excellent cook that's why we've been eating very well at home since we were little kids because she can whip up a delicious meal even with a meager budget during the time when she was the only breadwinner in our family (which was almost 20 years of my life, that's why we love her so much 🙂 ). Her specialties are too many to mention, but there are some dishes that really stand out for me. Two of which are her Kare-Kare (we already shared the recipe here!) and Beef Pochero.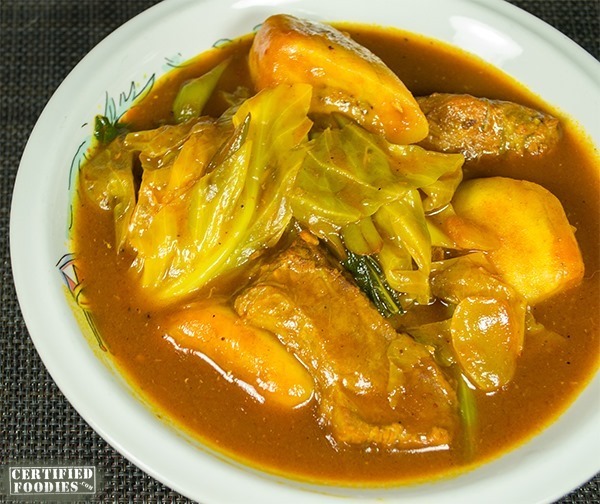 Since Ken and I have been helping her with finances at home, we can now request for a repeat of some of her dishes as long as we provide the budget. 😀 Most of the time, though, she'll just do it because she enjoys seeing us devouring (yes, that's the appropriate word) her dishes. Now, she has another reason to cook her wonderful dishes – she loves sharing her recipes here on our food blog! Yay for all of us! 😀
She's been asking me when I'll be posting this Beef Pochero recipe, and I feel that this December is the best time to finally share this because this dish is perfect for the cold weather we're currently experiencing. If you're looking for something new to serve this holiday season, this might be exactly what you'll need.
We hope you enjoy this recipe. Let us know at the comments section if you have any questions. By the way, for this recipe, we're using beef, but you can replace it with pork or even chicken.
Beef Pochero Recipe
Ingredients:
(See the ingredients prep below this list to see how ingredients should be ground, sliced, chopped, etc)
2 pieces Star anise, ground
You might want to skip this step, but for us, Pochero is not complete without star anise. 🙂
Atsuete / annatto seeds
8 pieces Burro bananas/Saging na saba, sliced into 2 or 4
6 pieces Pechay/bok choy
1/2 cabbage, chopped into 4-6
3 tbsp cornstarch
4 pieces garlic cloves, minced
1 medium onion, diced
100g Baguio beans (1 guhit)
1 1/2 kg beef, sliced into bite-sized pieces
Oil for sauteeing
1-2 tbps sugar (or to taste, but this is optional. We prefer our Pochero a little sweet)
Salt and pepper to taste
Prep the Ingredients:
As always, preparing your ingredients before you start cooking will ensure you don't overcook or undercook anything, or you won't miss any key ingredient. Plus, it's more convenient and you'll be less hurried when cooking.
This Beef Pochero needs to be prepared about 3-4 hours before you're serving it since we need to make sure the beef (or pork) is tender.
a. In a casserole or big enough soup pan, boil the beef 'til they're tender to your liking. Our nanay waits for 2-3 hours.
You can also use a pressure cooker to speed this up. Just make sure your beef is tender enough before you start with the next step since we'll already be adding the broth and beef cuts with all the ingredients.
Once the beef are done and tender, strain them off the pan and set aside. We'll be needing the broth so don't throw it away.
b. While waiting for the beef to be tender, let's prepare the other ingredients. Here are how the vegetables and bananas were cut: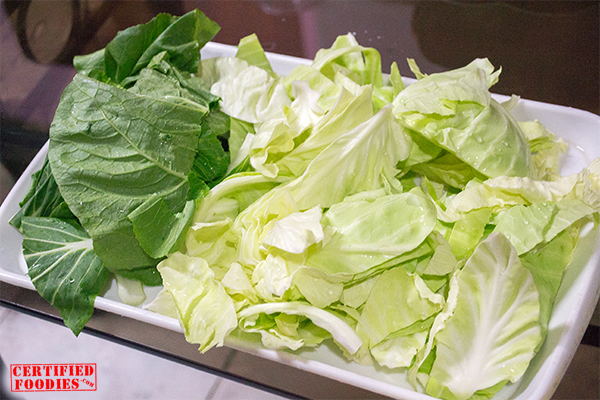 c. For the annatto seeds or atsuete, add 1 cup of warm water and mix to extract the oil. Then make sure you use a strainer when adding the atsuete oil into your dish.
d. For the cornstarch, mix it with just enough COLD water until completely dissolved.
e. Grind the star anise. You can grind them into powder if you're strong enough. 😉 But, if you end up with little whole bits of it, that's perfectly okay.
How to Cook Pochero
Now that we've got our ingredients ready, here's how our nanay prepares her beef pochero:
1. In a separate pan deep enough to fit all the ingredients (you can also use a big casserole/kaldero if you want), heat the oil and fry the bananas for a few minutes. This way, they'll be soft and cooked once you add them to the dish later.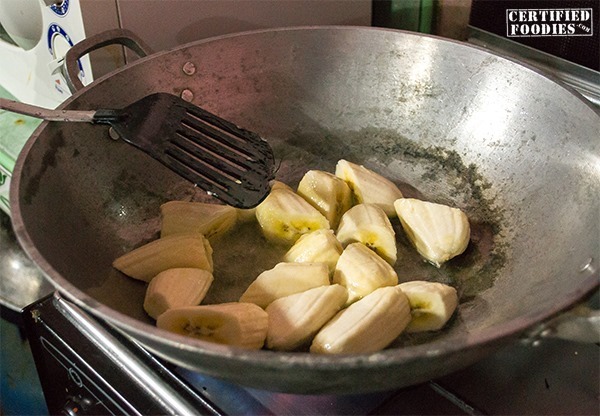 2. Using the same pan and oil, saute the garlic and onion.
3. Add the atsuete oil. Again, make sure you use a strainer. Our nanay does this early on to ensure the liquid from the atsuete already has the flavor of the garlic and onion before you add any of the other ingredients.
(Please ignore the missing onion. Our nanay added it right after the oil.)
4. Add the Baguio beans. Once they're half-cooked, proceed to next step. This usually takes 2-3 minutes.
5. Add the bananas and mix this well so everything is coated by the sauce. Since we already fried the bananas earlier, you can go ahead with the next step.
6. Add the ground star anise. Then, follow it shortly with all the beef cuts.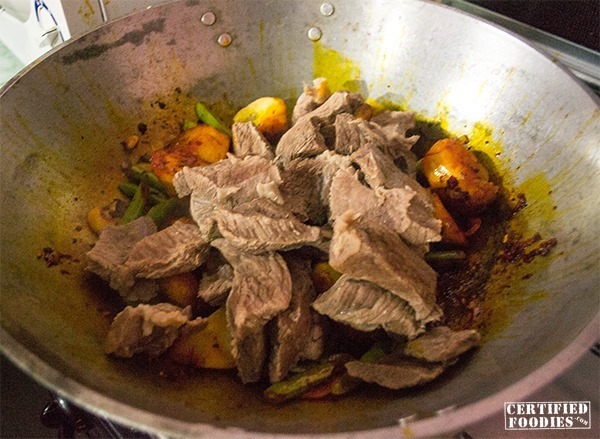 7. Now, since the beef is already cooked, we'll start adding the vegetables. Go ahead and add in the cabbage and pechay.
8. It's time to add the beef broth. Start with 4-5 cups and let this simmer for 10-20 minutes. If you need more sauce, then go ahead and add more, but for us, 4-5 cups are enough.
9. To make the sauce thicker, add the cornstarch.
10. Finally, add sugar, salt and pepper. Mix well. Let it simmer for about 10-15 minutes in low heat, tasting the sauce along the way to see if you want to add more salt or pepper.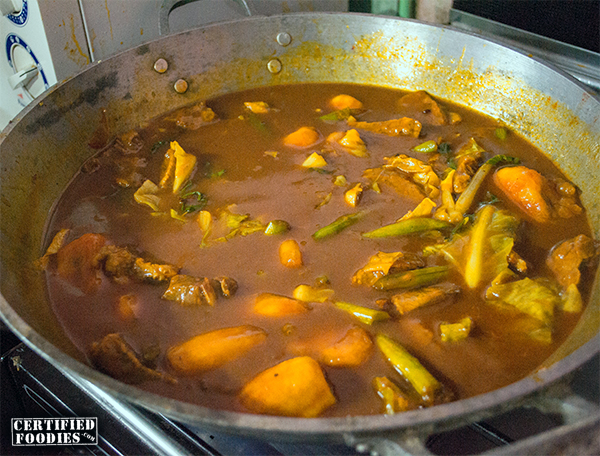 This is ready to serve and it'll be good enough for 4-6 people, depending on their appetites. 😉
That's it! We hope you enjoy this Beef Pochero recipe from our nanay. Let us know in the comments section if you've tried this and how it went. 🙂
The following two tabs change content below.
Michelle (aka Mhel / blankPixels) is a social media nerd and works as a Digital Marketing Lead for one of the top online companies in the Philippines. On her free time, she travels, goes on food trip and loves to take photos. She's the main editor of this food blog.
Latest posts by Michelle Ignacio (see all)
Comments
comments