Having read all 7 books, I could pretty much say I grew up with Harry Potter. It didn't really bother me that I just borrowed all the books from my classmates and never really owned a single copy until I finally got into college. What frustrated me the most is the fact that there are a lot of magical food in Harry Potter I could never get a taste of in real life, and one of them is Butterbeer!
There's no way I can rub elbows with witches and wizards at Hogsmeade while downing a glass of authentic Butterbeer, and the same thing goes to my chances of heading to the Wizarding World of Harry Potter in Orlando to get a knockoff version of the drink any time soon. But I've recently discovered a secret that would finally put my Butterbeer cravings to rest! Baristas from Starbucks cracked the code to a perfectly yummy Butterbeer. It's a secret recipe and they don't have it on their menu, but they will be more than willing to whip it up for you if you just give them this recipe. Take note that this is only available during the holiday season because of the toffee nut syrup, so you still have time! 🙂
Starbucks Butterbeer Recipe
Order a Creme Frappuccino – base (no adjustments on the fat so you'd get the right consistency)
Add 3 pumps of caramel syrup
Add 3 pumps of toffee nut syrup
Top with caramel drizzle.
The sides of the frappuccino should also have caramel all over it to resemble the Butterbeer (see photo).
You can download and print the Butterbeer recipe below: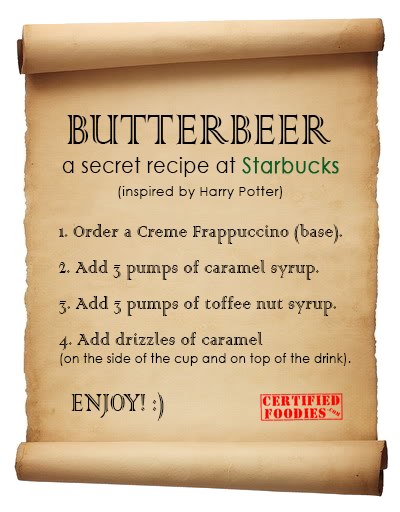 Good thing my sister and I were planning to go out when I discovered this, so we decided to drop by at a Starbucks branch at the Podium to give their take on Butterbeer a try. I initially wanted to write down the recipe on a slightly scorched piece of parchment paper like the ones we used to make when we were in school, but I was too damn lazy and the recipe ended up on a crumpled piece of tissue. 😀 I had no idea what to say to the cashier, so I just handed her the Butterbeer recipe. She studied it for a while and, with a smile, said that she can prepare it for us. Awesome! We paid Php 170 (Grande but you can order any size you want) and waited a few minutes, all the while wishing that Dobby, the elf, would come and hand the drink to me. 😛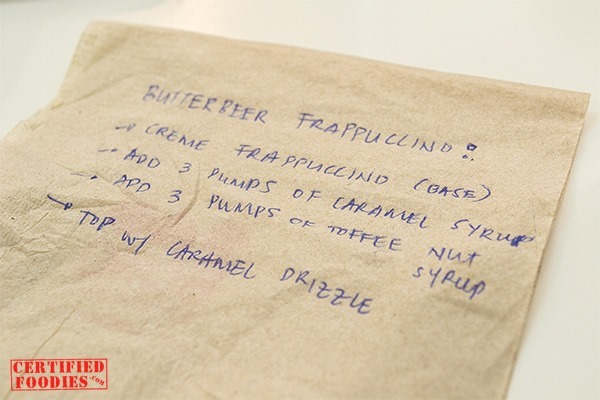 We've been standing at the claiming area the whole time, so when they called my name to hand me the drink, I was already there all giddy with excitement. The Butterbeer Frappuccino resembled their Caramel Cream Frappuccino. Technically, they're the same. It's the toffee nut syrup that is only available during Christmas season that made all the difference.
It leans a bit on the sweet side, but my sister and I took turns in saying what its flavor reminded us of. I said it tasted like the Butter Ball candy from when we were younger, while she clearly tasted notes of wintermelon tea and dulce de leche. But one thing is for sure – it was exactly how I imagined Butterbeer would taste like when I read about it in the Harry Potter series. Now I've got something else to order at Starbucks other than my usual Strawberries and Cream! 🙂
The following two tabs change content below.
Kenneth is the chef in the family (he studied Culinary Arts and Baking & Pastry Art in GCHA). He's responsible for most of the more complicated recipes featured here, and loves preparing pastries and desserts. Aside from being a chef, he's also a Registered Nurse and Midwife. His love for cooking led him to pursue a culinary career.
Latest posts by Ken Ignacio (see all)
Comments
comments