Over a week ago, Ken and I were invited to a 12-course sit-down Teppanyaki Omakase buffet at WAFU in Greenhills. They're a Japanese restaurant nestled right in front of the Greenhills Shopping Center. Since Ken has been craving for Japanese food for quite some time now, we accepted the invite right away.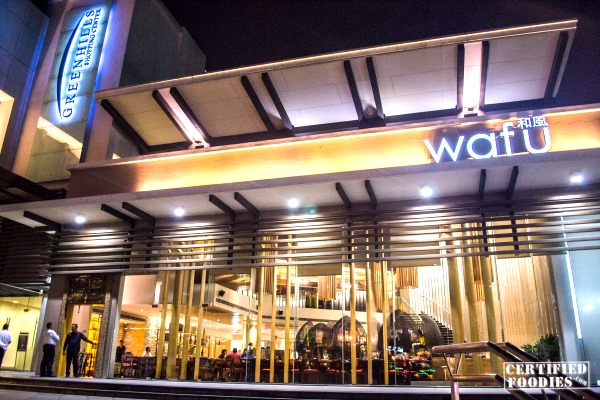 I initially chuckled when I read the name of the restaurant. 😀 After Googling about it, I learned "Wafu" means, literally, "Japanese style". I've had my fair share of Japanese food, particularly tempura, tonkatsu, sushi and sashimi, but I'm pretty sure there's a ton more for us to know about their cuisine and their culture – which we're hoping to continue learning through this blog. 🙂
This is our first time at Wafu so we had trouble finding the restaurant. We've been to Greenhills many times, but we never really went to the Greenhills Shopping Center 'cause we're either at Promenade, the main tiangge area or V-mall. Anyway, it should be easy to spot the restaurant since they're located right smack in front of the building so it's hard to miss. If you can see Krispy Kreme, this building is right around the corner.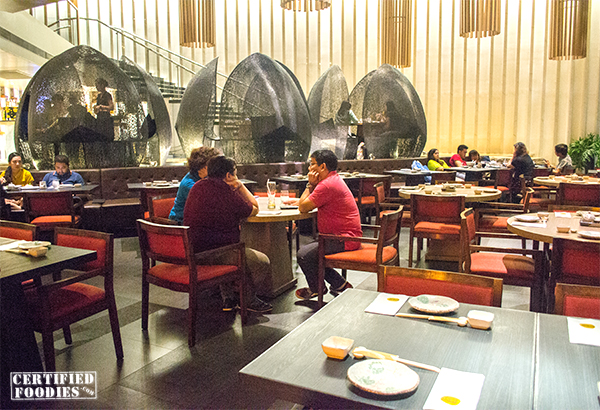 Even before we came in, we were taken by how gorgeous their restaurant looks from the outside. You can see the interiors of Wafu because of the glass walls. The high ceiling and the colors of the interiors made the whole place look very sophisticated.
When we finally entered the restaurant, we immediately found the lilypods situated near the stairs going up to the second floor. These lilypods are perfect for intimate dates or even for a small business meeting.
The lilypods are the most requested spots in Wafu so if you want to ensure you get seated here, call in advance for reservations.
On the first floor, there's also a separate area where diners can get fresh sushi prepared right in front of them.
From what we observed, because of the high ceiling, the acoustics at their restaurant is ideal if you want some privacy when dining in. Anyway, Ken and I wanted to sit at the lilypods, but since we were there for the teppanyaki buffet, off to the second floor we went. 😀
As soon as you arrive on the second floor, you'd see the large teppanyaki tables which had two huge iron grills on each side. There are also two separate teppanyaki tables meant for smaller groups on one side of the second floor, and there are also rooms for private functions on that same floor. Wafu Restaurant is huge, I tell yah.
Our teppanyaki chef for the night was Wafu's Executive Sous Chef Leslie Altara, who proved to be entertainingly skilled enough to handle diners from both sides of the large teppanyaki area meant for us and other media people who were there.
There were, I believe, 16 of us being served by Chef Altara, including these lovely ladies who we haven't seen for the longest time since we haven't been joining blogger events or meetups – Jill (The Food Scout), Sumi (The Purple Doll) and Rina, the other half of The Pickiest Eater.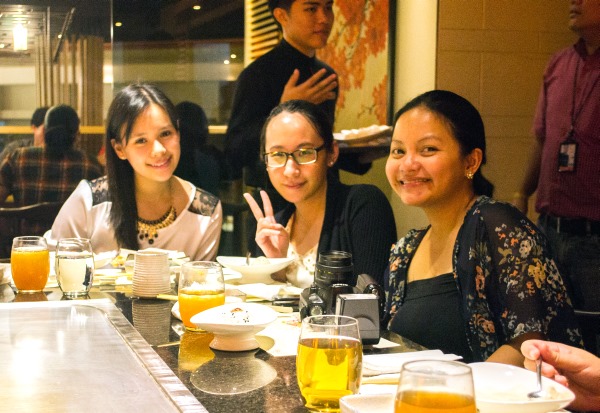 Since it was a 12-course buffet, Ken and I didn't bother eating anything at home so we were already starving when we arrived at Wafu Greenhills. We came in late because of traffic and heavy rains, so when we finally made it there, the chef was already preparing the fourth course from the long lineup of dishes we were supposed to taste that night. I felt my stomach grumble from the aroma of steak being grilled.
Though we were late, they wanted to make sure we had a complete 12-course Teppanyaki Omakase buffet experience. We started off with a bowl of Miso Soup, which helped pacify our tummies while we wait for the steak to be done.
We also got served their Wafu House Salad with onion dressing and crisp salmon skin. I LOVED the addition of the salmon skin. Very nice touch that made me want to eat more of the green leafies afterwards.
By the way, Omakase literally means "I trust the chef". Well, at a teppanyaki table, you have to. 😉 You can probably request for something other than how the chef wanted to prepare the meat and seafood, but I think it beats the purpose of eating at a teppanyaki table.
The only thing the chef asked us that night was how we like our beef cooked. Glad that all of us wanted medium-rare. 🙂
The US Hanger Steak, which was the fourth course (we were late for the third course, but we were able to try it later on), was served with Shimeji mushrooms and wasabi pepper sauce. Of course, this was a hit amongst us diners at that table since it was what everyone (but us) ordered to have seconds of. The wasabi pepper sauce had that right amount of spice to give the steak a very appetizing, savory flavor.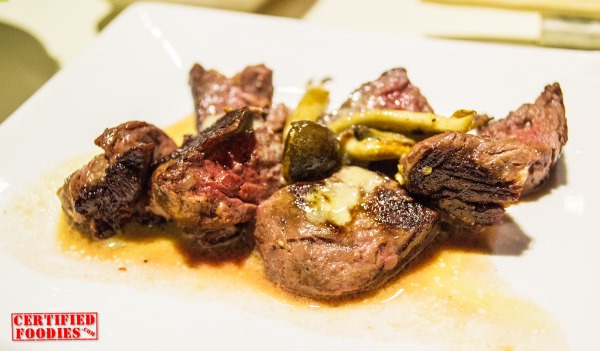 The steak was nicely cooked, and the chef served it to us in its perfectly medium-rare state. Yum!
Our favorite dish for the night though was the fifth course – Blue Marlin served with wasabi mayo. The pungent sauce gave us a kick of spice from the wasabi that was so mouth-watering, Ken and I decided to order seconds of this before the desserts.
The wasabi mayo was a tasty complement to the Blue Marlin, which was seasoned and seared well. Sadly, we were too full by the time the chef was supposed to cook the second servings we ordered that we cancelled them and went straight to finishing our desserts.
Next up was the Sous Vide Chicken. This was our second favorite dish. The chicken was served with teriyaki sauce and was seared quickly to give it a crisp skin.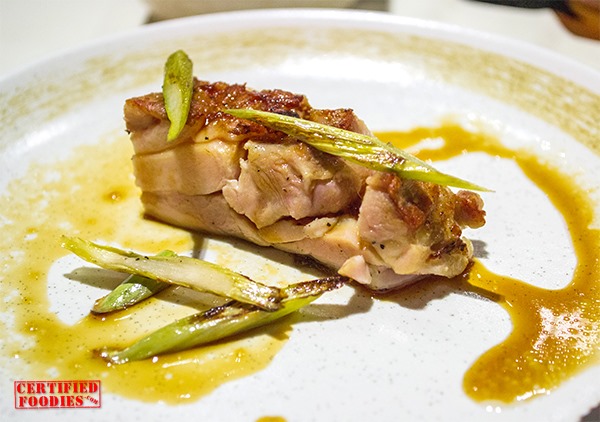 We absolutely loved this because the chicken had this melt-in-your-mouth texture and was oh-so juicy, which are the benefits you'd get from sous vide cooking. Ken and I even looked at each other with this facial expression we usually make when we instantly fall in love with what we're tasting. 🙂
The next course was the Grilled Salmon with spinach and Wafu's own Sauce Ana. I'm not sure exactly what the ingredients are for this sauce, but all I know was it's creamy and flavorful, perfect to pair with the salmon.
We then moved on to the Ebi Tempura. Nothing really remarkable about this. We prefer Yabu's over theirs.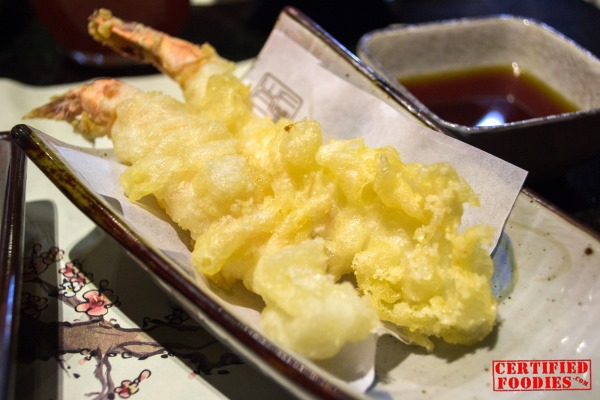 9th course (phew!) was the US Tenderloin prepared saikoro style. The 'saikoro' part is nothing fancy, really. It just means the steak was cut into bite-sized cubes. However, upon closer inspection, the steak served to us weren't really sliced into cubes. Anyway, they're still very good and, uh, tender. 🙂
Next was the Dorado with their house made mango onion salsa. The fish was nicely cooked and it was quite flavorful, with a tinge of sweetness.
After this last course, we were offered seconds of the dishes we liked, which we gladly accepted. We ordered another serving of the sous vide chicken and the blue marlin; the latter, we ended up cancelling.
Since Ken and I missed the Tofu Steak, we ordered just one for sharing. It had this velvety, silky texture that was simply delightful!
We were also served a sushi sampler. I skipped the raw salmon since I've had allergies before when I try to eat sashimi, so Ken happily ate that off my plate. We got 2 makis each. After going through 9-10 courses, we barely had enough space to finish these. 😀
Finally, we had Wafu Ice Cream for dessert. They were in mocha flavor – my favorite! It was creamy and luscious. I asked if Wafu makes their own ice cream or if they're using a well-known brand used by most restaurants, but sadly, the person I asked had no idea.
You might be wondering about the serving sizes for each dish. They're small, quite similar to a tasting menu, but that's usually how teppanyaki courses are served to the diners. Take note that after the main entrees are done, they'll ask you if there's anything you'd like to repeat. The 12 courses will surely fill you up, but we did find ourselves craving for seconds of some of the dishes.
We absolutely enjoyed our Teppanyaki Omakase sit-down buffet at Wafu, though we both smelled like ulam and my eyes hurt from all the smoke because it was directed towards where we were seated. 😀
If you want to have a taste of this 12-course Teppanyaki Omakase buffet at Wafu Greenhills, we've got great news! They're celebrating their first anniversary and they're offering this teppanyaki buffet for 50% OFF this September only! You only pay Php 900 – awesome deal! 🙂
For more details about this Teppanyaki Treat, visit this link (from their Facebook page) for the complete mechanics, or contact them directly. Take note that this promo is available on dinner on Wednesday and Thursday, and both lunch and dinner on Friday, Saturday and Sunday.
WAFU Japanese Restaurant
The following two tabs change content below.
Michelle (aka Mhel / blankPixels) is a social media nerd and works as a Digital Marketing Lead for one of the top online companies in the Philippines. On her free time, she travels, goes on food trip and loves to take photos. She's the main editor of this food blog.
Latest posts by Michelle Ignacio (see all)
Comments
comments