We were supposed to scour the Metro to find out which local cronut version is the best. However, after having a taste of 4 different cronut knockoffs, we finally called it quits. 😀 Though we've had one very yummy croughnut experience (Dolcelatte), we think we need more variety on the pastries we eat.
So, we decided to put all the other 3 local cronuts we've tried into just one post. Behold Le Coeur de France Croughnuts, Krispy Kreme Krispy Kroissant and Anybody Coffee Cronutz.
Krispy Kreme Krispy Kroissant Kroissant
Let's start with Krispy Kreme's Krispy Kroissant. Too bad, Chatime beat them to naming theirs Kronuts, the name would've suited their cronuts better.
Anyway, when I first saw their Kroissant, I expected to be disappointed. First, it was completely sliced in half and the cream 'filling' was just spread on top of the lower half. It's like a lazy version of cronuts, I think. 😛
When I first tried it, I didn't like it. I initially tasted the Vanilla Cream flavor, by the way. We bought a piece of each of the 4 flavors they were offering – Chocolate, Strawberry, Apple Cinnamon and the Vanilla Cream. People were raving about the Apple Cinnamon, and I would agree that it was the best of the 4. They sell this for Php 75 each.
When we arrived home and I reheated these in the microwave oven, somehow, I started to like them. Or maybe I'm just hungry, I'm not sure. 😀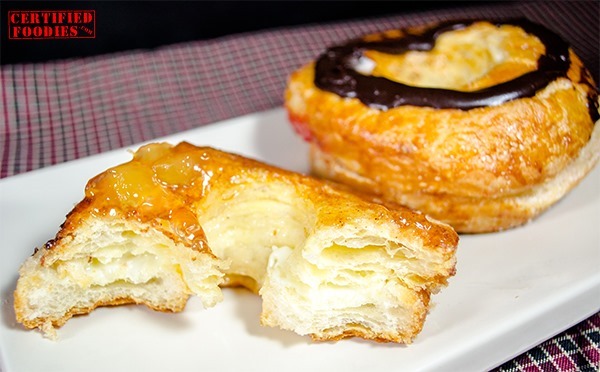 However, I wouldn't go back to Krispy Kreme for these Kroissants. I think I'll stick with their Original Glazed, thank you very much. 😉 But, hey, I couldn't wait to try their new Premium Chocolate creations, especially the Maltesers doughnut. 🙂
When I first saw their version of the cronut, I thought they were too pale. After checking why, I learned they bake these, so technically, they're not 'cronuts' because they didn't follow the original preparation of the well-known croissant-donut hybrid.
They have 3 flavors available – Mixed Berries with Cream Cheese, Parmesan Cheese and Double Belgian Chocolate – and they were selling them at Php 89 per piece. I wasn't really looking forward to finally tasting these croughnuts from Le Coeur de France because they were pale and gave me this impression of a lousy preparation.
Ken and I were surprised! The flavors were straightforward, not much fuss compared to Dolcelatte's (but we love their croughnuts, don't get me wrong!). We enjoyed the Parmesan Cheese the most!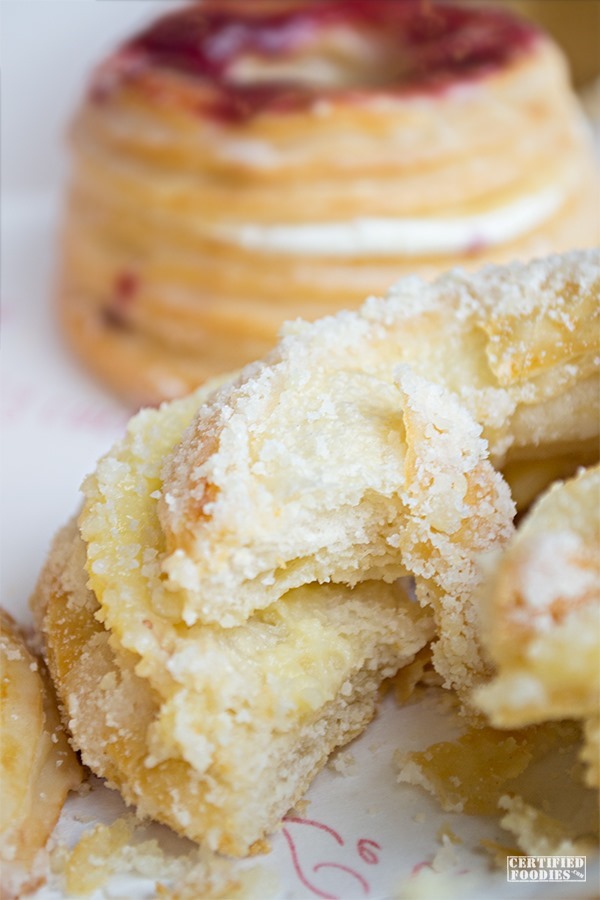 The Mixed Berries with Cream Cheese was also yummy. The chocolate variant though didn't taste like Belgian chocolate was actually used. I should've bought more of the Parmesan Cheese croughnut 'cause Ken gobbled that one piece like there's no tomorrow. 😀
Anybody Coffee Cronutz
Their Cronutz intrigued me 'cause they were selling these at Php 95 each. I thought, if they're offering them at that price, it has to be somehow yummier than Le Coeur de France's, right?
Well, guess what – it was a complete rip-off if you ask me. First, I didn't sense any flakiness and it didn't even look like a decent imitation of the much-crazed cronut. Flavor-wise, it was quite bland for our taste. My nanay and I can't even finish that one piece we bought- their Dark Chocolate cronutz . Good thing my good judgment came over me and decided to only buy one.
A fellow blogger and friend of mine told me when he first tried them – he got to taste a lot more flavors – they were too sweet for his taste. So maybe, we just got a bland batch. Still, for Php 95, I expected something better. Anybody Coffee's Cronutz was actually one of the reasons why we decided to stop our hunt for the best cronuts in the Metro.
We decided to stop our cronut hunt mainly because we realized we needed more variety, especially considering the amount you pay for each cronut. Various pastry shops and restaurants sell their own versions from Php 75 to Php 120, which is quite expensive for a piece of pastry. We understand the amount of effort put in preparing them, but we just didn't think they're worth every cent, especially when there are places that take advantage of the hype to overprice a piece of cronut knockoff. Just my two cents.
TIP: If you are determined to have a taste of your very first croughnut, I say go to Dolcelatte. I can attest to their croughnuts. At Php 110, you'd have a way better cronut experience and more flavors to choose from. I also think they've put a lot more effort into their croughnuts. 🙂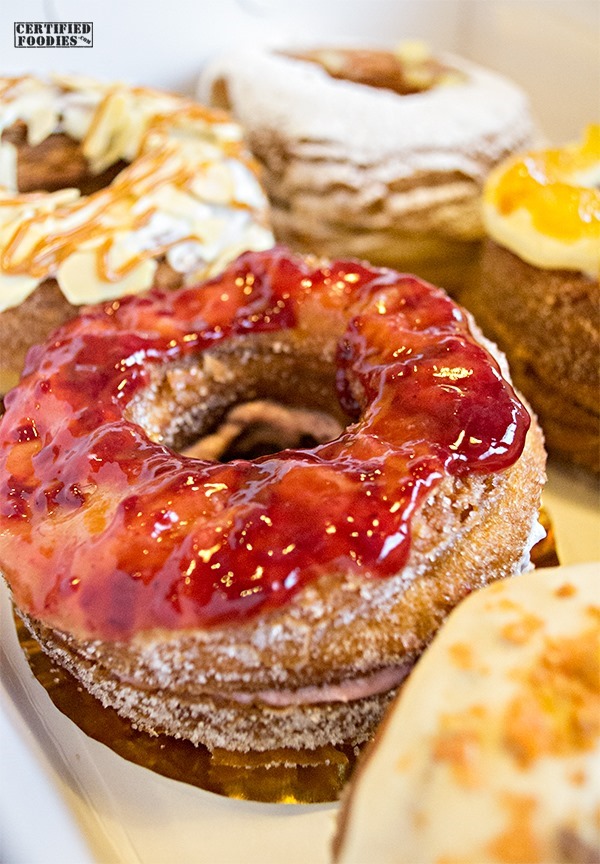 I'm still dead set in trying Wildflour's and Yamato Bakery's, but I'm not really in a hurry. 😉
How about you? Share with us your local cronut experience! 🙂
The following two tabs change content below.
Michelle (aka Mhel / blankPixels) is a social media nerd and works as a Digital Marketing Lead for one of the top online companies in the Philippines. On her free time, she travels, goes on food trip and loves to take photos. She's the main editor of this food blog.
Latest posts by Michelle Ignacio (see all)
Comments
comments