2013 is the year when a ton of tasty goodies from abroad, specifically the US, made it to the Philippines and became more accessible to us foodies here. Thanks to the number of online sellers who made it all possible. The thing is, there are just too many of them out there that first time buyers often think twice about who they should order from. Well, we're here to help – our cookie butter fix will now be coming from Joe & Cherry. 🙂
Joe & Cherry is a partnership between two sisters – one who's living in the US and another living here in Manila. They started their business just this March when they saw the opportunity to bring the most sought-after food products from the US to us here in the PH. They wanted to keep the prices as affordable as they can so more Pinoys can get a taste of some of the yummiest treats that are sadly not readily available here. And this all happened through their Facebook page.
If you're wondering who Joe is, I was told they got it from Trader Joe's. 😛
Since I badly needed to find out why there's such a high demand for Biscoff and Speculoos cookie butter spreads, back in April, I went online to check the sellers who offer them. I browsed fellow foodies' social media posts and blogs, including their online reviews of various online sellers here, and most of my close blogger friends were buying from Joe & Cherry.
When I checked their prices and compared with other sellers', I was immediately convinced I should buy from them. So, before my first bottles of Biscoff cookie butter (bought from somewhere else) were depleted, I sent my order form and, just to make sure, I also sent them a message. The transaction was pretty smooth, though I had to patiently wait, just like the rest of their foodie customers.
The first goodies that I got from them was the Nutella & Go. They sell these for Php 150 each. Sosyaling Yan Yan is what we all call this. 😀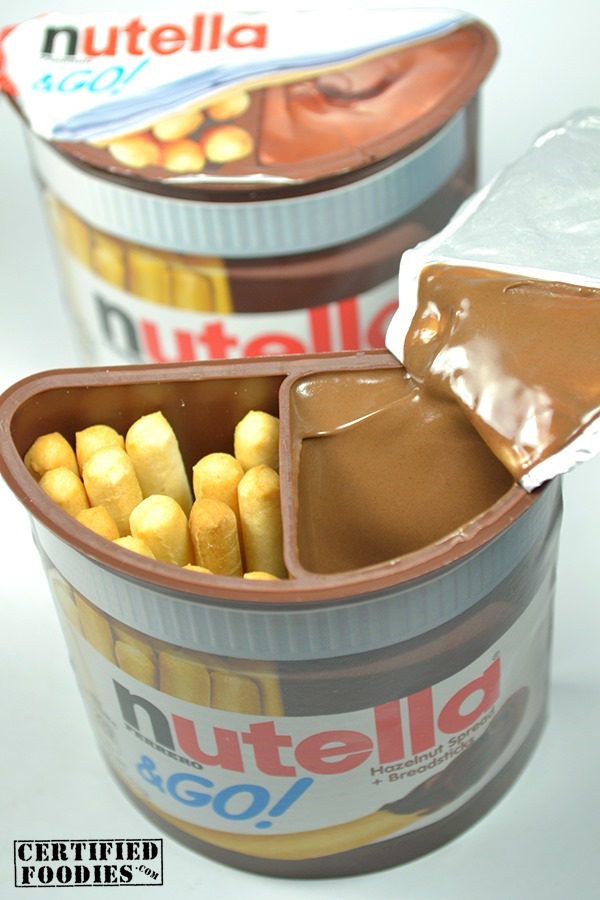 My next package, which I just recently received, was this huge box of Trader Joe's Speculoos and Biscoff cookie butter spreads (read our review and comparison here), plus the chocolates, all of which I ordered from way back.
Pardon the quality of the photos. Some of these photos were taken using my smartphone. 😀
Before I got this last order, Cherry – the sister who's in Manila – and I got to talk about goodies she recommends and I also told her that I hoped she'll include this Toblerone variant that we got from our nanay's friend who just returned from Singapore. It's Toblerone with Salted Caramelized Almonds and it was HEAVEN! She said she'll see if she can add it to their product list. They were probably going to have a taste first before offering it or something.
I completely forgot about that conversation by the time I received this package, so imagine my surprise when I saw the Toblerone in there. 😀
I was skimming through the products I got, checking to see if everything I ordered are in there, and I didn't notice right away the Toblerone. When I finally realized what they did, I squealed like a little girl. It was such a sweet surprise. I was having a gloomy day, and that was enough to make me smile the entire night. 🙂
Anyway, going back to their products (got a li'l carried away, sorry), the reason why I ordered from them first was because of the price difference. I believe they offer the lowest prices, and not just collectively. I've also tried ordering from 2 other online sellers, and I keep on coming back to them. The quality of customer service I got from Joe & Cherry was more than enough to make them my dealer este supplier of choice to fill my cookie butter addiction. 😛
Check out here which one we liked best – Trader Joe's Speculoos Cookie Butter or Biscoff Cookie Butter 
And they're not only selling the highly coveted cookie butter spreads. Check out these delightful goodies you can also order from Joe & Cherry.
Let's start off with the ones we got to try. If you like your peanut butter more nutty than sweet, then the creamy Reese's Peanut Butter is perfect for you. Now, if you prefer a chocolatey nutty spread, you'll love the Saratoga Chillin' Chocolate from Peanut Butter Company with a generous amount of peanuts, it's too sinful to eat more than one spoon a day. 😀
Has anyone tried this Baconnaise from J&D's? I'm curious. 😉
I know someone who would love this! Or he might just take out the Reese's Peanut Butter Cups from the cookies. 😀 Yes, I meant Ken. It's definitely on top of his guilty pleasures. 😀
We can't wait to try these too! 🙂
They also have Twinkies, which we're planning on trying next time to see if we'll like it too. You can find the rest of their products on their Facebook page. You can also follow them on Twitter (@joeandcherryMNL) and Instagram (@JoeAndCherry) . Click here for their pricelist.
GIVEAWAY HAS ENDED
Joe & Cherry

Facebook: http://www.facebook.com/joeandcherry
Twitter: @joeandcherryMNL
Instagram: @JoeAndCherry
Pricelist
The following two tabs change content below.
Michelle (aka Mhel / blankPixels) is a social media nerd and works as a Digital Marketing Lead for one of the top online companies in the Philippines. On her free time, she travels, goes on food trip and loves to take photos. She's the main editor of this food blog.
Latest posts by Michelle Ignacio (see all)
Comments
comments