Who would've thought that Filipinos, young and old, would become as addicted to tea as we are now? Credits to the introduction of milk teas to our Pinoy tastebuds, we started to appreciate the wondrous flavors of various teas. We were no longer limited to tea bags as we began to venture out to other tea variants and blends. And if you're a fan of milk teas, I'm sure you've heard about Moonleaf Tea Shop.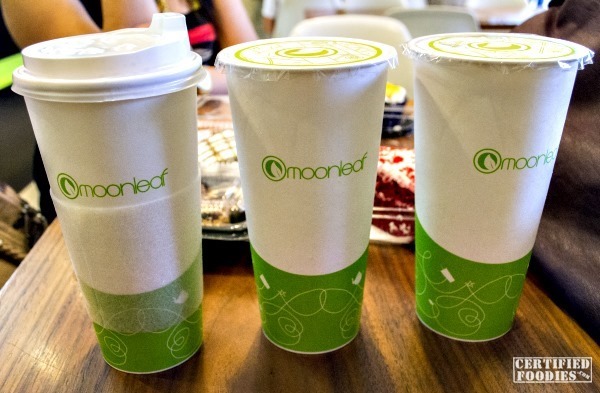 I have to admit, I've been loyal to one milk tea shop for the longest time. Ken and I have tried other milk tea shops and we see ourselves returning to that familiar place all the time. So it was definitely about time I found Moonleaf.
We were recently invited to Moonleaf Tea Shop's branch in Maginhawa Street. They have various branches nationwide (yes, you read that right – nationwide!), and I initially wanted to visit their Banaue branch with my friends, but they were eager to tell me more about their pastries, which was sadly not available at Banaue. At that time, I wasn't sure what the fuss is all about. I mean what's so special about their pastries? My bro's a pastry chef (you can no longer count how many times I've said this here 😀 ), so I thought… meh.
Well, in short, I ate my words. 😀 I was fascinated to finally learn why they wanted us to visit their Maginhawa store where they serve pastries through their community-centric bakeshop – Sweet Studio. They take pride in the fact that they give home-based bakers and small business owners a venue to market and sell their products. They believe that "the sweetest things in life are made by hand and with love."
If you don't know yet, Ken has ventured into selling his own pastries before, so it's important for us to support home-based bakers too. So, I fell in love with Moonleaf instantly upon hearing about Sweet Studio. The owner even came up to me to invite Ken to sell his pastries through Sweet Studio. Awwwww… they actually read our blog. You don't know how much that means to us. 🙂
They have pastries from Fancy Crepes and chocolates from Theo & Philo. Some were from 'anonymous' bakers. They even have their own Minion cupcake that Khaleb, that cute little boy in the photo below and my friend Joanne's son, absolutely adored!
If you look at their Facebook page, you'll see how community-centric Moonleaf Tea Shop is, and how much people love them and their milk teas. Not only are they serving freshly-brewed tea with their assortment of yummy and refreshing concoctions, but they're inexpensive too! No wonder they have a big community of young and adult milk tea fanatics.
When we arrived at their Maginhawa branch, the place was packed! And from what I've seen, all their branches seem to be filled with milk tea drinkers almost always, especially by students. Their milk teas are available at affordable prices, like for instance, for Php 75, you get a tall cup of milk tea. Just pay Php 10-15 for your preferred add-ons. This, and their community-centric business model, made them the top fastest growing milk tea shop here in the country.
Ken and I share one favorite milk tea variant, and I'm pretty sure majority of Filipinos are with us on this – Wintermelon. So, of course, that's what I ordered on this first visit at Moonleaf Tea Shop, plus pearls to go with it. How did I like it? I LOVE it so much that I am now willing to visit any of their branches, no matter how far or not easily accessible to us, just to get my fix of their Wintermelon Milk Tea. 😀 The first thing I said to Ken when we finally saw each other after that visit to Moonleaf was, "You have to try their Wintermelon milk tea!"
And I'm not alone. My friends Badeth and Joanne enjoyed their teas too! Since it was raining that day, Badeth ordered their hot wintermelon milk tea. Joanne, on the other hand, tried their Caramel Milk Tea. Badeth and I loved the fact that Moonleaf's version of our favorite has a more pronounced tea flavor. Since I am a frequent tea drinker, I appreciated the fact that they didn't hold back with the tea. There's still sweetness to it that I'm sure will please Wintermelon lovers.
The Caramel Milk Tea, on the other hand, had subtle tea flavors. I'm sure those who prefer their milk teas sweeter than more tea-flavored would love this, same as Joanne. I'm dying to try their other tea flavors like their Passion Fruit Yakult, Lychee Nata, Honey Black/Green Tea, or Oolong tea.
The proliferating of Moonleaf Tea Shop branches almost everywhere in the country is proof enough of how much Filipinos love their milk teas. Some of the Moonleaf stores you'll find in various corners of the Philippines are franchises – that's how much people believe in the company and their products.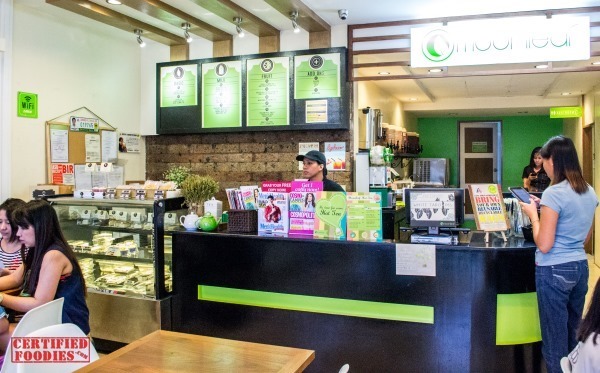 What started out as a humble milk tea shop at Magiting Street in UP Teacher's Village in QC in 2010 is now a nationwide hit, with over 30 branches all over the country, including in Baguio, Cebu, Iloilo, Laguna, and Pampanga. Also, very soon, in Indonesia (plans to establish a Filipino milk tea brand are in the works)! Check out their branches and find out which ones offer delivery too.
Moonleaf Tea Shop
!! GIVEAWAY ALERT !!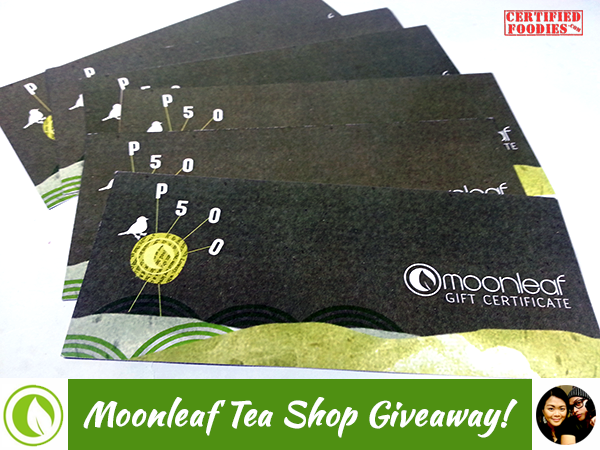 This giveaway has been brewing for weeks now, and we're sure you're all excited! Moonleaf Tea Shop has partnered with us for an awesome giveaway where SIX (6) winners will get Php 500 gift certificates for you to order all the tea and pastries you want from your favorite Moonleaf shop. 🙂
Are you ready? Follow the mechanics on the Rafflecopter below and make sure you've read the general rules too:
Six (6) winners will receive one (1) Php 500 Moonleaf Tea Shop gift certificate each.
This giveaway is open to Metro Manila residents only. Prizes will be shipped to you.
If you don't complete the mandatory steps to join the giveaway, you won't be eligible to win.
Check the sample entries below the Rafflecopter widget below to make sure your entries are valid.
Giveaway will run from August 2nd to September 2nd, 11:59pm. Entries submitted past this time period won't be counted.
Winners will be announced within 3-4 days (we have work so we need a little more time to check your entries).
Prizes are not convertible to cash.
Good luck!!
In case you can't see the winners' list in the Rafflecopter widget, here's the list:
CONGRATULATIONS TO:
Zarah Loteria
Ana Monica Ayungao
Gayle Sy
France
Maricris Tandoc Abarabar
Kristina Letada
Sorry for the delay. Many didn't follow or finish the required steps, so it took us some time to pick and verify winners and their entries.

To all the winners, please wait for our email confirmation and reply within 48 hours. Otherwise, we'll pick new winners again.
The following two tabs change content below.
Michelle (aka Mhel / blankPixels) is a social media nerd and works as a Digital Marketing Lead for one of the top online companies in the Philippines. On her free time, she travels, goes on food trip and loves to take photos. She's the main editor of this food blog.
Latest posts by Michelle Ignacio (see all)
Comments
comments