As soon as the cronut craze hit Manila, I got so curious to find out what the hype in New York was all about that I began listing all the places that offer their own version of this popular pastry, and it eventually led to my post on where you can buy cronuts here in the Metro which now has over 10 places listed (I think I've updated that post 4 times this week). I planned on how we'll finally try most of them (we're skipping a few) and concluded that the easiest local cronuts one can get hold of are Dolcelatte's.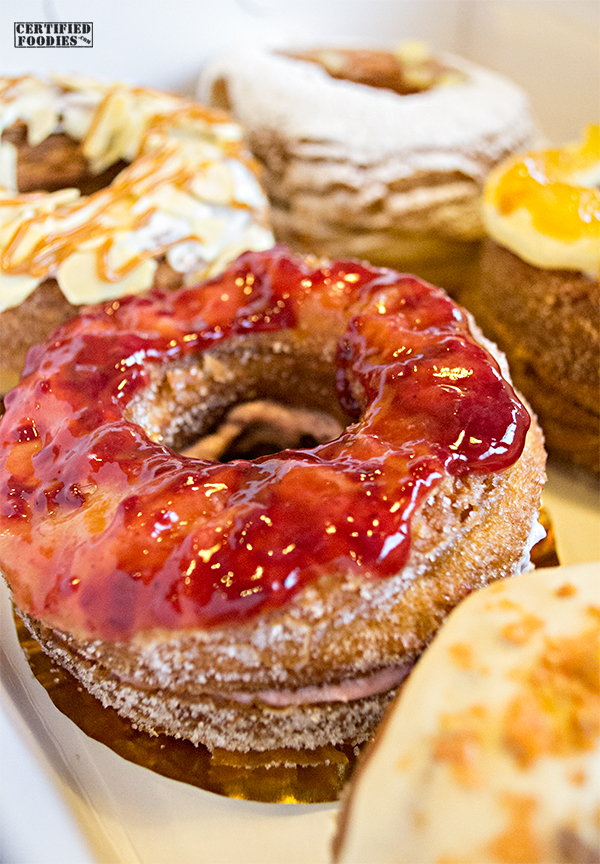 So, over 2 weeks ago, I texted Dolcelatte. It was a Wednesday night and no one was answering their hotline. I think I was calling past 7pm. 😀 My friends Badeth and Joanne (my new food trip buddies!) wanted to have a taste too, so I listed all the flavors we all wanted and sent our orders through text. Early morning of Thursday, they called me up to confirm my orders and the time of the pickup – 5pm, Saturday, at their South Triangle branch along Quezon Avenue.
It was hassle-free. No need to wait in line for hours just to be disappointed when the store or restaurant runs out of stock. No need to prepay either. The thing is, if you're pre-ordering, you have to order a box of 6 of Dolcelatte's version of cronuts – they call them croughnuts. They do have stock they reserve for walk-in customers at Php 110 each. Pricey, I know. We suggest you split a box with a couple of your friends since you can all pick your own flavors anyway. 😉
Fast forward to Saturday, we hurriedly left our prior meetup to head on over to Dolcelatte. We thought people would be lined up, ready to take our croughnut orders if we're not there on time. Silly me. 😀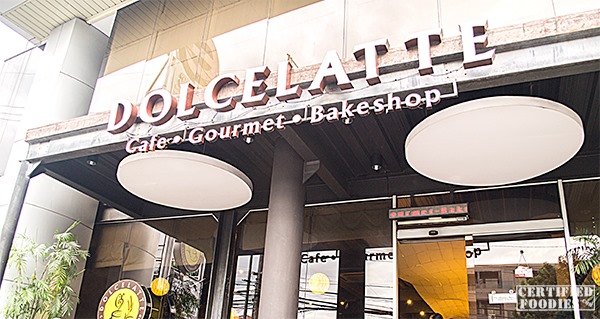 We arrived exactly at 5pm and there was no line. When I inquired about our orders, someone had me check my name on a list and I thought the lady who took my orders forgot to note mine. I quickly found out the list was for the 12 noon orders. There were like 4 people on that list, so it probably means you really don't have to be there exactly on time for your orders. Well, just to be safe, be there on time. 😀 Plus, they make their croughnuts by batches.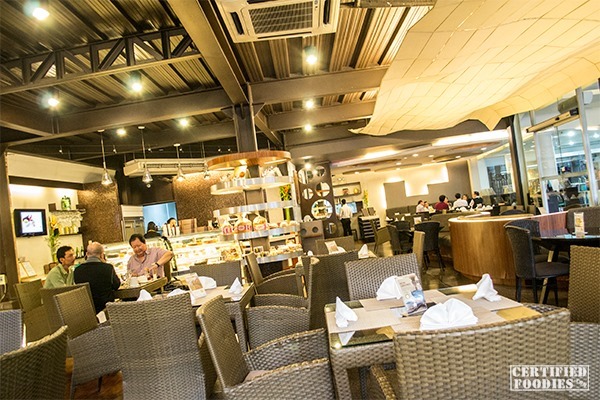 How to order Dolcelatte's Croughnuts:
Call their croughnut hotline – 332-3407 – or text them – 0906-552-6297.
Take note of the flavors you want (see below) and tell them. Be prepared with your list to avoid any hassle.
Tell them the day and time you're picking them up. You can pre-order at least a day ahead, or you can call them days in advance.
Schedule for pickups: Monday to Saturday, 12 noon AND 5pm.
Walk-ins: Monday to Saturday, 3pm only.
No croughnuts on Sundays, but you can ask.
Be there on the day and time you said you'll be there. 🙂
Dolcelatte offers the widest range of cronut flavors among all the stores on our list. I had a hard time picking which one I'd order, but I ended up with the non-chocolate flavors. I was supposed to get 9, splitting one box with Joanne, but Badeth decided to buy my 2 cronuts. So, I only took home 6. 🙁 Man, they were gone in less than 24 hours! 😀 But, hey! It was all for this blog post (yeah, right). 😛
Here are their croughnut flavors and we'll tell you what we think about those that we got to taste in a bit:
Custard Creamcheese
Almond Caramel
Valrhona Crunch
Blueberry Creamcheese
Nutty Nutella
Peanut Butter Crisp
Chocolate Caramel
Chocolate Macaroon
Lemon Meringue
Raspberry Creamcheese
Apple Cinnamon
First off, I'd like to say I love the box they use for their croughnuts. So posh, so befitting of their restaurant's ambiance. 🙂
By the way, they were so nice to even give us a glass of cold water while we wait and offered their menu. We were planning on going somewhere else for dinner, so we had to skip and just waited for our croughnuts.
Dolcelatte's croughnuts were of a darker brown compared to the original cronuts, but their presentation was simply mouth-watering. Dolcelatte claims that their cronut recipe requires less oil when frying. And from what we've seen and tasted, their croughnuts didn't feel greasy at all.
Following the instructions on Chef Dominique Ansel's website (who 'created' the cronut), we used a serrated knife (bread knife) to carefully slice into the croughnut. Just check out the photos below. 😉
Now let's go through the flavors we tried, starting with my favorite: the Raspberry Creamcheese. It had this nice tartness to it, and I love the tangy raspberry bits. The raspberry cream cheese filling was so yummy – not too sweet. Actually, none of the flavors we had were overwhelmingly sweet.
Ken's favorite was the Almond Caramel, with drizzles of caramel and generous slivers of almonds on top.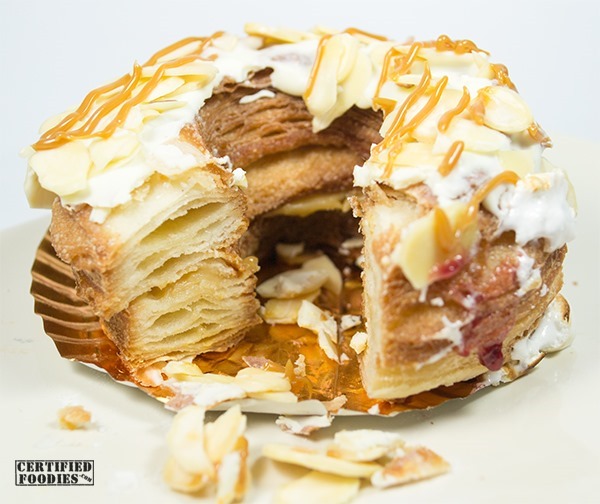 He also loved the Peanut Butter Crisp, with Dolcelatte's signature peanut butter filling, topped with white chocolate and peanut butter sauce and orange crispies (Butterfinger).
My next favorite was the Lemon Meringue. I love, love, love its citrusy filling that complemented the sweet meringue on top. Yum!!!
I expected the Custard Cream croughnut to be the sweetest out of the 6, but it wasn't. The filling was rich, sweet and was delightfully creamy!
The Apple Cinnamon was also yummy, though it was a little sweet for me. I should've picked the Blueberry Creamcheese since my friend Badeth loved it.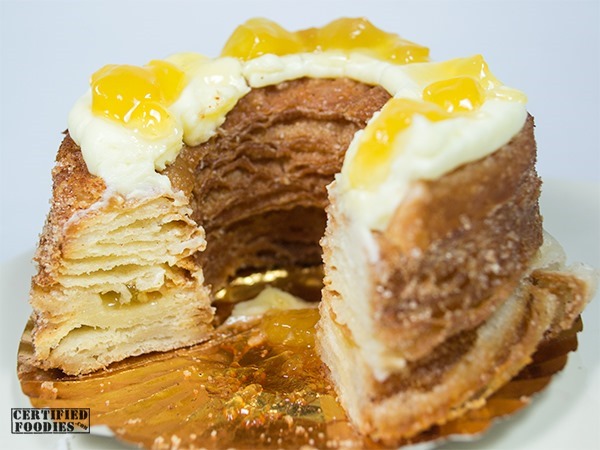 When I checked Dominique Ansel's website, they said cronuts are best eaten fresh and shouldn't be heated in the oven. Well, we kept Dolcelatte's in the fridge (Sure, they're not the original cronut, but it just applies to all). I ate one without heating and my last one, I quickly warmed in the microwave. The cold and the heat didn't really make a lot of difference with its texture. There's still that flaky goodness, and softness inside.
There's no doubt we enjoyed Dolcelatte's croughnuts so much and I can't wait to taste the other flavors that we didn't get to try, especially the Valrhona Crunch, which runs out like crazy, and the Blueberry Creamcheese.
That answers the question if we'd come back for Dolcelatte's croughnuts. We're still looking into trying the other local cronut versions, but we'll definitely return for another croughnut fix from Dolcelatte.
And if you're already addicted, don't miss Dolcelatte's Croughnuts Reward Card. For every box of 6, you get one stamp. The perks they're offering are discounts and gourmet treats. I wish they were more specific. Maybe a free box of croughnuts would be more enticing. 😉
Have you had a taste of Dolcelatte's croughnuts yet? Let us know what you think! 🙂
DOLCELATTE

1616 South Triangle, Quezon Avenue, QC
Contact #: For croughnuts, 332-3407 / 0906-552-6297. For the restaurant: (02) 425-0313 local 109 or 120
Facebook: https://www.facebook.com/Dolcelatte
Location map:

The following two tabs change content below.
Michelle (aka Mhel / blankPixels) is a social media nerd and works as a Digital Marketing Lead for one of the top online companies in the Philippines. On her free time, she travels, goes on food trip and loves to take photos. She's the main editor of this food blog.
Latest posts by Michelle Ignacio (see all)
Comments
comments