Being certified foodies ;), my bro and I have always been curious. We LOVE talking about food and how much people enjoy recommending restaurants and food products we simply must try. On our spare time, we check on social media and our favorite food blogs for what other foodies' are eating or craving for. And early this year, probably the most talked about was the cookie butter, specifically Lotus Biscoff and Trader Joe's Speculoos.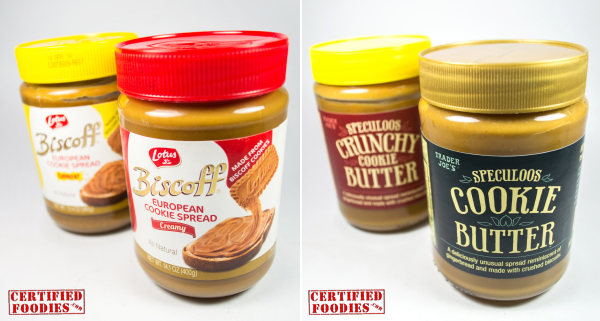 We've always loved peanut butter. We buy from the market here and not the commercial ones you see at the grocery. A spoonful of peanut butter is our usual indulgence after a meal. We thought it couldn't get better than that when it comes to simple guilty pleasures. Well, we were wrong. A rich spoonful of cookie butter makes a whole lot of difference. 😉
Though cookie butter can be made from various cookies, the well-known variant is made with gingersnap cookies or with Speculoos (reminds me of Amelie), a spiced biscuit usually enjoyed during the holidays in December. The spiciness comes from a mix of cinnamon, nutmeg, cloves, ginger, cardamom and white pepper. Okay, don't get me wrong when I describe them as 'spicy'. It's not spicy meaning hot, but spicy because of the combination of all those wonderful spices. Though we think we Filipinos have a more developed palate now, I understand why there are some who couldn't stand the taste of the spicy cookie butter.
As soon as I heard about the cookie butter, I immediately searched about where we could buy them. I was extremely curious about the taste, but I wasn't sure yet if I'll like it so I decided to see if there's a store we can go to where they have either cookie butter brands on-hand. We heard about The Food Bin in Katipunan (Thanks, Smarla!) so we headed there.
They had bottles upon bottles of Lotus Biscoff Creamy and Crunchy cookie butter, so I was ecstatic. The fun part is they offer a free taste, which made the decision easier for us. They sell the cookie butter Php 100 pricier than the ones I've seen from online sellers – at Php 450 each – so I only bought 1 bottle of each and the Biscoff cookies (they had a promo when we were there). Ken and I went to lunch afterwards (at Banapple – review soon!). We were tempted to open the Biscoff Crunchy cookie butter, only we were too full from the feast we had for lunch. 😀
As soon as I got home, I was able to quickly take photos of them before Ken came into my room with 2 spoons (that's how he enters my room now since I keep the cookie butter here hahah 😀 ), ready to devour the bottles of Biscoff cookie butter that we bought.
It was love at first spoonful. 🙂 The cookie butter was spicy, sweet and oh-so creamy! And one spoonful was not enough!! Ken and I, with one bottle each in hand (I was holding the Biscoff Creamy Cookie Butter), took another generous spoonful of the cookie butter before we decided to switch bottles. 😀 It was addictive! No wonder people were going gaga over these!
It was as spreadable as our favorite peanut butter, but it was definitely more luscious. I was seduced by the spiciness, which only happens when I experience something new and exciting. That's exactly how I felt when I was savoring our first bottles of cookie butter.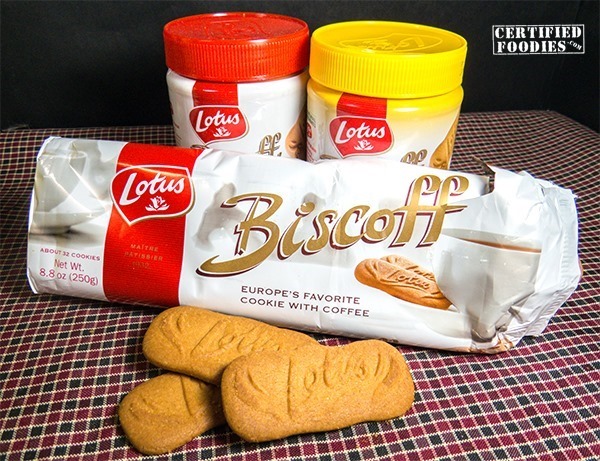 Since we weren't able to get hold of Trader Joe's Speculoos cookie butter, I went ahead and ordered from a recommended online seller – Joe & Cherry. I was told I'd have to wait 'til August, which I knew was too long for me to have another spoonful, but that's how long you really have to wait since Trader Joe's has this ridiculous restriction of one bottle each per person, and the demand is way high.
Many were debating about which cookie butter is best – Lotus Biscoff or Trader Joe's Speculoos. I was completely hooked on Biscoff, but I needed to find out for myself if it really is the better cookie butter spread than Trader Joe's.
Fast forward to August, I was ecstatic when Joe & Cherry sent me my invoice. I paid within 48 hours and I got my package the next day. I immediately took a photo of all the goodies. I was excited about Trader Joe's cookie butter, moreover, because of the sweet surprise they included in my package (more about that in my next post about Joe & Cherry – watch out for the giveaway!!).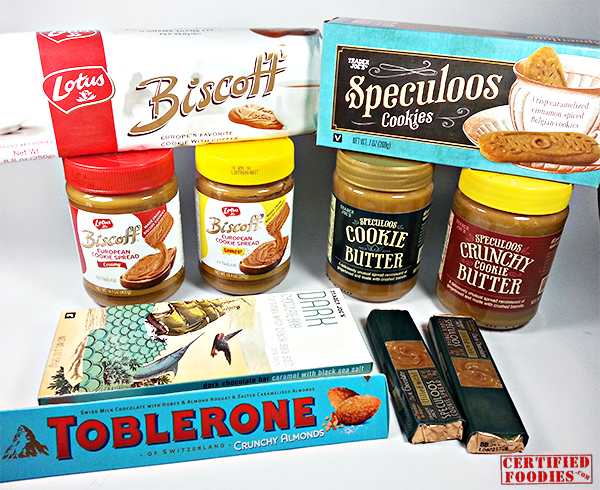 I hurriedly went to get a spoon and opened the Trader Joe's Speculoos cookie butter to finally find out if I'll love them even more than Biscoff.
Biscoff Cookie Butter vs Speculoos Cookie Butter
To tell you the truth, on my first spoonful, I didn't taste any difference. The Speculoos cookie butter was just as spicy and rich as Biscoff. Then I thought maybe, I needed to go for a spoonful of Biscoff again to really see the difference. Like I needed that reason. 😉
I opened all the bottles I got – one bottle each of Biscoff Creamy and Crunchy, and Trader Joe's Speculoos regular cookie butter and the crunchy variant. I opened the Biscoff bottles last and my senses were immediately tickled by the aroma of spices. 1 point goes to Biscoff for that. 🙂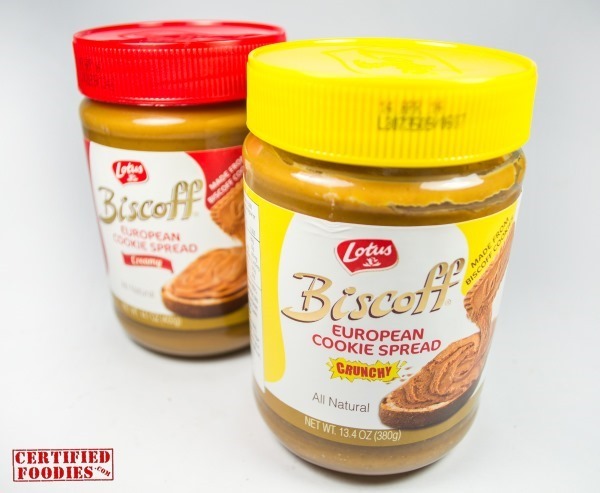 I compared the contents of each bottle and noticed that Biscoff was oilier. Trader Joe's Speculoos cookie butter was a li'l dry. Biscoff is creamier and definitely more spreadable because of the oiliness reminiscent of peanut butter. Another point to Biscoff.
Texture-wise, Trader Joe's regular cookie butter (they don't really call it creamy) had small, crunchy bits of Speculoos in the mix, which Ken and I adore. So, a point goes to them.
Trader Joe's Speculoos Crunchy Cookie Butter also don't have as much Speculoos bits than Biscoff. Just check out the photos below. Biscoff gets another point for the crunchy factor. 🙂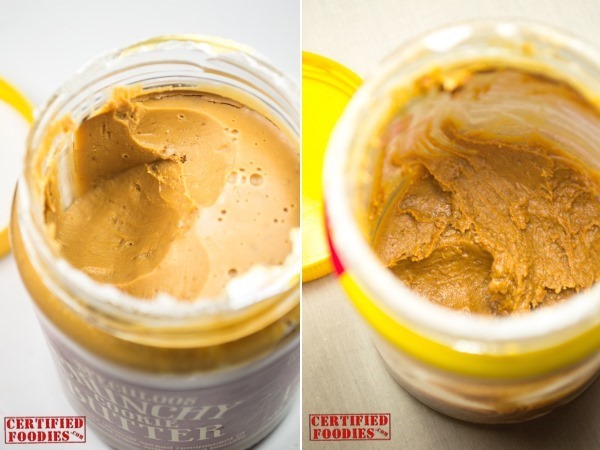 Now, about the taste. Though they're equally good and habit-forming, I would give props to Biscoff for not holding off on the spices. Their cookie butter are best for breads like pan de sal (yum!!!), pancakes, fruits, or for baking because of the stronger flavors.
Sosyal na pan de sal 😉
Stronger flavor also meant more sweetened. Both Biscoff variants were sweeter (not overwhelming, mind you) than Trader Joe's Speculoos cookie butter, so one point goes to the latter since it means they're most likely to be enjoyed by more people who are not as open to the level of flavors Biscoff has to offer. I also found myself spooning… I mean reaching out for a spoonful of TJ's Speculoos cookie butter more often than Biscoff when I needed to cure my umay after a meal.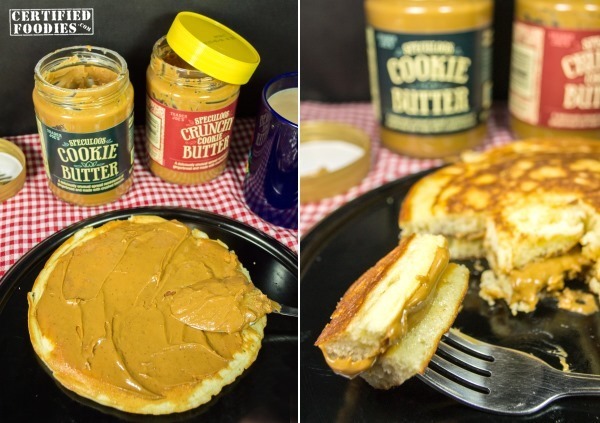 And since Biscoff is easier to buy or get a hold of, another point goes to them and that means they're the clear winner between the battle of cookie butters – well, based on our personal reviews. 😉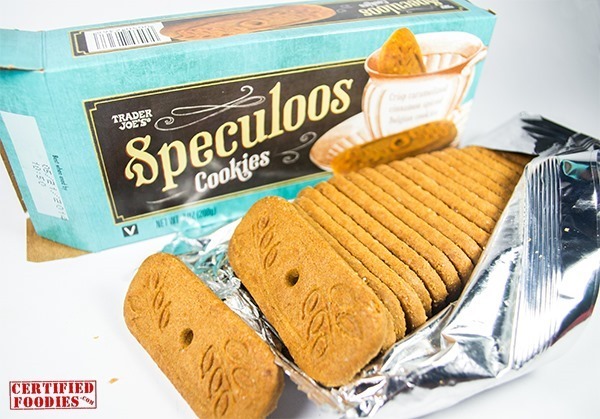 Now, when it comes to their cookies, I can't really pick one over the other. So, instead of mulling over that, let's just spread cookie butter on them. Yes, we did it! Bawal KJ!. 😉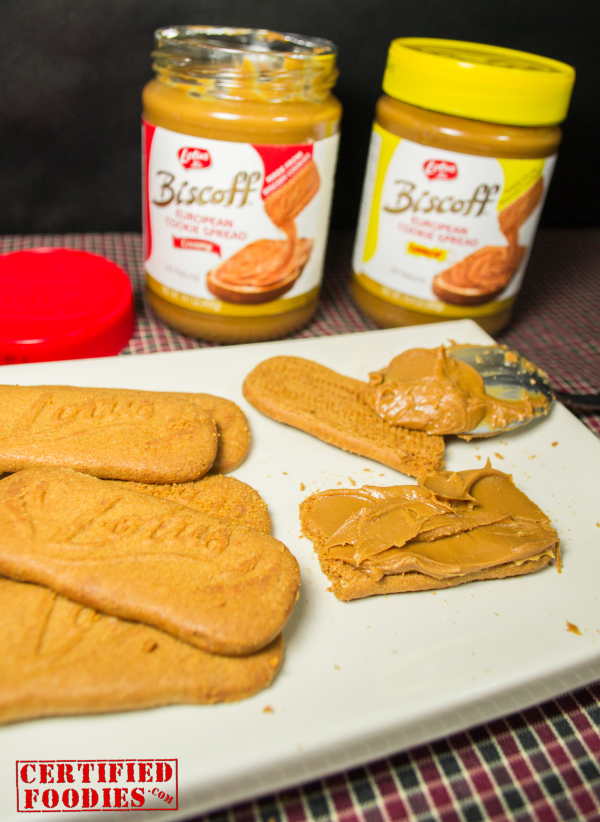 We heard you love Speculoos, so we put Speculoos (cookie butter) on your Speculoos. 😀 Okay, that's Biscoff in the photo, but Speculoos sounded better. 😛
No matter which cookie butter you like more, all we can say is we love them both and we can have either or both any time. The thing is, they're equally pricey at Php 350 a bottle (Joe & Cherry sells them at this price). In over a week, they were all gone. 😀 I guess we really don't mind since they're luscious indulgences we'd love to repeat often. 😉
By the way, we LOVE Trader Joe's Dark Chocolate filled with Speculoos Cookie Spread. Yum!! 🙂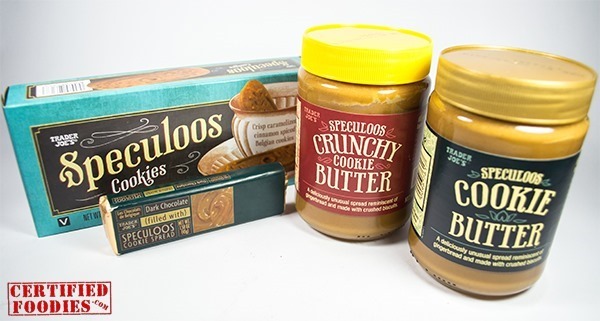 If you haven't had a taste of any of these cookie butter brands and you're finally interested in buying a bottle or two for you to try, we highly recommend you check in with Joe & Cherry. Their prices are lower than most online sellers I've seen, plus they're friendly and more accommodating. 🙂 We decided to partner for a giveaway, so watch out for our next post where you could win your own cookie butter fix. 🙂
By the way, we noticed the Biscoff Cookie Butter bottles were different from The Food Bin's. Joe & Cherry gets them from the US. I wonder where The Food Bin's supplies are from.
There's no doubt many Filipino foodies are in love with cookie butter that many desserts are coming out that are flavored with them. Ken and I are actually preparing a couple of our own cookie butter flavored recipes which we'll be sharing very soon, so watch out for that. 🙂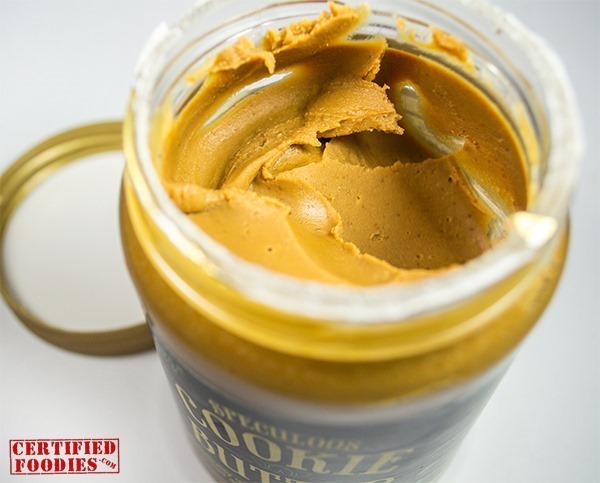 Cookie butter is definitely on top of our favorite foodie discoveries this year (we've gotten sick of cronuts 😀 ), and I guess it'll be a mainstay when we talk about our guilty pleasures. 🙂
How about you? Which cookie butter do you like best? Lotus Biscoff or Trader Joe's Speculoos Cookie Butter? Let us know at the comments section. 🙂
The following two tabs change content below.
Michelle (aka Mhel / blankPixels) is a social media nerd and works as a Digital Marketing Lead for one of the top online companies in the Philippines. On her free time, she travels, goes on food trip and loves to take photos. She's the main editor of this food blog.
Latest posts by Michelle Ignacio (see all)
Comments
comments