If there's one thing we love about the widespread use of social media in the country today, it's got to be how the hottest, latest and yummiest trends from all over the world quickly become all the craze here in the Philippines. The most recent fad has to do with the sweet, flaky goodness of Cronuts™. And if you're yearning to know where to buy cronuts here in the Philippines, read on.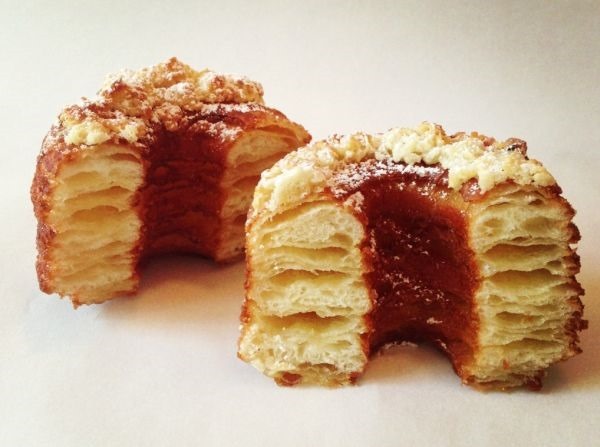 Photo from Dominique Ansel Bakery
If you haven't heard of these delightful pastries yet (have you been living under a rock? :D), Cronuts are made with a special laminated dough closely similar to croissant dough, and fried like donuts (originally in grapeseed oil), filled in with cream, then rolled in sugar and glazed or topped with frosting. The original cronut is a creation of Chef Dominique Ansel who owns a bakery in New York and if you check their website, his cronut recipe requires a more complex method, which is why it took him 2 months and 10 tries to finally perfect the recipe that will enable him to fry the laminated / croissant dough without it breaking apart.
Photo from Crains New York
Since he launched the cronuts in May this year, everyone seemed to be clamoring for a taste and this quickly spread all over the world (with people lining up for hours and some even paying as much as $100 for one cronut), and has finally reached the Philippines last month through Wildflour Cafe + Bakery. Thankfully, I haven't seen anyone who's too obsessed with these pastries yet here in Manila.
I first heard about the cronuts when I saw all the tweets about it on my work Twitter account (I have social media clients based in NYC). I asked Ken if he can make them at home. He said it's not an easy task to make such an intricate pastry. But, he said he'll try to make his own version at home. We'll see. 😉
Anyway, between the two of us, Ken's the only one who has tried Wildflour's cronut. He loved it, but he's not as enamored as everyone seems to be. Still, he said, there's no doubt it's a beautiful creation, which is why I cannot wait to have a taste. We're now on a quest to find out which cronuts are the best, so I listed down all the restaurants and pastry shops here in the Philippines that are serving these croissant-doughnut hybrids. If you know of other places we haven't added yet, let us know. 🙂
Where to Buy Cronuts in Metro Manila
Note: The photos in this post are not ours. See the photo credit links at the bottom of each photo. Those without labels were taken from the resto/store's Facebook pages.
UPDATE: So far, we've tried the cronut versions of Dolcelatte and Le Coeur de France. We'll post our reviews of them soon.
Wildflour Cafe + Bakery
Update (01/13/2014): Wildflour has announced that they/re no longer serving croissant-doughnut. Too bad 'cause when we had a taste of various flavors of their cronuts a few months ago, we absolutely loved them. And yeah, we haven't blogged about them yet. 😀
Hats off to Wildflour for being the first to bring cronuts – which they call croissant-donuts – here in the Philippines. They sell each cronut at Php 120 each, and they have various flavors like vanilla, strawberry, mixed berry and chocolate. From what I've heard, they make the best cronuts in the Metro… so far. 😉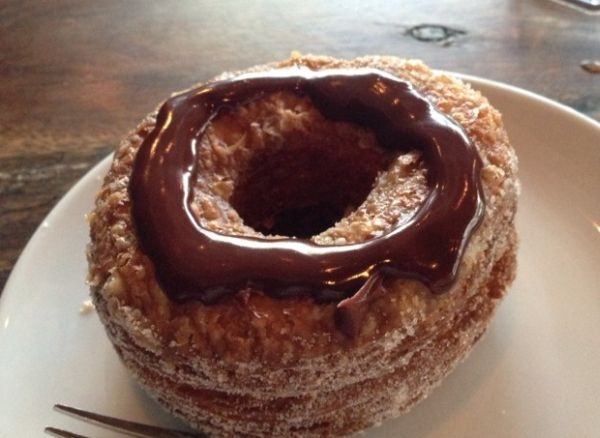 Photo from Melissa P
Make sure you call them first since their croissant donuts sell like… err pancakes. 😀 I believe you can pre-order and pay for next day pickup. Maybe we'll try their cronuts soon after the hype dies down a little.
Wildflour Cafe + Bakery

Contact #: (02) 856-7600

Facebook: https://www.facebook.com/WildflourcafebakeryFortBonifacio/
Yamato Bakery Café
We love bread and pastries, so one of the many places we're longing to visit is Yamato Bakery Cafe in Jupiter St., Makati. We found out recently that they also sell their own cronuts for Php 110-120 each.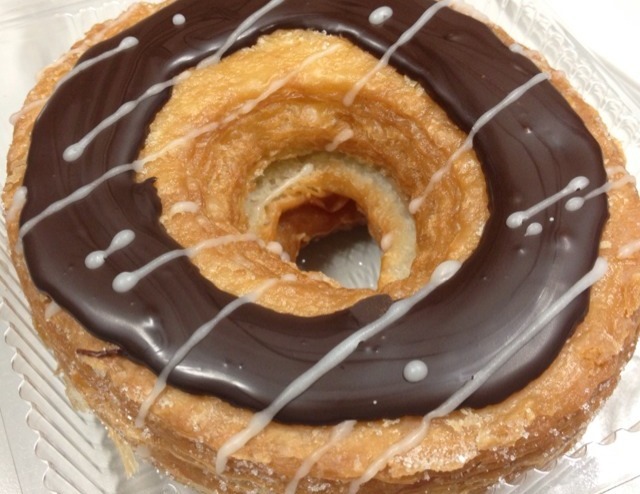 Photo from Jennie V
Just looking at this photo makes me drool. I think theirs and Wildflour's are the most gorgeous cronuts I've seen so far. I can't wait to try them! 🙂
Yamato Bakery Cafe

22 Jupiter St., Brgy. Bel Air, Makati

Contact #: (02) 823-0960
Breadbar by Dolcelatte
We already had a taste of their croughnuts. Check out our review of Dolcelatte's cronuts.
They call them Croughnuts and they claim that their recipe require less oil when frying. Dolcelatte, I believe, has the widest range of cronut flavors which I'm dying to try. Price is Php 110 per cronut, and Php 660 per box of 6 (duh 😀 ). Dolcelatte is located at the South Triangle, Quezon Avenue in Quezon City. You need to pre-order these Croughnuts though.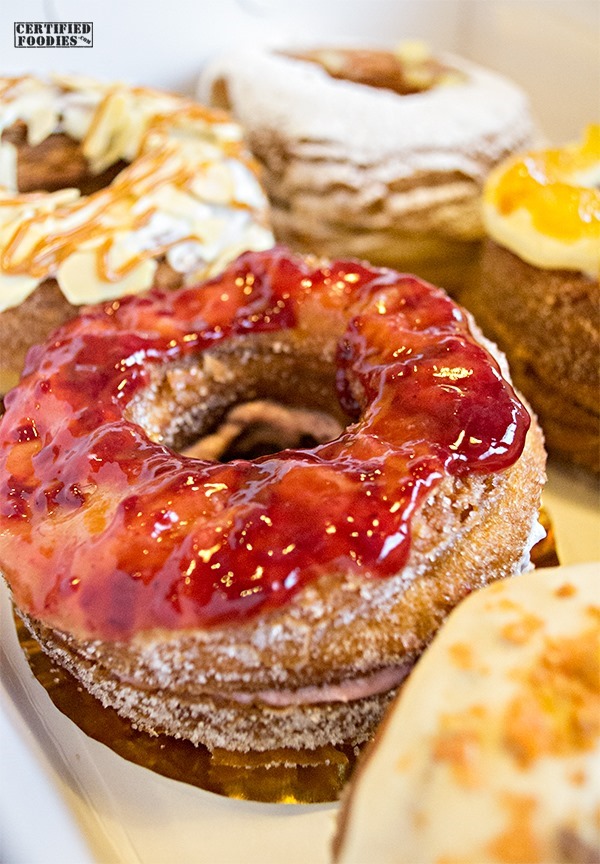 How to pre-order? Call 332-3407 or 0906-552-6297, and pre-order minimum is a box of 6. This should be done one day in advance. Pickup is from Monday to Saturday. You can also walk in from Monday-Saturday at 3pm. Their flavors include Custard Creamcheese, Almond Caramel, Valrhona Crunch, Blueberry Creamcheese, Lemon Meringue and a ton more. 🙂
Dolcelatte

1616 South Triangle, Quezon Avenue, QC

Contact #: (02) 425-0313 local 109 or 120

Facebook: https://www.facebook.com/Dolcelatte

Twitter & Instagram: @dolcelatteph
CHATIME
Soon after Wildflour's cronuts became a big hit, Chatime came out with their own version they call Kronuts. It's now available all day, but they only serve this at Chatime at the Pioneer Center Supermarket in Pasig and for only Php 55 per piece.
CHATIME

Pioneer Center Supermarket, Pasig City

Contact #: (02) 584-7221

Facebook: https://www.facebook.com/chatimephilippines

Twitter: @ChatimePH
DUNKIN' DONUTS
I was surprised to learn that Dunkin' Donuts also came out with their own cronuts – Donut Croissant. They sell these at Php 75 each and they're only available in select Dunkin' Donuts stores in the Metro.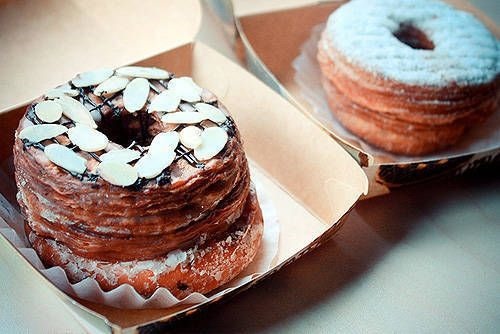 Photo from Spot.ph
I'm not sure which stores are selling these Donut Croissant since Dunkin' Donuts haven't given the details yet on their Facebook page. Update: According to Vanenie who left a comment, Dunkin Donuts stores offering these cronuts are the following: Sheridan, Rockwell, Aurora, SM Megamall, El Pueblo, Matalino St. (QC), DC SM MOA, DC McKinley, Pearl Plaza, and Marcos Highway.
If you've spotted their Donut Croissants somewhere, let us know. 🙂
DUNKIN' DONUTS PHILIPPINES

Website: http://www.dunkindonutsphilippines.ph/

Facebook: https://www.facebook.com/pages/Dunkin-Donuts/168451339971164

Twitter: @dunkindonutsph
Le Coeur de France
UPDATE: We already tried their croughnuts. Quick review here.
We recently learned about them and we're glad to know they're offering their cronuts / croughnuts at 8 branches all over the Metro, which makes it easier for us to buy them. Price is at Php 89 each.
You can visit Le Coeur de France branches at Robinsons Galleria, SM Megamall, Shangri-La Plaza mall, Alphaland Southgate, Waltermart Makati, San Antonio Plaza Forbes Park, Times Plaza UN Avenue, and Sta. Lucia East Grand Mall.
Le Coeur de France

Facebook: https://www.facebook.com/LeCoeurPh

Website: www.lecoeurdefrance.com

Instagram: @LeCoeurPh
Anybody Coffee
UPDATE: We already tried one of their cronutz flavors. Read our quick review here.
I found out about Anybody Coffee's Cronutz (I knew someone would eventually use this name 😀 ) through a friend and I was glad to know they're located in Trinoma, which is the second closest mall to us next to SM North Edsa.
Anybody Coffee sells these cronuts for Php 95 each and they also have a variety of flavors. I saw their photos on their Facebook page and they're pretty generous with the toppings. Might be the reason why people are saying their Cronutz are too sweet.
Anybody Coffee

2/F Trinoma, Mindanao Ave, QC

Facebook: http://www.facebook.com/pages/Anybody-Coffee/118845648309093

Twitter: @AnybodyCoffee
Cafe Jeepney at InterContinental Manila
InterContinental's Cafe Jeepney came out with their own "hyphenated" version – cro-nuts. They offer them in these flavors: Red Velvet, Cheesecake, Dark Chocolate with Vanilla Cream, Sugar Cinnamon, and White Chocolate. I can't wait to try their Red Velvet Cro-nuts!! 😀 Price is at Php 130.
Cafe Jeepney at InterContinental Manila

#1 Ayala Avenue, Makati City
Mandarin Deli
Mandarin Oriental Manila's version is called MO Crodo – classic croissants shaped like a donut. They sell this at Php 96 each and are available in Chocolate and Vanilla Custard.
Mandarin Oriental Hotel

Makati Avenue, Makati City

Facebook: https://www.facebook.com/MandarinOrientalManila
L'Entrecote Manila
L'Entrecote Manila is located at Burgos Circle at The Fort. I heard they only serve 40 pieces per day. You can order in advance.
Photo from The Fruit Garden
L'Entrecote Manila

Forbes Town Center, Unit A Bellagio 2 Burgios Circle, Bonifacio Global City, Taguig
Fairmont Makati's Cafe Macaron
Cafe Macaron of Fairmont Makati just unveiled their own version of cronuts, and they call it Doussant. Their flavors include raspberry, Valrhona Guanaja, cinnamon, honey-glazed and pistachio. They only make 200 per day, so I think it'll be more difficult ordering from them since they just launched this, but let us know how it goes for you. You can reserve in advance, so good luck! 🙂 They sell this at Php 149++ each at Cafe Macaron.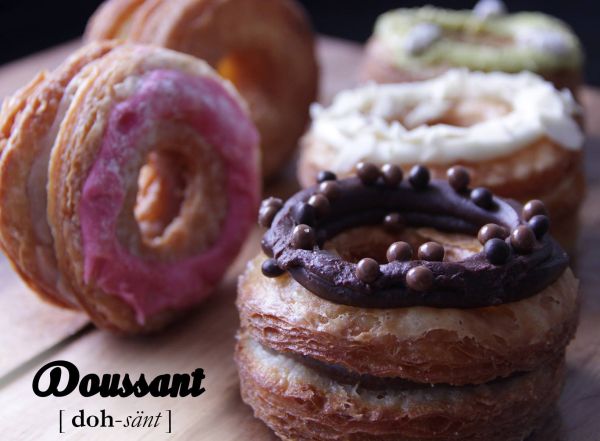 Their doussants look good! 🙂
(Added 8/13/2013)
Cafe Macaron, Fairmont Makati

1 Raffles Drive, Makati Avenue, Makati City
Contact #:  (02) 555-9840
Facebook: http://www.facebook.com/FairmontMakati
Cafe France
Cafe France calls their own version of cronuts as French donuts. They sell them for Php 99 each, and you can choose from 3 flavors: Lemon Custard, Salted Caramel and Classic Chocolate.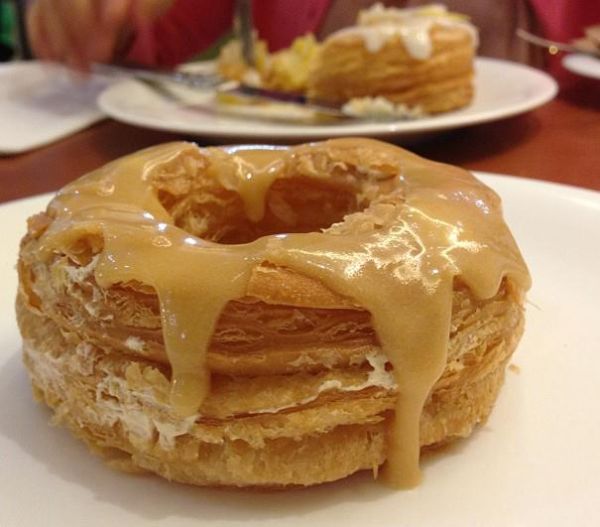 Photo by SaraNotSarah
They have these French donuts available at these branches: Greenhills Theatre Mall, Valero, Slex SB, UN Avenue and St. Luke's Medical Center.
Cafe France

Website: http://www.cafefrance.net
Facebook: http://www.facebook.com/CafeFrance

Krispy Kreme
We knew they wouldn't be able to resist! Krispy Kreme just came out with their Krispy Kroissant, their own cronuts as part of their Baked Creations. We already tried this (read our quick review) and they sell this for Php 75 each. On their website, it says they're making this from 10am til 2pm.
(Added 8/14/2013)
Krispy Kreme 

Available now Luzon-wide! 🙂
Facebook: http://www.facebook.com/krispykremeph
The Bellevue Manila
The Bellevue Manila launched their own cronuts. They sell these for Php 100 and flavor options are Chocolate, Pistachio, Bavarian and Lemon Curd.
(Added 8/15/2013)
The Bellevue Manila

Pastry Corner G/F Main Wing, North Bridgeway, Filinvest City, Alabang
Facebook: http://www.facebook.com/thebellevuemanila
Vikings
Vikings is now serving their own version of cronuts, but their branches have them at different times. SM MOA serves these weekday dinner and weekends. SM North Edsa, on weekends (not sure if they mean lunch and dinner).

(Added: 8/17/2013)
Vikings Luxury Buffet Restaurant

SM Mall of Asia – Bldg B – http://www.facebook.com/VIKINGSSMMALLOFASIA
SM North Edsa – 4/F The Block – http://www.facebook.com/VIKINGSSMNORTH
BRASSERIE GIROLLE
We can't find photos of Brasserie Girolle's cronuts yet, but we found out they're selling them at Php 120 each.
Brasserie Girolle

G/F Fort Pointe II Building, 28th St. BGC (Formerly Pier One), Bonifacio Global City
Century Park Hotel Manila
Thanks to a comment poster, we learned that Century Park Hotel Manila also has their own version of cronuts which is available only this August.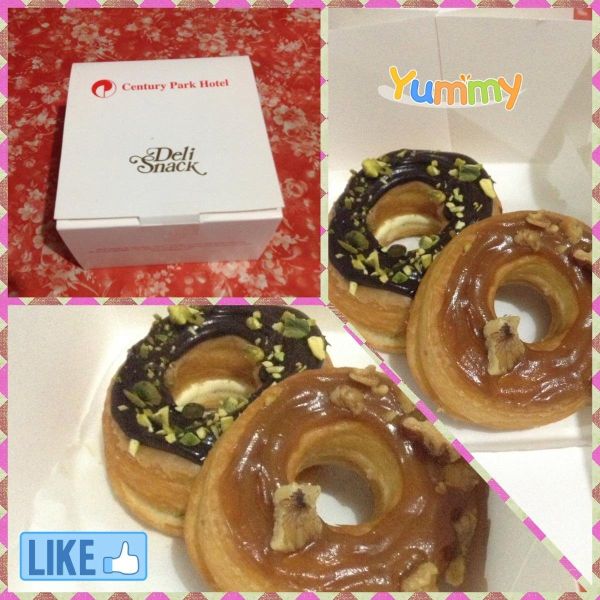 Photo by Tyronicwriter (see comment)
Century Park Hotel Manila
BRONUTS
We weren't supposed to continue updating this list anymore, but we just couldn't resist it, especially seeing all the buzz surrounding these better-than-cronuts from Bronuts. Basically, they're cronuts made by bros. 😉
We've been checking out the flavors they're offering and we can't wait to try them, especially the Super Floss, Belgian Choco, Cream Cheese and Bacon (I mean, c'mon!!) and Blueberries and Cream. We also heard these bronuts are HUGE compared to the other cronuts in the Metro.
(Added 11/03/2013)
Bronuts

Every Friday and weekends at Power Plant Mall's Baker's Dozen
Facebook: http://www.facebook.com/bronutsph/
Instagram: @BronutsPH
We don't see this hype over cronuts here in the Philippines slowing down any time soon. I even think they'll be permanently available for us to indulge in their flaky delight any time we want. Watch out for more stores and restaurants selling these soon. 🙂
Which of these local cronut versions have you tried? Tell us which ones you liked best!
The following two tabs change content below.
Michelle (aka Mhel / blankPixels) is a social media nerd and works as a Digital Marketing Lead for one of the top online companies in the Philippines. On her free time, she travels, goes on food trip and loves to take photos. She's the main editor of this food blog.
Latest posts by Michelle Ignacio (see all)
Comments
comments