If there's one Filipino dish I can bear to eat daily, it'll have to be Sinigang. Our nanay has tried a variety of Sinigang – with seafood, pork or even chicken and beef (yes, she has tried all sorts of proteins with this dish). She has always cooked it the traditional way, but she was excited and welcomed the idea of adding a tasty twist to a classic dish – Sinigang with Del Monte Tomato Sauce.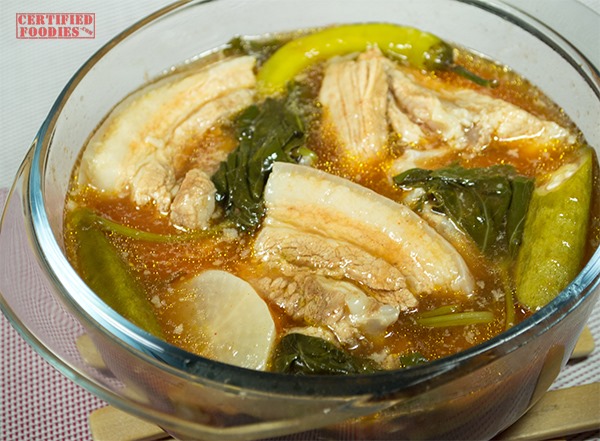 Sinigang is a savory sour soup that we Filipinos love. The acidity may come from green mangoes, guava and, more widely used, tamarind (sampaloc). Pork, bangus or shrimps are the usual main ingredients, along with vegetables like kangkong (water spinach), okra, chili (siling haba/pang-sinigang), and onions. Our nanay also add slices of tomatoes to it, but we both haven't encountered or tasted this dish with actual tomato sauce.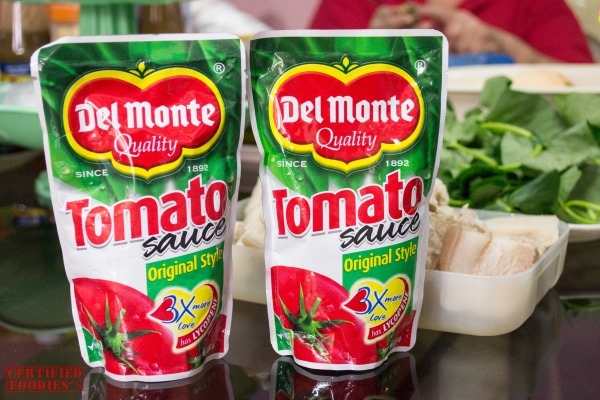 That's until we found out about Del Monte's Red Movement where they take classic Filipino dishes and add their famous, Filipino favorite tomato sauce into the mix. Some combinations may sound weird, but knowing the brand and the recipes they share through Del Monte Kitchenomics, we know they wouldn't just come up with concoctions like the Red Bulalo or Red Pesang Bangus without actually testing and proving that adding tomato sauce to these dishes actually works. If you want the recipes for these other dishes, visit www.delmonte.ph.
If you're aching to know how our nanay made her Del Monte Red Sinigang, read on.
Red Pork Sinigang with Del Monte Tomato Sauce
INGREDIENTS:
1 kg pork liempo, cut them into your preferred sizes
2 pcs small onions, sliced
2 tbsp fish sauce (patis)
2 pouches (200g) Del Monte Original Style Tomato Sauce
8-10 cups water
4-6 pcs siling haba
200g radish (labanos), sliced into even, thin slices
4 okra, halved
1-2 bunches of kangkong (water spinach)
2 tbsp Sinigang mix powder
1-2 pieces of taro (gabi), sliced into chunks – to help thicken the sauce more
How to Cook Red Sinigang
1. First, to make the pork more tender, boil them in about 6 cups of water for about 30 minutes to an hour or until you get the tenderness you like. Set them aside.
2. Since the pork is already tender, you won't need much time to cook everything. In a separate pot, combine 4 cups of water, sili, radish, onions, okra, gabi, fish sauce, sinigang mix, pork and Del Monte Tomato Sauce. Well, all the ingredients except the water spinach. 😉 Cover and let it simmer for about 15-20 minutes.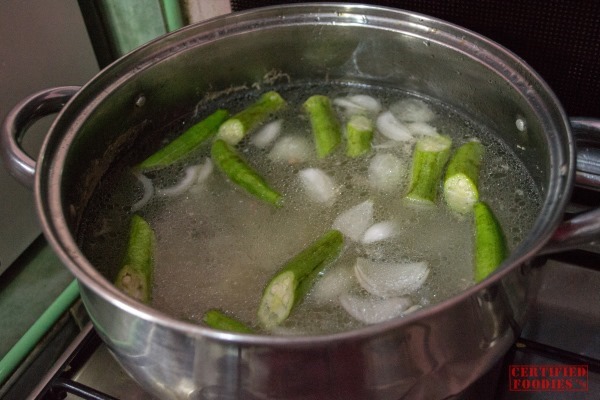 Check if the radish is cooked enough to your liking – not soggy, but with that nice crunch to it.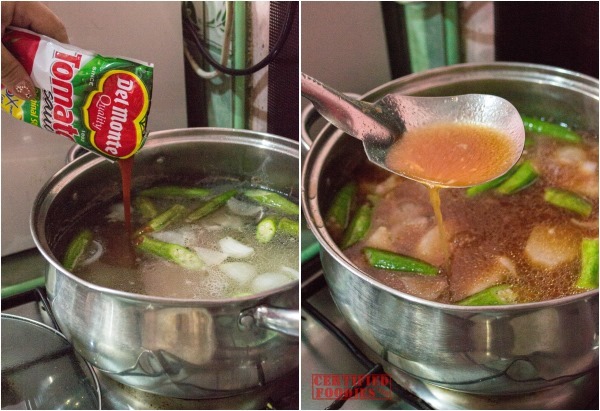 3. Add the kangkong last and let the sinigang simmer for about 3-5 minutes, then turn off the heat and serve.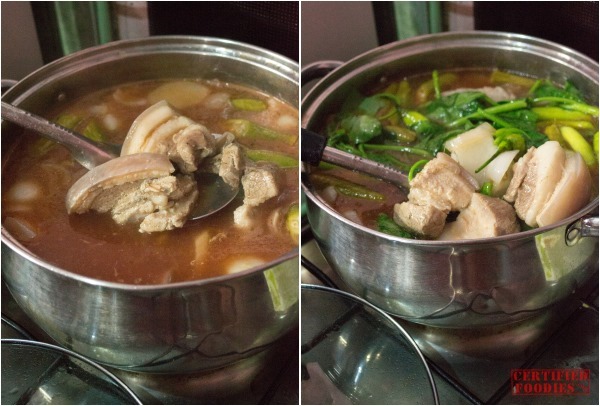 Serving size: Good for 5-10 people, depending on their appetite. 😀 This lasted 'til dinner for us.
You can also find this recipe on Del Monte Kitchenomics.
How was it? We loved it! 🙂 The tomato sauce adds to the acidity of the sinigang, but it also lends a tinge of sweetness to it. Overall, the Del Monte Tomato Sauce makes the Sinigang thicker, richer and definitely takes your Pork Sinigang to another level. If you have kids who don't like sinigang, maybe this Red Sinigang would do the trick. 😉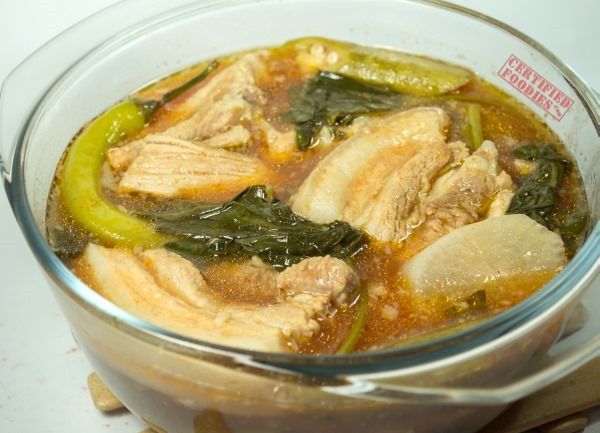 The Del Monte Tomato Sauce is surely a welcome addition to an old favorite, the classic Pork Sinigang. We highly recommend you try it and let us know what you think.
Enjoy! 🙂
Del Monte Philippines

More recipes on www.delmonte.ph
Facebook: https://www.facebook.com/DelMontePH
Twitter: @DelMontePH @Kitchenomics
Instagram: @DelMontePH
! GIVEAWAY ALERT !
Del Monte and us here at Certified Foodies partnered for this tasty giveaway where TWO (2) winners will receive a special gift pack from Del Monte.
How can you win? Check out the general rules below and follow the Rafflecopter mechanics. Good luck!
Giveaway is open to all Philippine residents.
There'll be TWO (2) winners – one who has the best answer to our Red Challenge question (as judged by me and Ken) and one winner will be picked in random.
Prizes will be shipped to the winners.
Giveaway will run from July 22nd until August 18th, 11:59pm. This gives you time to earn more entries and to come up with a creative, unique or heartwarming answer to our Red Challenge question.
To ensure your entries are valid, check out the samples below the Rafflecopter widget.
We had more than 10 favorites from all the comment entries on this post, so we used Random.org to pick a winner randomly among them. So, here are the winners!
CONGRATULATIONS TO:
Ma. Clarice Lao (best comment)
and
Say Yap (raffle winner)
Please wait for our email confirmation and respond within 48 hours. Otherwise, we'll pick new winners.
The following two tabs change content below.
Michelle (aka Mhel / blankPixels) is a social media nerd and works as a Digital Marketing Lead for one of the top online companies in the Philippines. On her free time, she travels, goes on food trip and loves to take photos. She's the main editor of this food blog.
Latest posts by Michelle Ignacio (see all)
Comments
comments