With all the hype surrounding the Cookie Butter these days (and it's for good reason!), it was inevitable that people will start thinking of various ways of enjoying and sharing these heavenly cookie butter spreads. We've only had a chance to taste Biscoff's, and we're still on a long queue of frantic foodies clamoring for a taste of Trader Joe's Speculoos Cookie Butter, so we thought that our closest chance to finding out how it measures up to the other brand was with Krispy Kreme's Speculoos Cookie Butter Doughnuts.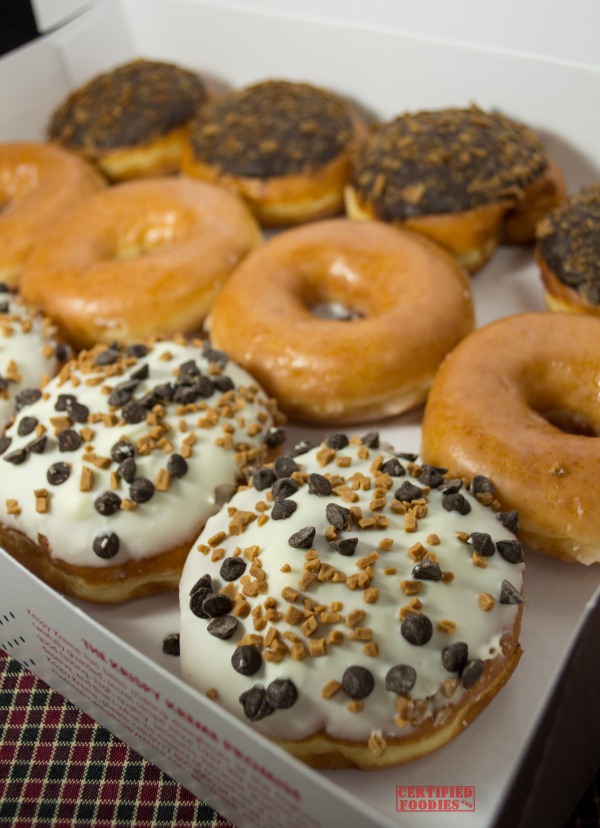 We were at Ortigas last Monday and I insisted that we drop by the Krispy Kreme store in Robinsons Galleria. Sadly, they ran out of the Speculoos doughnuts (at 8pm, what was I thinking?! 😀 ), but I had no issues ending up with a dozen of Krispy Kreme's Original Glazed doughnuts. We love, love, love them! Argh. Writing about this makes my mouth water. Too bad I ate the last one this morning. Pfftt. 🙁
Imagine my glee when we came home and found out Krispy Kreme delivered a box of doughnuts for us to enjoy. I was supposed to rest for a bit before work, but how can I when there's a dozen of these yummy treats waiting for me?!?! 😀
There were eight pieces of Speculoos Cookie Butter Doughnuts in the box: 4 Dark Chocolate Vanilla Cookie Butter and 4 White Chocolate Vanilla Cookie Butter. Then there were 4 original glazed ones. Mmmmmmmm! 🙂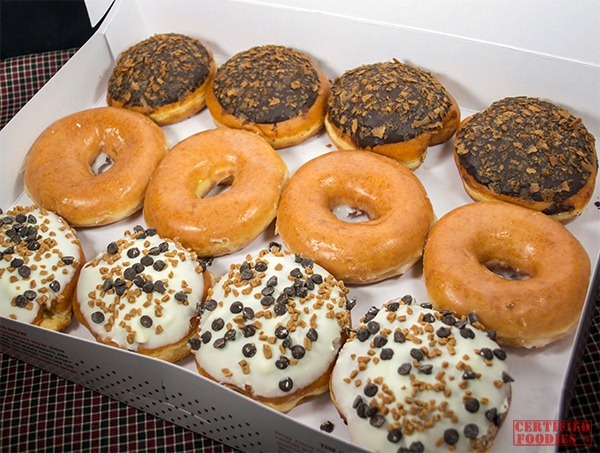 I couldn't wait any longer and I grabbed one of each cookie butter doughnut to find out how they taste. Ken finished off our bottles of cookie butter over a week ago, so I was craving for that glorious, gingerbread taste, which is why I just had to be the first to taste these here at home. 😀 First up was the White Chocolate Vanilla Cookie Butter doughnut.
It's filled with Vanilla Cookie Butter Kreme, dipped in white chocolate and topped with Belgian chocolate chips and caramel crunch. I'm not a big fan of white chocolate, but I loved it, especially because of the added texture and flavors from the toppings on this baby. 😉
When I got to the Dark Chocolate Vanilla Cookie Butter doughnut, I swear, I closed my eyes in sheer delight! 🙂
It's also filled with Vanilla Cookie Butter Kreme, dipped in dark chocolate and then topped with French biscuit. On my second tasting of these doughnuts, I fell in love and I preferred this over the white chocolate.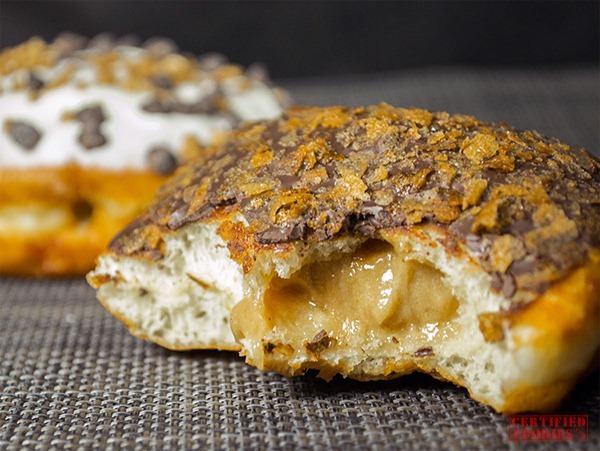 The cookie butter taste is just more pronounced with this one than the white chocolate variant, probably because there were chocolate chips and caramel crunch bits on top, compared to the simpler toppings of the dark chocolate doughnut. And I think the dark chocolate complemented the sweet spiciness of the cookie butter filling. Still, we enjoyed both flavors, which was exactly what we expected since they're made of a combination of two things we love: cookie butter and the soft, light, chewy doughnuts Krispy Kreme is known for. 🙂
These doughnuts are the newest addition to their Delectable Desserts. Krispy Kreme Speculoos Cookie Butter Doughnuts are available only until July 31st, so make sure you have a taste. You won't regret it, promise. 😉
Krispy Kreme

Website: www.krispykreme.com.ph
Facebook: Krispy Kreme Philippines
Twitter: @HotLightGirl
(I thought Twitter and Instagram were wonky when I saw that my IG post tagged @hotlightgirl 😀 I updated this because it's Krispy Kreme Philippines official Twitter account )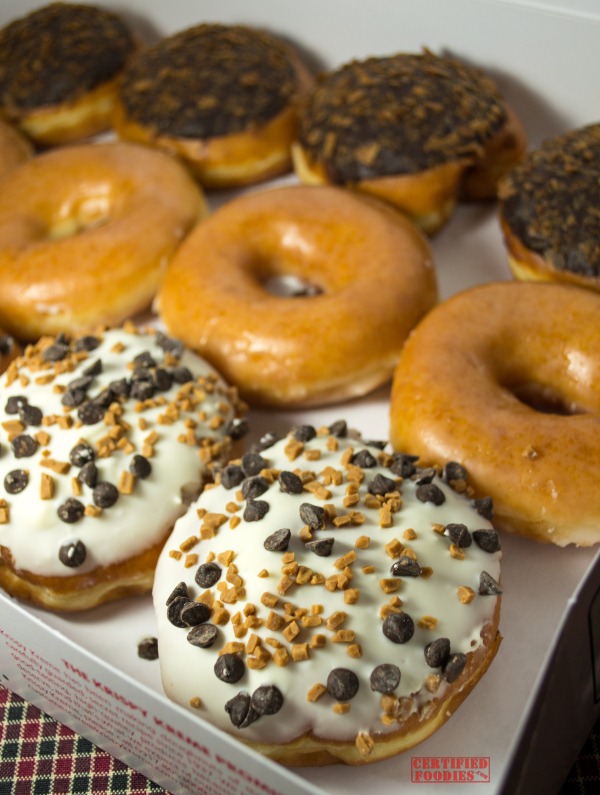 The following two tabs change content below.
Michelle (aka Mhel / blankPixels) is a social media nerd and works as a Digital Marketing Lead for one of the top online companies in the Philippines. On her free time, she travels, goes on food trip and loves to take photos. She's the main editor of this food blog.
Latest posts by Michelle Ignacio (see all)
Comments
comments