Ever since Ken started working as a pastry chef, I barely get to enjoy his homemade desserts. I miss having him whip up something delightful using various ingredients we shopped for or whatever he could find at home. Thankfully, a few Sundays ago, after I ordered dinner for us, he gave in to my request for him to prepare a dessert and he came up with this creamy Oreo Panna Cotta recipe.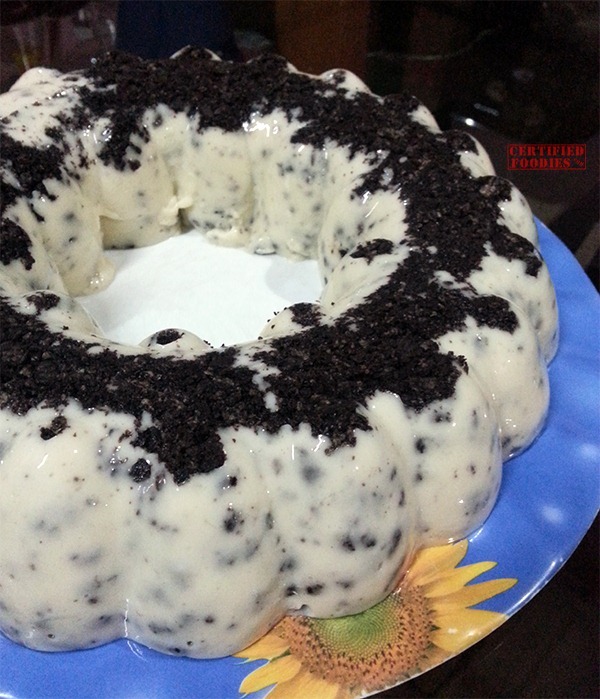 We really had no intention of posting this since it was just one of the random things we do at home – I crave for something sweet and Ken will check what ingredients we have available and he'll whip up something yummy. I was lucky that he was not so tired from work and was in the mood to actually prepare something. 😀
After we posted the photo of the Oreo Panna Cotta on our Facebook page and our own Timelines, there were people who requested for the recipe. So, here yah go! Since we didn't really think of sharing this beforehand, I don't have photos while he was preparing this. Your imagination will be at play here, but it's easy to make. 😉
Homemade Oreo Panna Cotta Recipe
Ingredients:
2 90g packs of Ladys Choice Alsa Gulaman, unflavored variant
You can use any gelatin powder.
2 cups fresh milk
2 cups whipping cream
– 1 cup plain cream, liquid
– 1 cup whipped cream. Ken hand-mixed plain cream to get medium peaks.
1/2 cup sugar
1 1/2 cup crushed Oreos (you can make this yourself)
Procedure:
In a pot, whisk together the Alsa Gulaman, milk, a cup of plain cream and sugar.
Continuously whisk 'til the mixture starts to boil. Remove from heat.
Add the 1 cup of whipped cream and 1 cup of crushed Oreos. Mix well.
Sprinkle the remaining crushed Oreos onto the bottom of your container / vessel.
For serving, Ken used our Tupperware Jello Mold. As I said, we didn't really think about posting about it here. 😀 So, we recommend you serve this in glasses or mini bowls.
Pour the panna cotta mixture into the container/s.
Let cool inside the refrigerator so it'll set. Serve cold and enjoy! 🙂
Since Ken had to serve this 30 minutes after he made it, he placed it inside the freezer. It was creamy, sweet and addicting! 😀
We hope you enjoy this recipe. Let us know if you've tried making this at home.
The following two tabs change content below.
Michelle (aka Mhel / blankPixels) is a social media nerd and works as a Digital Marketing Lead for one of the top online companies in the Philippines. On her free time, she travels, goes on food trip and loves to take photos. She's the main editor of this food blog.
Latest posts by Michelle Ignacio (see all)
Comments
comments