Because of our current jobs, Ken and I barely have time to go out together to dine out (we really couldn't complain because we love what we're doing 🙂 ). When we received the invite to be part of Foodgasm II by UP EcoSoc, since it was a Saturday, I thought we could go together. Sadly, Ken had to work and so I tagged my high school friend along with me.
By the way, and you probably already know. this post has been delayed for 3 months. I thought I already posted this in March only to see it in my Drafts. 😀 Sheesh.
We arrived past 7pm (I think) and already, there were many foodies there. I think Foodgasm II was more organized than last year, especially because we survived the tasting without getting too sweaty even on a humid weekend night.
There were two sections at Mercato Centrale that were dedicated to the event. It was funny though that we didn't know there was another section outside the main Mercato tent. 😀 I didn't hear anyone announce or see any signs that there's a whole bunch of Foodgasm II stalls on the other side of Mercato, just outside the tent. Good thing I noticed while we were busy rating the ones we already tasted.
Anyway, I'm quite happy with what we've tasted at Foodgasm II since there were many new food purveyors with dishes that stood out for us. I wish Ken was with me though 'cause my friend Tina was feeling guilty to continue with the tasting mid-way. Now I know who I shouldn't invite at events like this. Hahahah 😀
Okay, enough blabber. Here are our top picks from Foodgasm II.
New Zealand Natural Premium Ice Cream
They emerged as the winner at Foodgasm II just as I expected. I first had a taste of their creamy creations at the 2nd Ultimate Taste Test in Rockwell and when I saw that they were participating in Foodgasm II, my tastebuds were in sheer anticipation.
I'm a sucker for NZN's kind of ice cream – you know, the kind which will make you close your eyes as you enjoy every spoonful. We got to try their Macadamian and Chocolate flavors.
Though we were already feeling full and know we had more to devour the rest of the night (yeah, we had desserts early 'cause we didn't see the other section outside 😀 ), we couldn't help but finish the servings we got. I even forgot to take photos of our cups of ice cream. 😀
Sisnarp's Streetfood Fusion's Jamaisian Bacon Wrap
We've said it before and we'll say it again – it's easier to enjoy desserts or anything sweet because our brains and tastebuds are programmed to recognize, appreciate and enjoy them more quickly. So when a savory dish satisfies my craving for new flavors, I couldn't help but praise it all the way.
I was curious about the ingredients they combined to create such an interesting mouthful of savory goodness. I was told they called it Jamaisian because it's a combination of Jamaican Jerked Chicken and Hainanese chicken. Okay, that's as far as I remember. 😀
They top each slice of Jamaisian Bacon Wrap with various sauces they have available: pumpkin sauce, chili, and garlic mayo. I LOVED IT! No wonder people were buzzing around their stall. I wish I could've had more! 😉
And how can you go wrong with anything bacon-wrapped? 😀
Ping Gu Mushroom Fries
If there was one thing I MUST taste that night, it was Ping Gu's Mushroom Fries. I first heard about them while I 'accidentally' watched TV (yeah, I barely had time to do this the past months). I wondered how oyster mushrooms will taste like when fried. Will they be another drab creation made just for the sake of coming up with something new for us Filipino foodies to try?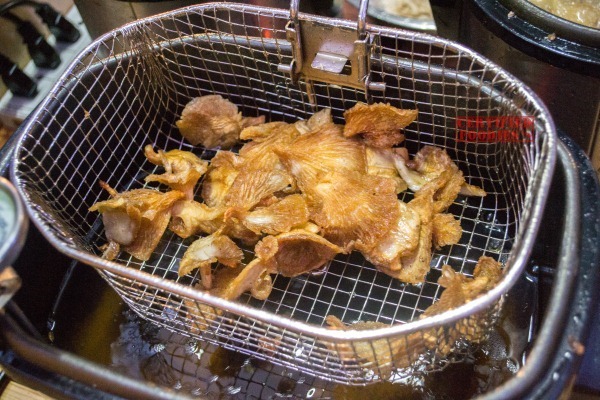 I was pleasantly surprised by the coated and then deep-fried mushrooms. They were thin, but the crunch and flavors were memorable. They tasted like potato chips and can be enjoyed alone, without any accompanying sauces. No wonder they won the People's Choice award that night.
The Cupcake Dealer's Black Velvet
Since Ken's a pastry chef, you can't blame me for having such high standards when it comes to desserts. After tasting one ho-hum dessert after another at Foodgasm II (we skipped a couple), I almost said no to trying out The Cupcake Dealer's cupcake. I thought to myself, oh sheesh – black version of Red Velvet cupcakes. Sure, I liked how they presented the cupcakes – the rebellious cousin of Red Velvet – and I love the black cupcakes. But, I thought, so what?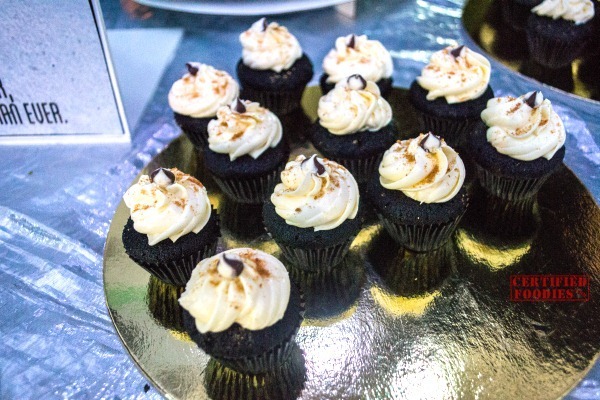 I didn't even take a decent photo of the cupcakes 'cause I was expecting to be disappointed. When my friend and I took a bite of their Black Velvet Cupcake, our faces lit up with glee! They were magnificently moist and chocolatey, with the wonderful mix of salty and sweet from the cream cheese frosting. 🙂
When I showed Ken the photos I took from the event, he wondered how they made the cupcakes as black as they were (he had a couple of guesses). I told him it was one of those cupcakes I wish he got to taste 'cause I'm sure he'll love them too!
Sophia School Cafe's Veggie Dinuguan and Veggie Sisig
Since I started eating healthier at home, I looked forward to trying out Sophia School Cafe's Veggie Dinuguan and Veggie Sisig. They won the Most Innovative award at the event for their use of veggie meat/soy products.
I thought both dishes won't be as tasty as the regular meaty versions of them, especially the dinuguan. Though I missed the flavors you'd get from the combination of the usual ingredients of dinuguan / blood stew (pork innards, blood and everything else), I still liked this vegetarian version of the dish. If our nanay was with me at the event, I'm sure she'll badger them for their dinuguan recipe alone. 🙂
Paire Cocktail and Pastries' Almond Pair and Pork Appetizer
We first tasted Paire's pork appetizer. I can't remember what part of the pig they used for this, but it was crisp, with that liempo-like flavor and texture.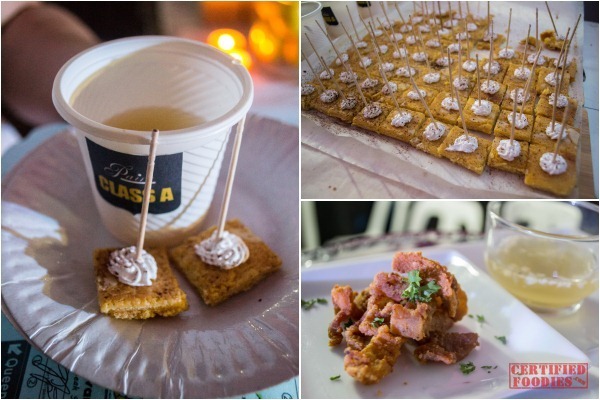 I find it amusing (in a good way) when food purveyors engage people at events like this. They prepared this special pairing and we listened as they told people the best way to enjoy it. You take the almond slice first and finish it off with the Amaretto (an Italian almond liqueur). Tina and I liked this pairing very much.
Special Mentions
As you can see, most of the standouts were the savory offerings at Foodgasm II. So even though I'm a dessert girl, I was quite happy with the many new dishes I've tried.
Here are some that almost made it to our top picks:
One of the most interesting entries that night was Sweet Baum Cafe's Baumkuchen, a traditional German layered cake with a very unique baking technique involving a rotating spit, loads of batter and a ton of patience. 😀
Sure, I liked it but it was too simple to stand out from all the entries at Foodgasm II. I wish they offered us more options since they had packages of the other flavors at their stations. Would've loved to try the chocolate and green tea Baumkuchen.
It was no surprise Carlo's Kitchen's Chocobelly drew in a crowd. Pork belly and chocolate – how can you go wrong with that?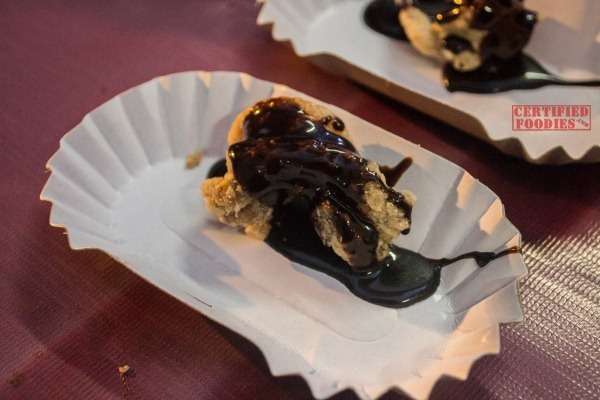 Then there's LipDip Milkshakes with their Ferrero Rocher milkshake. Do I even need to explain why this was good? I could've done this at home though, but maybe when I'm feeling fancy. 😀
Lola Emma's Chicken (fried chicken with their 'secret' sauce) and Lola Cory's Minci (lean ground beef simmered in sweet and salty sauce) could've been favorites too. The samples were just too small for us to completely enjoy them. But, they were flavorful.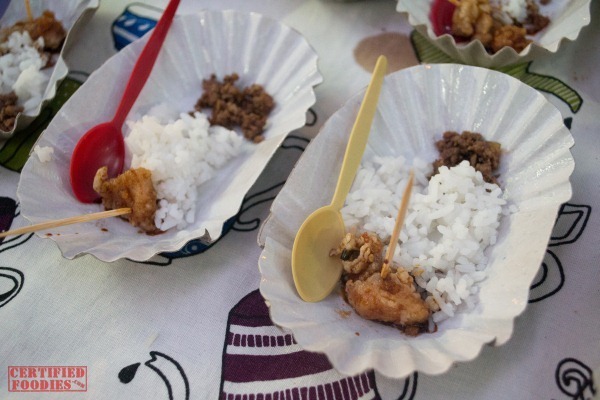 Though we haven't blogged about them yet, I knew we'll love these mini pies by Frabelle Foodie Chef. Since they used their smoked sausages and bacon, they were pure delight! Tina and I even wanted seconds. 😀
Conclusion
After months of having to turn down invitations to foodie events/lunches/dinners because of our work schedules, it was fun to be at Foodgasm II, though my friend Tina wanted to give up with about 8 more food purveyors to go. I need to bring someone next time with an appetite as big as mine and Ken's, and won't feel guilty about eating all these delicious food for one night. 😀 Mahina ka pala, Tina! 😀
I'm happy to see fellow food bloggers there again, especially Yedylicious (I miss you, gurl!!) and Richie (The Pickiest Eater), and glad to meet new foodies The Hungry Giant and Hefty Foodie. 🙂
The following two tabs change content below.
Michelle (aka Mhel / blankPixels) is a social media nerd and works as a Digital Marketing Lead for one of the top online companies in the Philippines. On her free time, she travels, goes on food trip and loves to take photos. She's the main editor of this food blog.
Latest posts by Michelle Ignacio (see all)
Comments
comments