2012 was a delicious year for us as we discovered new restaurants deserving of a feature here on our humble food blog. However, we neglected to share them because of many things. Though our features of these restaurants will be a few months to a year late, we still believe our dining experiences were worth writing about, more so because  the flavors still linger in our minds. Without further ado, first up is Diamond Hotel's The Cake Club located at Bonifacio High Street Central.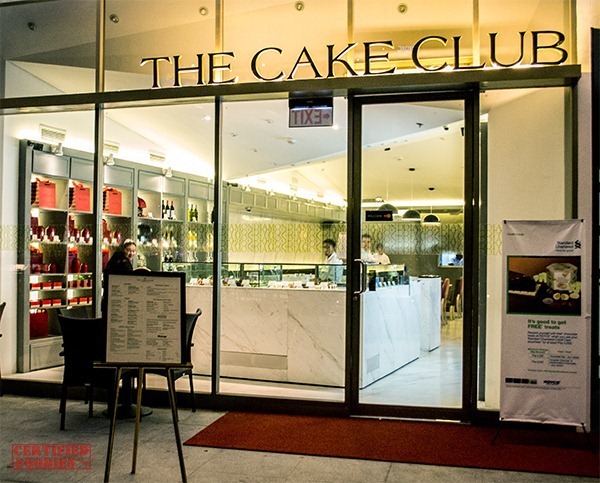 By the restaurant's name itself, you'd think The Cake Club specializes in cakes or desserts. Well, yes, they do. However, they serve delectable dishes that we're sure you'll enjoy too.
We were invited for dinner at this cozy restaurant in BGC. I remember walking past the restaurant one time after having lunch with the family at a different resto, and Ken was telling me he wants to return to find out what The Cake Club is all about. So it was definitely an invite we simply can't refuse. 🙂
As soon as you walk in, you'll be welcomed by The Cake Club's abundant display of their yummy desserts, which made us look forward to that part of our dinner even more.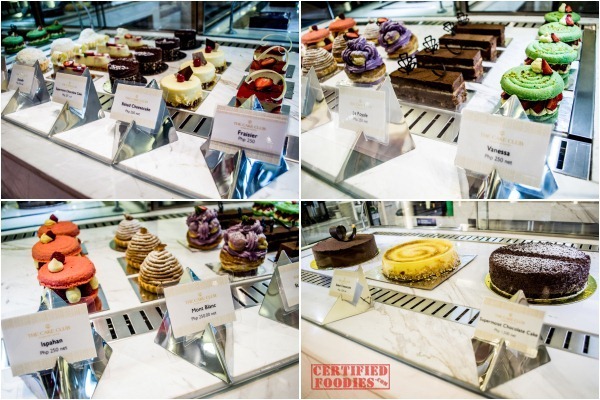 There are displays of various Hediard teas that you can have them serve to you during the meal or you can take home for your enjoyment.
We also found wines and Royce goodies on the shelves by the entrance. These, you can purchase directly from them, of course, for your own enjoyment or for pasalubong.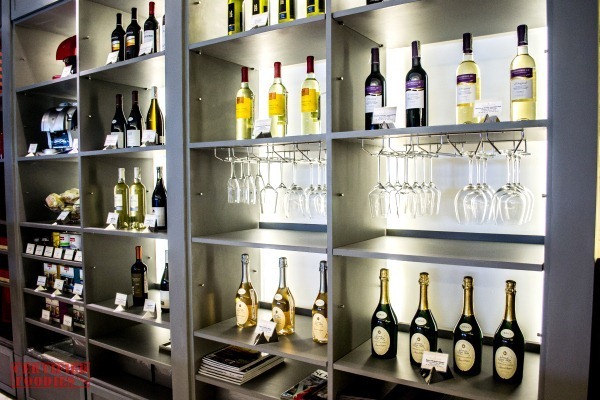 The interiors were simple yet they give you this cozy feeling, perfect for a quiet time with a date or a friend.
Though we were anxious to have a taste of their pastries, we wanted to see if the other dishes on their menu are on par with the standards Diamond Hotel is known for.
We were having dinner with fellow foodies and bloggers, so it's oftentimes a consensus that each of us would try to order something different on the menu and we'll just have a taste of each other's meals. 😀 I know, this is the fun part about being around foodie bloggers. We like to share. 😉
However, because there were so much food around and we were enjoying our own orders, we didn't get to taste everything. Let's start with the appetizers.
Appetizers at The Cake Club
First up is their Truffle Fries (Php 180).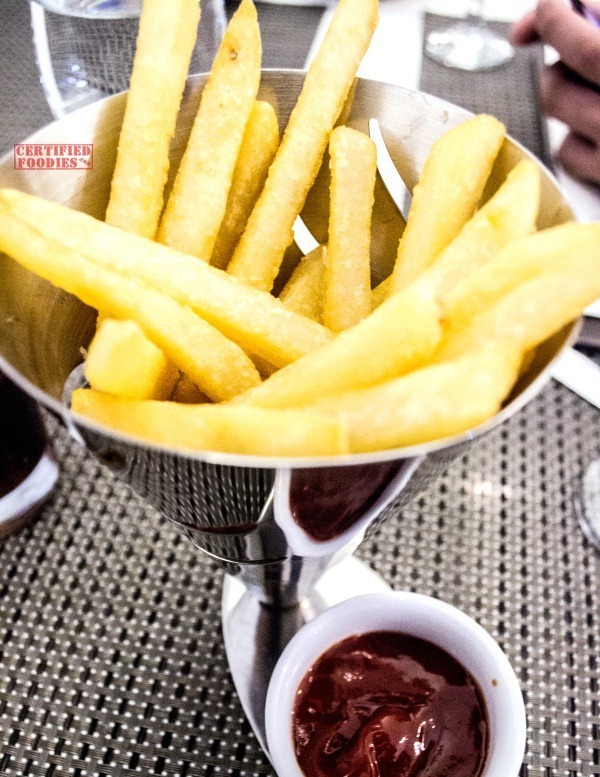 They're crispy-fried sliced potatoes with truffle oil and sea salt flakes. Normally, I would stay away from anything with truffle oil, but I found myself munching on these fries almost nonstop. Best enjoyed while they're still warm! 🙂
Next is their Caramelized Onion and Goat Cheese Tart Salad (Php 295).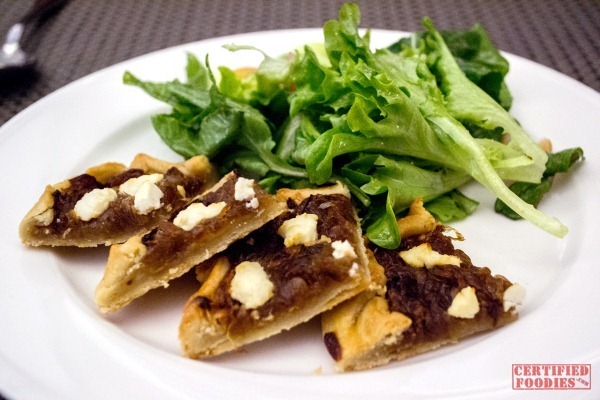 They're made with cheese, arugula and Frisèe lettuce, served with cherry tomatoes and white wine vinaigrette. Though I don't usually order salads, I was eager to try this one. Well-balanced flavors and the tart was nice and crisp.
I also got to try their GM Salad (Php 210) composed of pan-roasted mushrooms, crispy parmesan basket, baby greens and shallot vinaigrette. This one, I absolutely enjoyed over the previous salad.
The group also ordered Hobart's Spicy Tomato Soup (Php 190) – homemade tomato jam with fresh basil.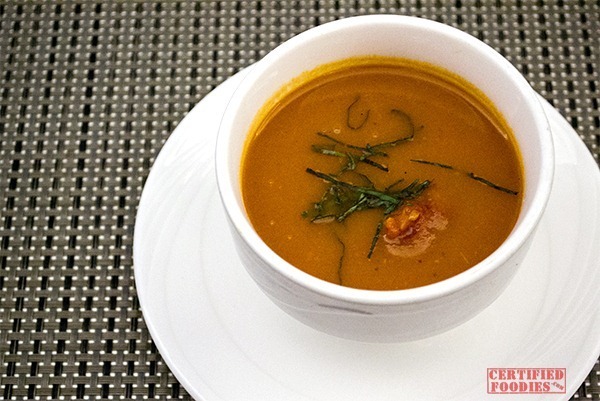 And Roasted Red Beet Soup (Php 190) – made with goat cheese, green apples and toasted walnuts. I was tempted to order this after seeing the deep color of the soup. I'm a big fan of True Blood and I'll enjoy this while pretending I'm Jessica. 😉
Main Dishes at The Cake Club
Okay, there were a few of us who ordered similar dishes since there were some we just couldn't pass up. Like the one I ordered – Slow-Roasted Beef Belly (Php 395).
The beef was served with honey-roasted baby carrots, brown rice and horseradish cream. The meat was so tender and juicy, and everything on the plate came together with a burst of flavors that Ken almost finished my whole order. 😀
With the promise I'll share my beef dish with him, Ken ordered the Baked Salmon with a Mediterranean crust, served with saffron risotto (Php 455). It was good and flavorful, but I can't keep my fork off my beef belly (no pun intended).
Here were the other dishes that everyone else ordered that I didn't get to try. Let the photos do the talking. 😉
Lamb Burger (Php 490) – Moroccan-spiced lamb patty, feta and parmesan cheese, harissa yogurt
US Angus Beef Burger (Php 410) – juicy beef patty, vine-ripe tomatoes, caramelized onions, fresh basil pesto, cheddar cheese
Sato-San's Mentaiko Spaghetti (Php 370) – spicy cod roe, topped with dried seaweed, cream sauce
Porcini Mushroom Crepe (Php 420) – parmesan and Emmental cheese with light cream sauce
Desserts at The Cake Club
Now, we're talking!! Finally, dessert time! 😉 We started off with the various cakes and I tell yah, I was left puzzled by the variety and the delightfulness of each selection.
The most memorable for me, and I can say this a year after that dinner, is the St. Honore Ube.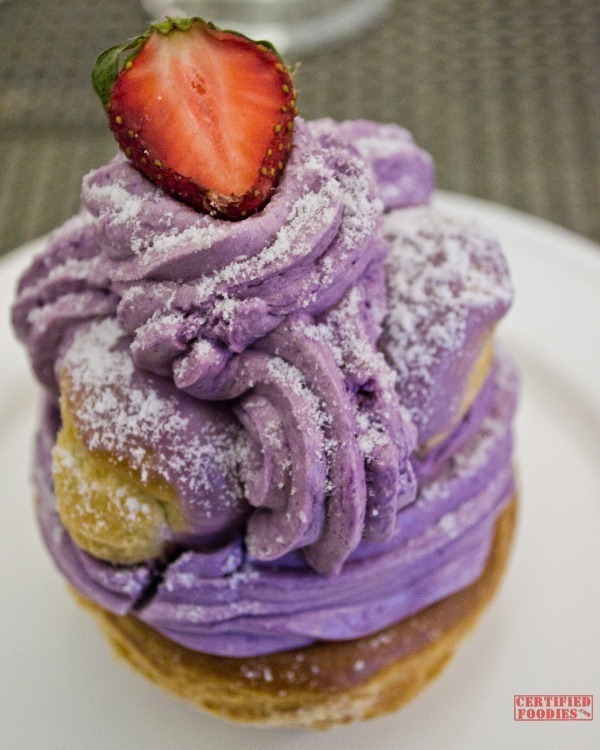 I say this as someone who's not generally a big fan of ube-flavored anything – I loved it! The ube ganache on top of the puff pastry was earthy, pleasantly light and the cake was really lovely altogether. 🙂
We also enjoyed the Ispahan, with its gorgeous, decadent combination of flavors from the raspberries, lychee and rose essence, which gave it its flowery fragrance that tickled my senses. They're all nicely put together in between macaron halves.
The Vanessa cake was also just as pleasing, made with pistachio macarons and fresh slices of strawberries.
The other cakes we got to taste were the following: Danielle, a white chocolate raspberry SUGARLESS cheesecake.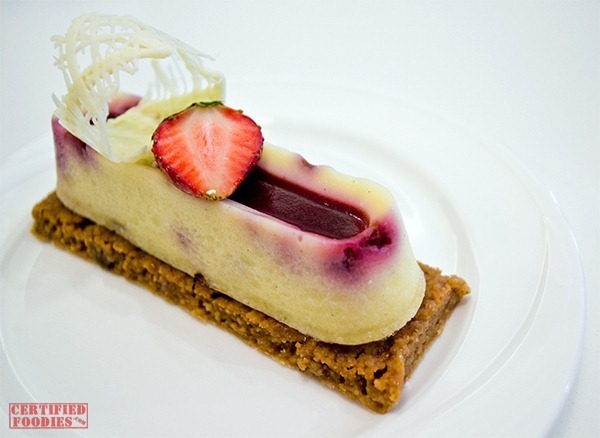 Le Royale (Chef Pang Kok Keong's signature cake) – made with Valrhona dark chocolate mousse, almond meringue and hazelnut crispy.
Fraisier – A French strawberry cake with yummy crème pâtissière. Beautiful! 🙂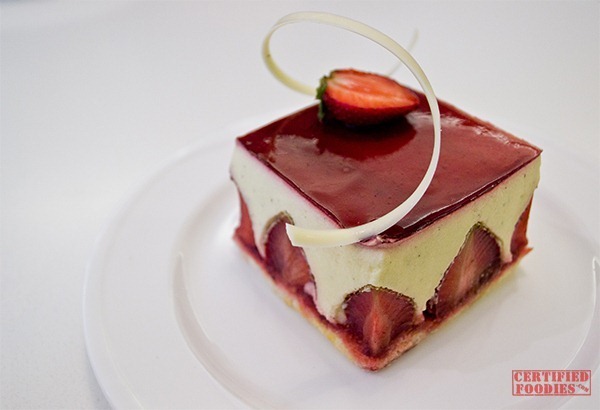 Baked Cheesecake. This is Diamond Hotel's signature cheesecake.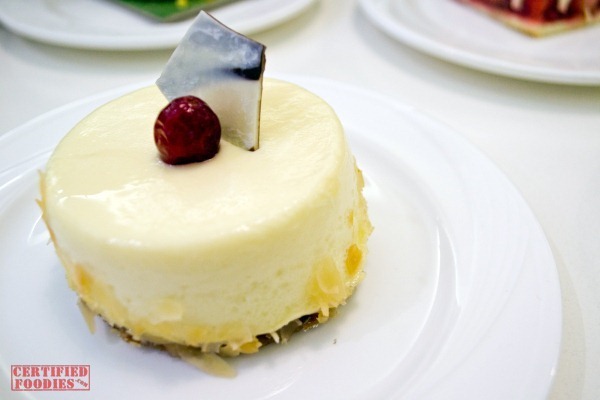 Cecilia – Their Chef Robert Mempin's version of buko pie. Yum! 🙂
Here are the prices for these cakes, except for Diamond Hotel's Ensaymada (Php 120 – which is definitely on top of my favorite ensaymadas, even our nanay loved it):
Individual – Php 250
Whole Cakes – Php 1,500
Now on to their ice cream flavors! We were already full when we finally got to them, but we just couldn't resist that we even ordered our own servings of our favorite flavors just for our enjoyment. 😀
Our top favorite is the Genmaicha, with its pronounced green tea flavors mixed with roasted brown rice. Mmmmmmmmm!! We're both in love with green tea, so you can only imagine how pleasing it was for us to get a taste of this.
I personally love, love, love the Black Sesame ice cream. Okay, I'm biased since I love the color of the ice cream, but it was my personal favorite among all the flavors we tasted that night. And we had a lot to try and they were all yummy. 🙂
The Cake Club's ice cream selections include the following flavors: Supermoist Chocolate Cake, Baked Cheesecake, Azuki (Japanese Red Bean), Mont Blanc (Chestnut & Rum – I love this one too!), Taro – Jackfruit, Melon, Apple Pie and Coconut – Palm Sugar (low-sugar).
You can order them for Php 150 for 2 scoops (dine-in only), a pint for Php 350, or half-gallon for Php 1,000.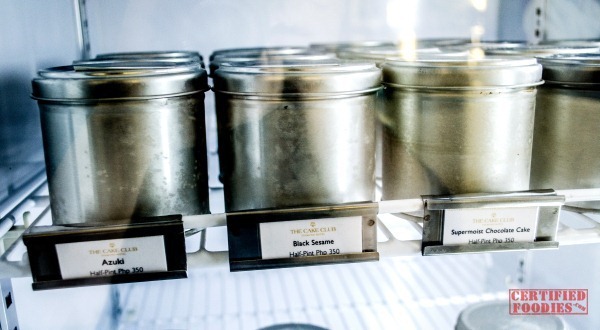 The Cake Club's Menu
The menu includes their wine and tea selections. Click below to view the full menu.
We had a lovely dinner at The Cake Club, paired with good company at the table. I'm sure we'll be back here soon, and I can't wait for our nanay, who's got a sweet tooth too, to have a taste of Diamond Hotel's The Cake Club's scrumptious desserts. 🙂
The Cake Club by Diamond Hotel
Bonifacio High Street Central, 7th Avenue, East Block, Bonifacio Global City, Taguig City
Contact #: (02) 621-3176
Facebook page: Diamond Hotel Philippines
Twitter: @DiamondHotelPh
www.diamondhotel.com
The following two tabs change content below.
Michelle (aka Mhel / blankPixels) is a social media nerd and works as a Digital Marketing Lead for one of the top online companies in the Philippines. On her free time, she travels, goes on food trip and loves to take photos. She's the main editor of this food blog.
Latest posts by Michelle Ignacio (see all)
Comments
comments