Jollibee listened! The Amazing Aloha Burger is BACK!! Today, I was one of the few lucky foodies who got a chance to have a taste of this oh-so tasty burger for the first time for (what seemed like forever) almost 4 years! Yummmm!! 🙂
Can you feel my excitement?!?! 😀 Too bad Ken didn't get a chance to join me earlier, but he's got plenty of time since the Jollibee Amazing Aloha Burger will be available starting tomorrow, May 15th, NATIONWIDE for a limited time only. We don't know when they'll decide to take this out of their menu so make sure you get a taste (or plural) of the burger.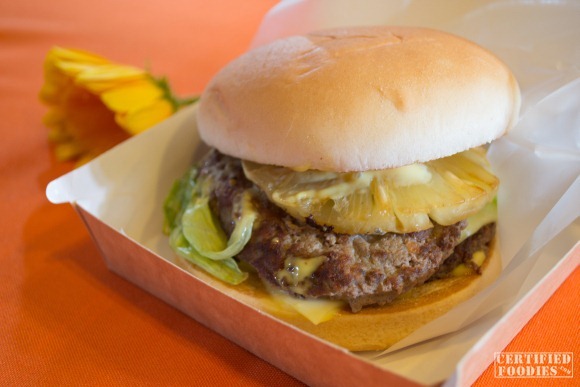 Ken and I had this feeling that Jollibee will be bringing the Amazing Aloha burger back after the widely popular episode on CNN's Parts Unknown where Anthony Bourdain enjoyed a taste of this unique burger. Glad Jollibee heeded our call! 😉
During the tasting earlier that I joined at their Jollibee Green Meadows branch (I almost got lost 😀 ), you can feel how excited we all were to finally have a taste of the Amazing Aloha Burger again. I quickly took photos because of sheer anticipation, which is why most of my images are not as clear as I wanted. 😀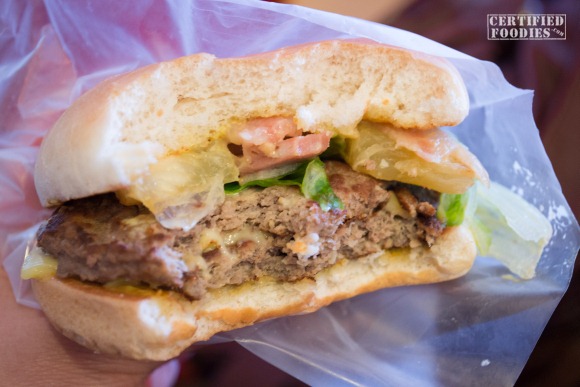 How was it?! You've got TWO juicy burger patties, bacon bits, cheese and lettuce, with the right amount of Jollibee's honey mustard dressing, and then topped with a fresh slice of pineapple – all these sandwiched between two soft buns. One word to describe this – AMAZING (how creative, Mhel)! 😉
It was juicier than the last time. The flavors will bring a smile on your face. Thanks, Jollibee, for bringing this back! 🙂
You can order Jollibee's Amazing Aloha Burger in two ways:
A la carte or solo for Php 99.00
Value meal with regular fries and drink at Php 135.00
#AmazingAlohaisBack
If you're on Twitter, join the Aloha Burger movement by tweeting with the hashtag #AmazingAlohaisBack.
Share with us how much you miss the Amazing Aloha Burger or why at the comments section! You can also tweet us with the hashtag #AmazingAlohaisBack and mention us on Twitter: @certifiedfoodie (yes, without the S). We'll RT your tweets. 🙂
The following two tabs change content below.
Michelle (aka Mhel / blankPixels) is a social media nerd and works as a Digital Marketing Lead for one of the top online companies in the Philippines. On her free time, she travels, goes on food trip and loves to take photos. She's the main editor of this food blog.
Latest posts by Michelle Ignacio (see all)
Comments
comments