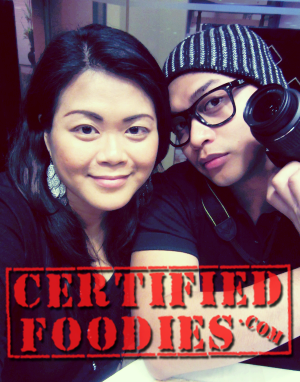 First off, HAPPY NEW YEAR, fellow foodies! 2011 has been a very fruitful year for us and we can't thank you enough! We'll be doing a separate year-ender post of our favorite food / dishes / restos for 2011 PLUS our blog's new theme. For now, though, we're excited to bring you another giveaway where you can win Php 5,000 CASH from Unionbank My Easy Loans.
Some of you may ask how we came up with the name of our blog. Why Certified Foodies? It's truly because we love everything and anything related to food and its enjoyment.  The discovery of different flavors, how it affects our mood and even relationships, how every one of us has our own capacity to tolerate certain levels of a certain flavor, the welcome modern twists that we now see being applied on traditional cuisines, the wonderful memories a dish or even a certain aroma can bring back, and the adventure of challenging your tastebuds or just trying out something new are among the reasons why this blog came to existence. 🙂
With that, we've got good news for you fellow certified foodies! Tell us about your love for food for a chance to win Php 5,000 in CASH in Unionbank's My Easy Loans Twitter contest. It's not yet too late to treat your friends or family to an ultimate food trip!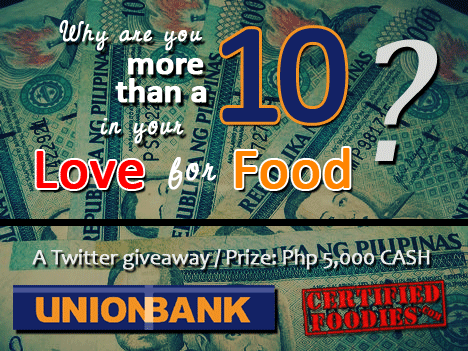 CONTEST PERIOD: January 2 to 8, 2012 (yayyy for the new year!)
PRIZE: Php 5,000 CASH
MECHANICS:
1. Eligibility: This contest is open to Filipinos residing in the Philippines for at least a year, at least 18 years of age at the time of joining, and must have a Twitter account with at least 15 Twitter followers.
2. Follow Unionbank My Easy Loans on Twitter. (Mandatory)
3. On YOUR Twitter account, post a new tweet using only 140 characters (no, you can't use Twitlonger or any similar service) and answer the following question:
Why are you more than a 10 in your love for food?
Note: You MUST include @myeasyloans and the hashtag #UB111111 for your entry to be counted.
Your answer should look something like this (this is just an example, please be more creative! :D):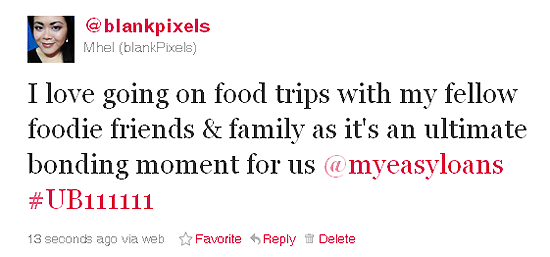 Again, be as creative as you can since we'll only be picking THREE of our favorite tweets to make it to the final judging where Unionbank will choose the ultimate winner.
Make sure you use the hashtag so we can easily monitor your entries.
UPDATE: We added this additional step so we can monitor your entries better since you are allowed to submit multiple answers.
3-a. Leave a comment on this post with the links to your Twitter entries.
To get the direct link, simply right-click on the time your tweet was posted and copy the URL / link.
You can submit all your entries all at once before the end date.
4. A Twitter account can join multiple times as long as they tweet different answers and they meet the following guidelines:
Answers should not be offensive, disparaging or discriminatory to any person or entity, whether living or already deceased.
Answers should not discredit or dishonor any person or entity, whether living or already deceased.
Answers should not use language that is impolite, malicious or offensive.
Answers should not draw out responses that would result to any of the foregoing.
Answers should not mention or draw out responses about any bank or financial product except UnionBank.
(Note: Some answers that will not be considered for judging include answers about sex, dangerous drugs, violence, crime, discrimination, racism and alcohol; topics related to breast-feeding and pregnancy; topics creating rumors or gossip; or topics making any reference to a specific person/place/brand/product/event)
5. A Twitter account can only win ONCE.
6. During the duration and at any stage of the promotion, organizers of the promotion may disqualify participants who fail to qualify with the qualifications specified in these mechanics and their decision on the matter is final.
7. We will choose our favorite or top THREE (3) tweets / entries and Unionbank will pick a winner based on the following criteria:
40% Creativity (innovative, imaginative and out-of-the box)
40% Credits (has actual credit; realistic and truthful as determined upon winning)
20% UNIONBANK Essence (must embody UnionBank brand personality of customer-focus)
8. Winner will be announced on Unionbank's Twitter account and we'll also make the announcement here and on our Facebook and Twitter pages within 5 days from the end of the contest (January 8, 2012).
9. The cash prize will be awarded to the winner at the end of the 11.11.11 Promo at a celebration that will be held in February 2012. We'll post an update here as soon as Unionbank confirms the date.
10, UnionBank has the right to use all submitted entries in all media for marketing or promotional purposes.
11. The winner shall be subjected to verification. By verification, organizers of the promotion will contact the winner via their Twitter account to verify whether he/she joined the contest. If he/she cannot be reached or he/she replied in the negative within 30 days from first attempt to contact him or her, organizers shall move on to the next participant with the highest score obtained.
12. The Twitter account of UnionBank is provided on an "As Is" and "As Available" basis and UnionBank gives no warranties of any kind, whether express, implied, statutory or otherwise including warranties or representations that materials found on the links therein, including those provided by the participants will be complete, accurate, reliable, timely, non-infringing to third parties; that access to the links found therein, including those provided by the participants will be uninterrupted or error-free; that the links found therein, including those provided by the participants will be secure; that any advice or opinion obtained from links found therein, including those provided by the participants, is accurate or to be relied upon and any representations or warranties thereto are expressly disclaimed.
——————————————————————————————————
While you're at it, you might want to join Unionbank MyEasyLoans Every 1's a Winner promo. You can get freebies if you apply for a loan through Unionbank. 🙂
UPDATE:
We've picked our TOP 3 and Unionbank has selected the winner…

Congratulations, CLAR!
The following two tabs change content below.
Michelle (aka Mhel / blankPixels) is a social media nerd and works as a Digital Marketing Lead for one of the top online companies in the Philippines. On her free time, she travels, goes on food trip and loves to take photos. She's the main editor of this food blog.
Latest posts by Michelle Ignacio (see all)
Comments
comments