Buffalo Wings are considered American staple food, together with our favorite burgers and fries. They're the kind of food people don't ever mind getting down and dirty in eating because it's best savored using your bare hands, licking all the crevices of your fingers clean of the delicious buffalo sauce and blue cheese dip.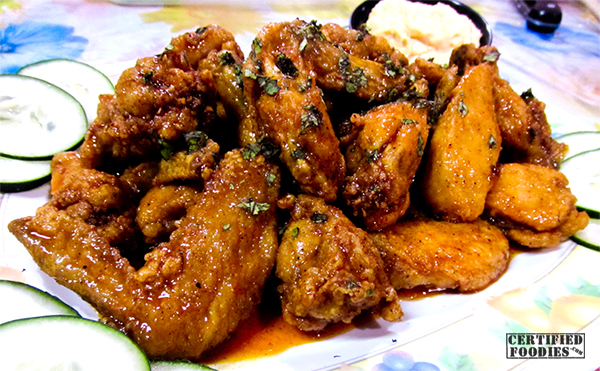 I had my first taste of the hot wings when some of my friends and I once dined at TGI Friday's in Greenbelt. They ordered their usual nachos, burgers, and fries. One friend suggested we get the Buffalo wings, but another friend was quick to negate, saying that it's too spicy for her taste. But since I love my food hot and spicy, 10 minutes later, we had two servings of Buffalo wings on our table, and they all agreed that I ate 2/3 of it. 😀
Friday's Buffalo Wings
After that dinner, the Buffalo wings flew straight up my all-time favorite food list, but it's not everyday that I have the luxury to buy wings at Friday's. So I decided to make some myself at home, and it's a good thing that I have a very generous sister like Mhel, who shouldered the expenses for the ingredients.
My first attempt to make Buffalo Wings at home – all gone in about 15 minutes! 😀
The Homestyle Buffalo Wings recipe I'm sharing with you are bits and pieces of different stuff I found on the internet. Not one recipe matched what I wanted to do because there is one requiring me to broil then bake the chicken wings, instead of simply frying them; another has a lousy breading mix recipe, but their instructions for doing the buffalo sauce was by far the simplest among all I've seen. And almost all sites had a recipe for blue cheese dip to accompany the chicken wings, but blue cheese is out of the question – too expensive for me. But, we'll try that, too, soon. 🙂
We start with our fried chicken wings. We only need the wing part of the chicken, which you can buy in bulk at your local supermarket. For Php 200.00, we got 2 kilos of chicken wings, which is more than enough to feed a group of 10. But considering the huge appetite of the people I fed, my family of four and my friend, Katrina, the 2 kilos we bought were not enough. By the end of dinner, we were all still craving for more.
To make sure our coating of buffalo sauce adheres well to our chicken, we must have a dry and crispy breading mix, and below is a simple recipe just for that.
Chicken Breading Mix:
INGREDIENTS:
(for 2 kilos of chicken wings)
1 cup Flour
1 tsp Paprika
1 tsp Cayenne Pepper
1 tsp Salt
1 tsp Ground Pepper
1 tsp Thyme
Procedure for Fried Wings:
1. For the breading mix, combine the flour, paprika, cayenne pepper, ground pepper, thyme and salt in a small bowl.
2. If the wings are frozen, be sure to defrost, trim the wings, and dry them first before coating.
3. Evenly coat the wings with the breading mix.
4. Heat oil in a deep fryer. Make sure you have enough oil to cover the wings entirely.
5. Fry wings, until golden brown. It takes about 8-10 minutes to become golden brown at medium heat.
6. Once done, dry wings on paper towels if you have that available or use a strainer to get some of the oil off.
Next thing to prepare is the Buffalo sauce. However, I do suggest that you fry the wings and prepare the buffalo sauce at the same time because it's best if you serve the buffalo wings hot.
I added a little honey because we had a bottle lying around in our kitchen, and I thought it would help make the sauce a bit thicker.
Buffalo Sauce:
INGREDIENTS:
3/4 cup Cayenne Pepper Hot Sauce
    (If you don't have this available, you can use Jufran Red Hot Chili Sauce)
1/4 cup Brown Sugar
1/2 cup Butter
1 tsp Cayenne Pepper
(If you don't have this, too, you can just double the spiciness by adding more hot sauce)
1 tsp Ground Pepper
2 tsp Garlic Powder
2 tbsp Honey
PROCEDURE for Buffalo Sauce:
1. Combine the butter, hot sauce, ground pepper, cayenne pepper powder, garlic powder, brown sugar, and honey in a small saucepan over low heat. Heat until the butter is melted and the ingredients are well blended.
*Warning* if you keep cooking the sauce, you will clarify the butter and all of the solids will settle to the bottom.  If this happens, you've cooked your sauce too long and you will have to start over.
A serving of my buffalo sauce that I used for "taste tests". 😀
Now all we have to do is coat our fried wing with our Buffalo Wings sauce.
Coating the Fried Wings with Buffalo Sauce:
1. Put the wings in a large bowl.
2. Add the hot Buffalo Wings sauce and mix with your bare hands, coating all the wings evenly.
You could also use a large plastic container with a lid for this, so you can just shake it to coat the wings with sauce evenly.
And I thought it's really not practical, money-wise, to make a blue cheese dip since it ranges around Php 500 a slice. Luckily, the improvised cheese dip I made was a huge success. Everyone loved it, especially my friend, Katrina, who even used it as dip in eating her prawns from the Paella I prepared that same night (recipe very soon!).
Cheese Dip
INGREDIENTS:
1/2 cup Mayonnaise
1 tsp Garlic Powder
2 tbsp Cheese Spread
2 tbsp Perfect Italiano Parmesan Cheese
PROCEDURE for Cheese Dip:
1. In a small bowl, combine mayonnaise, garlic powder, cheese spread, and parmesan cheese.
2. Serve it alongside our Buffalo Wings.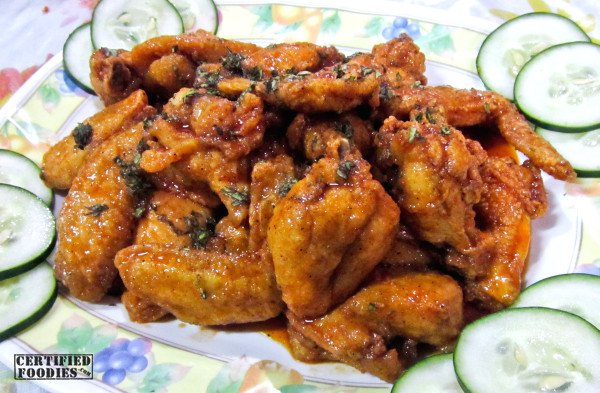 So that's my Buffalo Wings recipe. I hope you liked it. It's really easy. You can do it at home yourself. If you do, please come back and let us know how your own version went. 🙂
The following two tabs change content below.
Kenneth is the chef in the family (he studied Culinary Arts and Baking & Pastry Art in GCHA). He's responsible for most of the more complicated recipes featured here, and loves preparing pastries and desserts. Aside from being a chef, he's also a Registered Nurse and Midwife. His love for cooking led him to pursue a culinary career.
Latest posts by Ken Ignacio (see all)
Comments
comments